Overview
Are you ready for the biggest, cutest and most entertaining sporting event of the year? The 2023 Puppy Bowl is almost here, and to get ready, we're popping some pupcorn, picking our furvorites for the Most Valuable Puppy award, and practicing zoomies in the yard for game day.
While households, businesses and organizations throughout the country are planning Puppy Bowl parties, we've got an even better idea to help you get in the mood for the big game: hosting your own Puppy Bowl!
That's right, with a little planning, and some pawdorable doggos, you can host your very own Puppy Bowl. In this guide, we'll be giving you tips on how to plan a furbulous game at home that every 2 and 4-legged furiend will love. So, get your pooch in the starting line-up, and get ready to watch the cutest game ever played featuring your own MVPs! 
The Players
The Puppy Bowl was created to help shed light on the many furbulous shelter and rescue dogs that need a home. Every puppy, kitty in the half-time show, and other pet you see in the Bowl is adoptable. Pups are drafted based on age, size and temperament, and by the end of the game, every one of them has found their fur-ever home!
When planning your own Puppy Bowl, however, you can choose the players however you like. Got a pack of canines your dog loves to play with at the dog park? If they get along, they would likely love a playdate full of toys, dogs and treats! Choose puppies and dogs who can have fun together, regardless of age, size or breed.
Draft your teams of furiendly dogs from:
Friends' or relatives' dogs
Neighbors' dogs
Local dog park
Your dog's dog walking pack
Fellow pups from obedience classes
Pup peers from agility training or competitions
Once you have your list of potential players, create a puptacular invite for the dogs and their pawrents to join you on your designated game day. Be sure to outline the event, mention that other pups will be attending, if it's an indoor or outdoor event, and other details, and be sure to ask the pawrents if their pooches have any special considerations or allergies you should be aware of. 
The Décor
Since the Puppy Bowl lands on the same day as the Super Bowl, it won't be hard to find football themed decorations in several stores and online retailers. Hang football themed banners, place football plates and napkins near food stations, and hang balloons and pennants. If you are a crafter, you can make your own decorations too! Just be sure to use hooks instead of tacks to keep puppy paws safe.
If playing indoors, choose a room with an open space for the football field. Find an artificial grass rug, or even just a green rug for the field, and paint lines on it well ahead of time. Set up couches and chairs for an excellent view of all the cuteness that's about to happen.
If you live in a warm climate that makes an outdoor game possible, and you have a fenced in yard, you can set up the field in a nice, leveled spot in the grass using agility or other poles to mark the lines. You could use a rug here too, but the pups will probably prefer to romp in the natural grass if its available. Bring out tables, lawn chairs and other outdoor seating for the spectators, and have clean-up bags on hand for all the guests to help keep things tidy.
Whether indoors or out, be sure to have a photo booth ready! You can purchase photo backdrops of football fields, stadiums and other related images online that you can hang on a wall or set up with a stand. Be sure to add some footballs and other memorabilia to help make each pic shine, and invite all the Bowl guests to snap some photos with their pups throughout the day.
The Refreshments
Players and their pawrents are sure to work up an appetite, so have some snacks ready! It's easiest to make two separate food tables that are clearly marked, one for the humans and one for the dogs.
For the humans, omit any food items that are toxic to dogs, such as chocolate, grapes, or raisins, just in case they get dropped. Otherwise, you can feature a hotdog or burger bar, or a chili, nachos or wings station, with plenty of game day snacks like chips and dip, deviled eggs and more.
For the dogs, you can get super creative, just be sure that whatever you put out is labeled with ingredients so that pup pawrents can avoid anything that may be problematic for their dogs. Here are some fun ideas!
Buy several varieties of treats, including pup-safe frosted football themed cookies
Make your own dog treats and cookies, using football themed cookie cutters
Pop some pupcorn, omitting the butter, salt and other flavorings
Bake up some dog pupcakes that can be fruity with berries, or savory with bacon and cheese
Give dogs something to sit down and gnaw on, such as sweet potato and carrot jerky
Help pups cool down with homemade icy treats, like these Berry Good Pupsicles
For allergy and medical considerations, make some almond butter treats instead of peanut butter, or sugar-free treats for diabetic pooches
Get some dog beer that's alcohol-free and made of pup-safe ingredients
The Game
Whether you choose the Puppy Bowl's green and yellow team colors, or your own, provide a way to designate the teams, such as colored bandanas, collars or bows. Call them Team Fluff and Team Ruff, or get creative and choose your own team names, which you can stencil onto decorations or bandanas for pups to wear during the game. Once you've got the pups assembled, you can choose the teams!
Have gates and barriers at the ready to either block pups off from areas you don't want them roaming, or to keep them on the field if you've got a lot of wanderers. You'll also want to have a bunch of toys scattered all over the field. From mini footballs and balls to other toys that can be easily carried, the pawssibilities are endless.
The rules of the Puppy Bowl are simple: points are scored whenever a pup takes a toy across an endzone for a touchdown. Designate yourself or another human as the rufferee to make sure everyone behaves, and there isn't any unnecessary ruffness, paws interference, or pancaking. Penalties are just for fun, so feel free to make up your own.
Set a time limit for each half, and let the pups run wild. During halftime, let the pooches get a drink, a treat, and for some, a nap, then let the second half begin!
Need some cheerleaders? Set up a table with blank signs, hats, and shirts next to markers and safe paints for pawrents to make pawrsonalized gear and cheer on their pups for the win!
The Sidelines
All that wresting, running and chasing can get tiring! So be sure to provide dog beds, blankets and pillows on the sidelines to let pooches relax when they need to.
Several water stations should be located near the play area, and refilled as needed to ensure no one gets dehydrated.
With all those people, pups and noise, some dogs may become a bit overstimulated. Always have a quiet area set away from the commotion that dogs can retreat to if they need a moment alone. You can also designate a "Quiet Room" in your home where an overexcited, anxious, or even aggressive pup can go and calm down with their pawrent.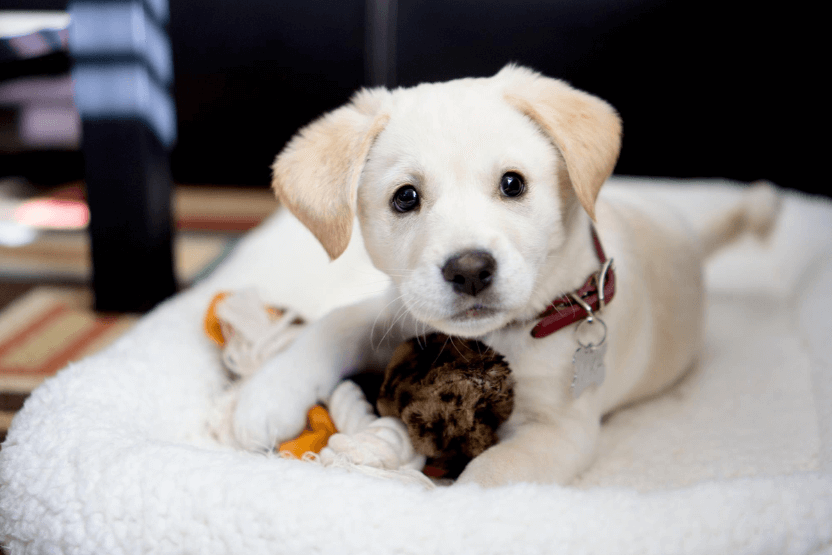 The Rewards
To really get in the spirit of the game, find or make a small football or dog themed trophy to award the Most Valuable Pup, or the best player in the game, along with a special treat or toy for them to take home. You can also give special items to the team who wins.
Don't leave the other pups behind, though! Get creative and make grab bags for all your canine and human guests, filled with snacks, toys, stickers and whatever else catches your fancy. Find or make unique items, such as personalized dog tags and collars, or iced cookies in the shape of different dog breeds.
With so many ways you can make your event pawsitively puptastic, everyone will be barking about your Puppy Bowl! So, get your players gathered, and let the fur fly!
Follow all the big plays and highlights of Puppy Bowl XIX during the game with your pup and Wag!'s official commentators Frank the Golden and Ferris the Pom on Twitter!