Activities for Dogs While Social Distancing
Activities for Dogs While Social Distancing
By Mel Lee-Smith
Published: 09/04/2020, edited: 08/10/2021
Save on pet insurance for your pet
You don't have to choose between your pet and your wallet when it comes to expensive vet visits. Prepare ahead of time for unexpected vet bills by finding the pawfect pet insurance.
Social distancing doesn't have to be a drag when you're with your favorite furry friend. In this guide, we'll explore ways to stay safe (and sane!) with your pooch — and have a lot of fun too! 
Build a digging pit 
With the dog park out of the question, your woofer is probably raring to fulfill their digging desires! Building a digging pit can curb their flower bed escapades and give them a project to help with.
First, you'll need to designate the doggy excavation area and mark off the edges with lumber. Ensure the area is big enough for your pup to till comfortably (5 foot by 5 foot should be big enough for a Lab.) 
Next, pull up any grass and loosen the dirt underneath with a shovel, ho, or hand rake — we're sure Fido will be happy to assist in this step! Next, mix some play sand in with the loose dirt. The right sand to soil ratio will keep it from getting super muddy if the urge to dig strikes after a rain. 
As an incentive to dig in their designated spot, bury some exciting things just under the top layer of soil. Chews, dried meats, and tough rubber toys are great for burying and will encourage them to investigate their new area (and stay out of your garden!).
Learn a second language together 
What better time than a pandemic to learn a new skill with your fur-baby? Brush up on those high school French lessons by teaching some new tricks to your pup! Teaching your dog to understand commands in a second language is easier than you might think, but there are some things you should know. 
Dog training "pawfessionals" suggest using foreign commands to teach new tricks rather than old commands your dog already knows. Changing the prompt word may confuse your dog and make them "unlearn" tricks they learned in your native tongue. 
Start with simple commands like "bow," which translates to saluer in French and doblar in Spanish. When your pup masters that, try faire tourner, which directly translates to "make spin" in French, or girar in Spanish. With some patience and lots of treats, your bilingual Beagle will be the talk of the town in no time! 
Watch nature documentaries or take a virtual tour together
When the couch is calling, throw on a nature doc or a virtual video tour for you and Roxie to enjoy. An internet search will reveal many virtual outings to embark on — everything from natural landmarks and art museums to the Roman Colosseum!
Not the museum type? Pull up some wildlife videos! Your dog will love watching small animals scurry across the screen and hearing the exciting sounds of nature! These virtual excursions will give you plenty of ideas of places you and Fido can visit in the future.
Video chat with "fur-iends" 
Maintaining personal connections is so important during social distancing. Stay close at heart while far apart by letting your pup video call their furry (and not so furry) friends! Your pup will love catching up on the dog park gossip and seeing their pals. Wanna blow Max's mind? Throw an interactive filter on to really bamboozle them.
Experiment with recipes and let Fido be your taste tester 
Throw on your apron and let Fido assist you (read: lick the spoon) in your kitchen adventures! There are tons of doggy cookbooks and online articles to inspire creativity in the canine kitchen. 
Whip up Fido's favorite pumpkin dog biscuits with just four simple ingredients. Mix a cup of pure pumpkin puree (no added sugar, please!), 2.5 tablespoons of honey, two eggs, and 2.5 cups of wheat flour, then roll the dough out on a floured surface. Use fun cookie cutters or a jar lid to cut the biscuits down to size and place them on a baking sheet. Bake your cookies for 20 mins at 350 F.
Want something that won't heat the house? Freeze a mixture of peanut butter, plain Greek yogurt, and mashed bananas for a frosty summer treat! Wanna use up some leftovers? Throw some quality raw beef cuttings in a hollow chew toy for a meaty surprise Spike can savor for a while. The "pawssibilites" are endless! 
Want more canine culinary ideas? Check out these top activities for pet parents who love baking! 
Channel your inner "Pawcasso"
Is your pup into "barks" and crafts? Inspire their inner artiste with some fun paw print projects. Make ornaments with non-toxic air dry clay, fine glitter, ribbon, and kid-safe finger paint. You can make these as simple or elaborate as you like! 
Roll out the clay to about an inch thick and use a cookie cutter to stamp it into the desired shape (tree, heart, pumpkin, circle — whatever you desire!) Lay the clay onto a hard flat surface and press your pup's paw into it. You can use glitter, beads, sequins, or even dried pressed flowers to make it unique. Use a pencil to punch out a hole for the ribbon before it dries so you can hang it up. When dry, write your pup's name and the date on the back for a keepsake that will last a lifetime! 
Want some puppy decor that will work year-round? Let your pup add some whimsy to those worn-out drink coasters! All you'll need is wooden or ceramic coasters, scrapbook paper, scissors, non-toxic decoupage glue, a sponge brush, and some kid-safe paint. First, squirt some paint on a paper plate and layout the scrapbook paper on a flat surface. Stamp your pup's paw into the paint and then place it on the decorative paper. 
Once you have a good print, cut the scrapbook paper to size, and set it to the side. Use a sponge brush to thoroughly coat the top surface of the coaster with decoupage glue, then place the paper on top of the adhesive. Once it's dry, seal the design onto the coaster with two more coats of decoupage glue, letting it dry between applications. 
Make dinner fun 
Eating the same old kibble every night likely gets a little stale. Spice things up by making your pooch work for their dinner! Explore scent work by placing food in ventilated containers and placing them throughout your house for Fido to "hunt".
Use household objects to obscure the containers and experiment with putting the food at different heights. If this is too easy for your puppy, invest in some dog food puzzles or strategically placed snuffle mats to up the ante! Stick to non-carpeted areas or your backyard if you're using wet foods since these may get messy.
Let Rocky ride along during errands
Many stores now offer grocery pick-up and curbside service — even some craft and clothing shops. Most dogs love a good car ride, so why not take your pup along to pick up some necessities and a little treat too? Besides the convenience, curbside pick up allows your dog to accompany you on more errands and outings than ever!
After the important stuff is out of the way, you can grab some take out for the pack. Unsure of some dog-friendly dishes for Fido? You can't go wrong with grilled chicken and plain rice — delicious, nutritious, and dog-friendly to boot! 
Get fit with your Pit
Quarantine snacking got you and Fifi out of fighting shape? Create a fun, dog-centric work out regime to keep things exciting while you get fit! Stair runs, chase, and dancing are all fun ways to get your pup up and moving without leaving the comfort of home! 
Is Lucky looking for something more "zen"? Give doggy yoga a try! Canine yoga is a great low-impact exercise option for dogs with arthritis, and it can even help with mobility over time! You can find tons of online videos that will teach you and Fifi how to namaste at home.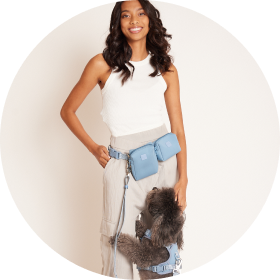 Need to upgrade your pet's leash?