Benefits of Parsley for Your Dog
Benefits of Parsley for Your Dog

Save on pet insurance for your pet
You don't have to choose between your pet and your wallet when it comes to expensive vet visits. Prepare ahead of time for unexpected vet bills by finding the pawfect pet insurance.
Parsley is a fresh-tasting herb that is found in gardens all over the country. You may have seen it in many a restaurant being used as a garnish, but this leafy green is worth being eaten all on its own. Not only is it good for humans, it's pretty great for dogs as well! The high contents of chlorophyll (the green, blood-like pigment in plants) in parsley make it excellent for improving the health of blood cells. It also acts as a diuretic (something that increases urine production) which makes it perfect for flushing waste out of the body. 
Parsley has been found to have both anti-inflammatory and antimicrobial properties, making it a good substance for dogs who suffer from UTIs or arthritis to consume. These frilly little leaves are packed with vitamins, including vitamin K which has been shown to help destroy inflammatory cells and improve the blood's ability to clot. Parsley works as an excellent tonic, preventing many health issues from starting or getting worse. We've found several different ways to prepare this power herb for your canine companion.
Parsley Tea Brewing a concentrated parsley tea may take the better part of an afternoon to complete, but you can freeze your final product for months worth of use! To make the tea, you need one large bunch of fresh or dried parsley for every quart of boiling water that is added. The tea should then sit covered for up to four hours. The mixture can then be returned to the stove to simmer at a low heat for an additional hour. This super strong concoction can be poured into ice cube trays and placed in the freezer for easy-to-grab parsley packages that can be melted in your dog's food at a rate of about one teaspoon for every ten pounds of dog.

Parsley Soup This method is ideal for treating dogs with a urinary tract infection, and works best when given on an empty stomach. Using a blender or juicer, mix together fresh parsley leaves with water, about one part leaves for every one part of water. At a rate of 1 teaspoon for every 20 pounds of dog, administer the green soup to your four-legged friend. If your dog isn't so crazy about the taste, try adding the soup into its water dish, or as a last measure, over your dog's food.

Fresh Leaves Giving your dog fresh cut parsley leaves as a part of its regular diet is another way to get the goodness of this super plant into your barky beast. The leaves work best if they are chopped very finely and mixed into your dog's meal. This can be done about twice a week for maximum health benefits. To keep your parsley fresh, dry off the leaves and cut the ends of the stems off. Place the stems in a cup with a small amount of water at the bottom, and replace the water regularly. The leaves should stay fresh for up to two weeks by using this method.
When deciding which type of parsley to use in your dog's health regime, be sure to use cooking herbs and opt for the curly variety if possible. The seeds of the plant should be avoided, as they can be toxic for pups at high doses! Steer clear of spring parsley, also known as "wild carrot", which is toxic to dogs and many other animals. Pregnant dogs should not consume parsley, as it can cause contractions to start. Parsley makes a great doggy breath freshener, as it gets rid of the nasty bacteria that causes bad breath, so look for treats that contain the herb to make doggy kisses less scary. To fight against infections, inflammation and even cancer, a daily dose of parsley shows promise for dogs of all ages.
Sometimes homeopathic remedies aren't enough to combat illnesses. If your dog is at risk of developing an illness, check out our pet insurance comparison tool. Wag! Wellness lets pet parents compare insurance plans from leading companies like Figo and Healthy Paws.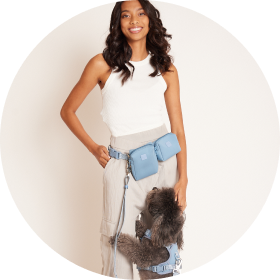 Need to upgrade your pet's leash?