How Expensive Is It to Own a Dog in New York?
How Expensive Is It to Own a Dog in New York?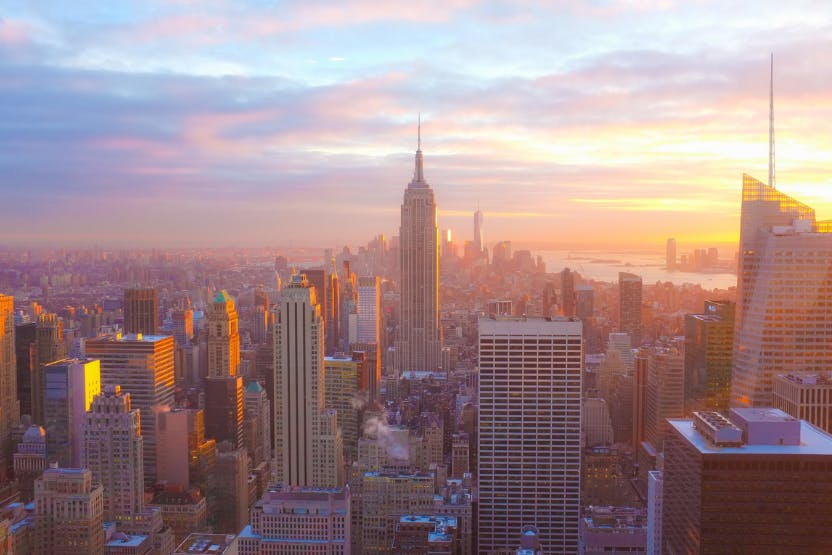 By Aurus Sy
Published: 10/20/2021, edited: 11/15/2021
Save on pet insurance for your pet
You don't have to choose between your pet and your wallet when it comes to expensive vet visits. Prepare ahead of time for unexpected vet bills by finding the pawfect pet insurance.
Overview
With New York City being the most expensive city in the United States, it's understandable why some people would want to avoid living here. But for pet parents who want a "furbulous" life for their pups, the higher cost of living might be worth it.

That's because the city's 500,000+ canines get to enjoy a multitude of dog-friendly spots, including restaurants, hotels, stores, and ruffly 40 parks! New York pups are definitely spoiled for choice, but just how expensive is it to care for a dog in the City That Never Sleeps?
A year of expenses
What is the yearly cost of having a dog in New York? The first year with your new pooch will typically cost more than the annual cost of subsequent years.

Aside from food, you need to purchase other basic supplies such as leashes, collars, toys, treats, and beds. Then there are also costs associated with grooming, training, walking, sitting or boarding, veterinary care, and licensing, though a few of these may not apply to every pup and pet parent. 
Here's how much New York dog parents can expect to spend during their furry child's first year:
Adopting a dog: $341.67
Buying a dog: $2,047
Average first year vet bills: $543.40
Licensing fee: $8.50–$34
Average food costs: $228
Dog walking supplies (leash, collar, harness, etc.): $20–$50
Toys and treats: $217
Dog park membership: $0–$40
Grooming (basic, once a month): $30–$500
Total: $1,388.57–$3,653.40
Licensing
Every NYC pup is required to have a license, which must be attached to their collar when they're out and about in public. You can purchase an NYC dog license that's valid for one year or up to five years. Good news if your pooch is spayed or neutered — the fee is much lower for dogs who have been snipped.
Dog license fees in New York are as follows:
Spayed or neutered, any age: $8.50 per year, up to 5 years
Non-spayed or neutered, under 4 months: $8.50 for the first year only
Non-spayed or neutered, over 4 months: $34 per year, up to 5 years
Late fee: $2 for each year an expired license was not renewed
Lost tag: $1 
The $2 late fee is waived if you attend a licensing event. Some events also offer free vaccines for dogs (and cats).
Vet care
Depending on their needs, your dog's first vet visit will likely cost more than a routine visit. Moreover, if you have a young puppy, you'll have to bring them in every few weeks until they're about 16 weeks old. 
So how much does vet care cost in New York?
Average cost of a puppy's first vet visit: $50–$300
Average cost of a routine vet visit: $60, not including procedures or medications
Microchipping: $25–$60
Spay/neuter: $150–$700
Emergency vet visit: $500–$1,000 
You can avoid microchip and spay/neuter costs when you adopt instead of buy, as it's normal for shelter dogs to have already undergone these procedures before they're adopted out. 
Note that most of the above figures are estimates since New York vets don't publish their rates. For accurate prices, please contact your vet directly.
Vet care in New York City can be expensive.
Paying for treatment out of pocket can be a major financial burden. Fortunately, most pet insurance companies reimburse claims within 3 days, putting 90% of the bill back in your pocket. In the market for pet insurance? Compare leading pet insurance companies to find the right plan for your pet.
Doggy daycare
The cost of doggy daycare in New York varies depending on where your pup checks in. A full day costs around $43 on average, while a half-day, which is typically 4–5 hours, is approximately $30 on average. 
Most doggy daycares also offer packages with discounts for a more budget-friendly option. Extra fees usually apply for additional services such as walks, feedings, pick-ups, and drop-offs. 
If you'll be out of town for a few days or weeks, consider booking overnight pet care services with Wag!. In-home sitting and boarding with Wag! are more affordable alternatives to local facilities. Plus, your canine BFF gets to stay in a comfy home environment while you're on the road.
Dog parks
Free dog parks in NYC

NYC boasts a number of parks that welcome dogs, with many offering designated off-leash areas for four-legged visitors. Most of these pup-friendly spots are open to the public, and no registration is required to use them; however, only dogs with a current license and rabies vaccination are allowed to romp sans leash. 
Other rules to take note of are: 
Unless they're in a dog run or designated off-leash area, dogs must remain on a leash at all times. 
Dog parents are expected to pick up after their furry charges and prevent them from chasing other animals.
Certain areas, such as playgrounds, ball fields, swimming pools, and fountains, are off-limits to dogs.
Private dog parks in NYC
Some dog parks in New York City are members-only. The annual dues for these parks range from $25 to $40 on average. More exclusive parks, like West Village Dog Run or the School Yard at School for the Dogs, may cost you anywhere from $250 to $2,000+ per year!
Best dog breeds for apartments in New York
If you're among the countless New Yorkers who reside in an apartment, you want a four-legged roommate who's also able to adapt to living in a smaller space. Here are some breeds to consider if you're planning to welcome a new canine companion into your condo:
Yorkshire Terrier
The most popular toy breed in the United States, the Yorkshire Terrier comes in a petite size that doesn't take up much room. These lively lapdogs do have a good amount of energy to burn, but as long as they get daily walks and play, they make good apartment dogs.
Maltese
As one of the smallest toy breeds, the Maltese will feel right at home in a cozy apartment. They also don't shed much, making them ideal for living in close quarters. Though the Maltese can get enough exercise playing indoors, they still enjoy walks outside, which they can do at the city's many dog-friendly parks.  
Havanese
The national dog of Cuba, the Havanese is known for being outgoing and affectionate. They're happiest when they're with their family and will certainly have no trouble making friends at the dog park. The Havanese is generally not a yappy breed and keeps their barking to a minimum.
Shiba Inu
While not a toy breed, the Shiba Inu is still a good size for apartment dwelling. But since they're energetic, they'll benefit from daily walks on the Hudson River Greenway and other trails in the city. The Shiba doesn't always get along with other canines unless they're socialized from a young age.
Labrador Retriever
It might be a surprise to see a large breed on this list, but the Labrador Retriever can adapt and even thrive in an apartment setting as long as their daily exercise needs are met. Fortunately, New York is home to several off-leash areas and pooch-friendly trails where a Lab can run off all their energy.
The costs of caring for a canine companion can really add up, especially when you're living in one of the world's most expensive cities. Getting pet insurance can help prevent high vet care costs — start comparing insurance plans to find the right one for your pup!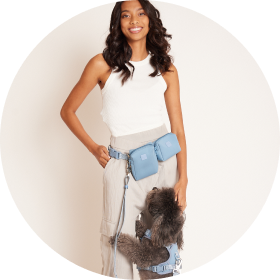 Need to upgrade your pet's leash?