How to Make a Homemade Paw Wax for Cats
How to Make a Homemade Paw Wax for Cats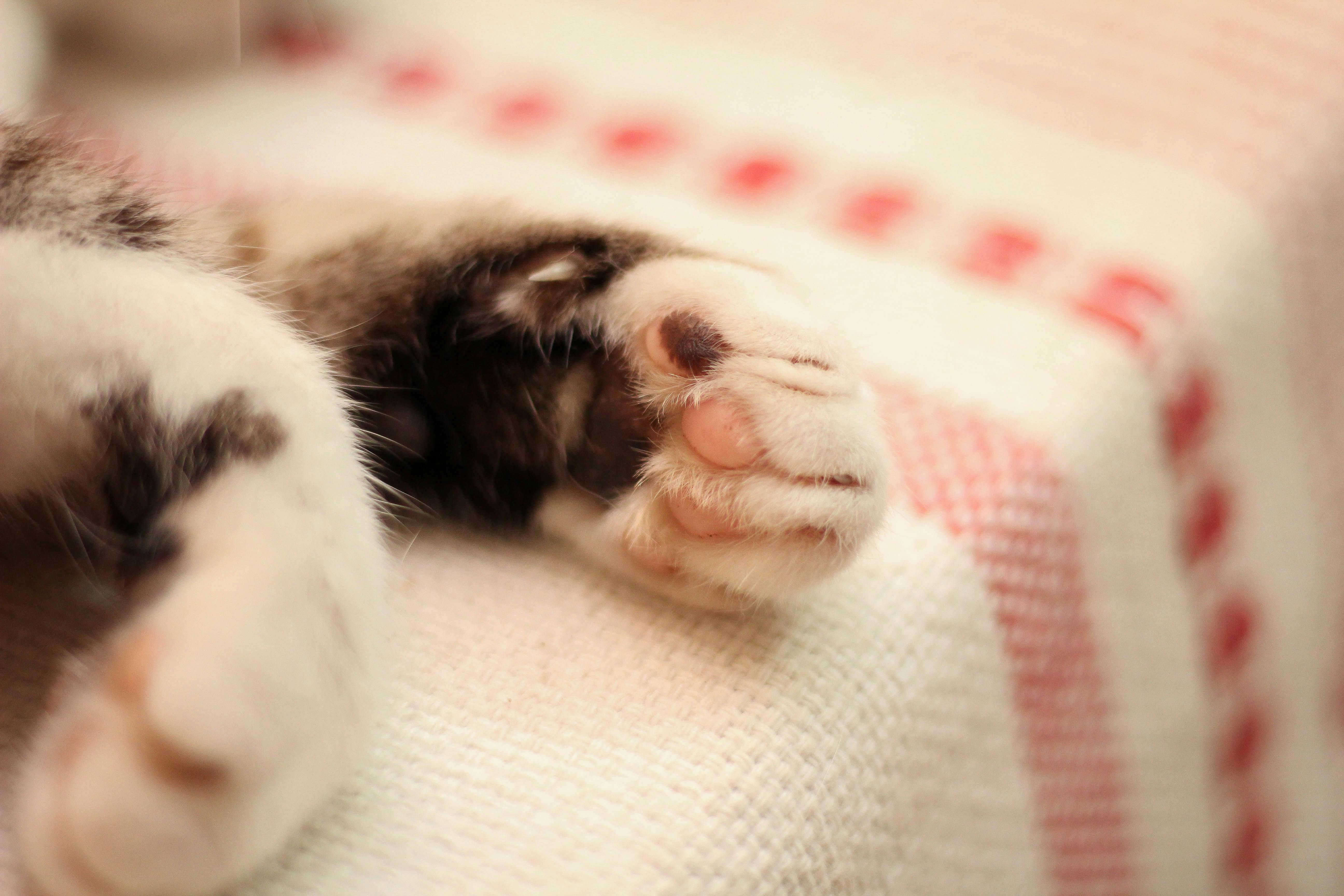 By Leslie Ingraham
Published: 08/31/2021, edited: 08/31/2021
Save on pet insurance for your pet
You don't have to choose between your pet and your wallet when it comes to expensive vet visits. Prepare ahead of time for unexpected vet bills by finding the pawfect pet insurance.
Published: 8/31/2021
While mushers are quite familiar with paw wax and use it frequently on their dogs to protect their foot pads from ice and snow, pet parents of cats may not have heard of it. Many dog lovers apply paw wax to their dogs' feet even if they're only traversing the backyard, or to protect them from the beach's hot sand or hot asphalt on the streets. But paw wax can be equally as protective for our kitties too!
If you are a DIYer, you will be pleased to know that you can make a meowtastic paw wax right at home. But why are we talking about homemade paw wax for cats, especially for those that don't go outside? Let's take a look at how paw wax can help your furvorite feline. 
What is Paw Wax?
Paw waxes are primarily used to protect an animal's paws from cold, heat and rough outdoor surfaces and terrain. When applied between the toes, paw wax also prevents snow balls and ice from forming there. Some paw waxes may have artificial chemicals in them, while others contain natural ingredients such as beeswax, olive or nut oils, and sometimes essential oils. 
Cats are known to lick their paws, and many commercial paw waxes may contain substances that are harmful to cats, such as lavender oil. Read the label carefully, and call your veterinarian to check any questionable substances. To avoid any issues with ingredients, consider making paw wax at home. 

Do cats need paw wax?
Since paw wax protects paws from extreme temperatures and rough terrain, paw wax is just as effective for outdoor cats as it is for dogs. But many indoor cats can benefit from paw wax too. Paw wax is ideal for moisturizing and soothing felines' pads, and can also be used on their ears and nose when they become dry, such as from indoor heat or air conditioning. The rough surfaces of some scratching and climbing posts can also irritate the cats' pads, making paw wax the purrfect solution. 
How to apply paw wax
Most cats aren't fond of having their paws handled. To ease into the process, be sure to massage your cat's paws and pads every time you pick them up. Massaging also allows you to inspect their paws to ensure there are no foreign objects or cuts there. After your cat is comfortable with you touching their paws, you can try putting a tiny amount of wax on one paw and rubbing it in. If they tolerate that, try it with the other three paws. 
Using a pea-sized portion of the wax for each paw, apply two to three times a week. If you see pawprints on your bare floors, furniture or countertops, you're likely using too much paw wax or applying it too frequently. If you do happen to apply too much, a dry paper towel or warm, moist washcloth will remove some of the excess.
How to make a DIY paw wax for cats
One of the best ways to be sure the wax you're using is safe and effective is to make it yourself. There are many recipes and methods, and most contain oils, beeswax, and shea butter. Here are two to get you started!
Paw Wax Recipe from Wag!
Equipment:
Small pan
Small measuring cup or heat-tolerant bowl
6 heat-safe metal 1-ounce tins
Ingredients
1 cup water
2 tablespoons shea butter
4 teaspoon almond oil 

1 tablespoon coconut oil
4 teaspoons beeswax
Directions:
Heat water in a small pan until hot but not boiling; remove the pan from the stove
Place all remaining ingredients in a measuring cup or heat-proof bowl and lower it into the water
Stir the ingredients until they are completely melted and blended. Remove from heat.
Pour into tins and let cool

Store in a cool, dry place and use within one to two years
Paw Wax recipe from the Ontario SPCA
Equipment: 
Small pot or double boiler
6 heat-safe 1-ounce tins
Ingredients: 
2 ounces virgin olive oil
2 ounces coconut oil
1-ounce shea butter
4 teaspoons beeswax (use pellets instead of a block to save time if you can get them)
Directions: 
Over low heat, melt the oils, shea butter, and beeswax, stirring continuously until all ingredients are melted and well-blended.
Pour carefully into heat-safe tins
Let cool without moving until the wax is hardened (1-2 hours)
Cap the tins and label as desired
Store paw wax away from heat sources, and use it within one to two years.
With a little paw wax, your cat will have the softest, most moisturized paws in the neighborhood. Making your own is so easy and relatively inexpensive, you can try some this weekend! Your cat will thank you for it.