Creative Grooming: Is it Safe or Is It Abuse?
Creative Grooming: Is it Safe or Is It Abuse?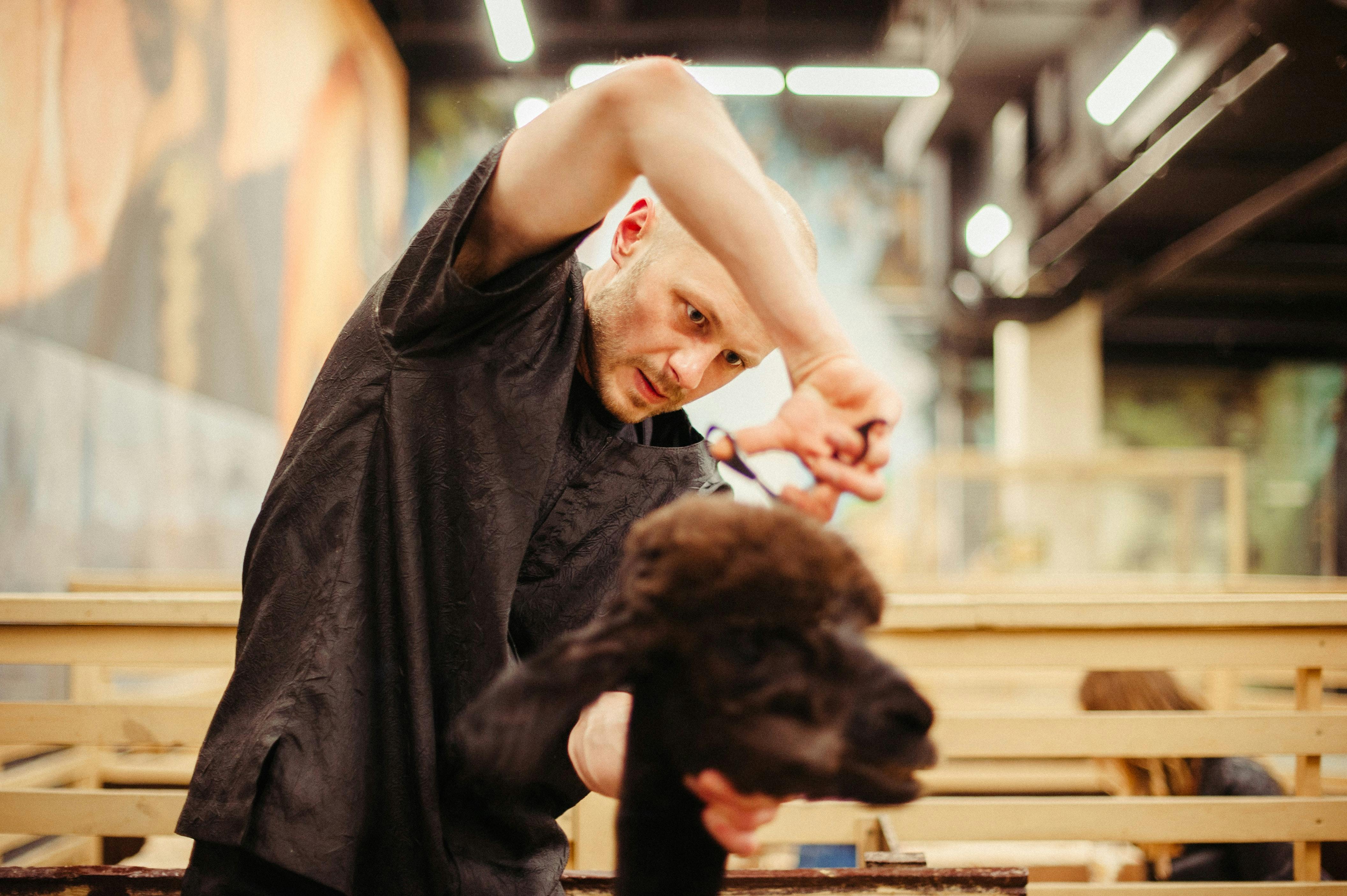 By Leslie Ingraham
Published: 06/22/2021, edited: 11/18/2021
Save on pet insurance for your pet
You don't have to choose between your pet and your wallet when it comes to expensive vet visits. Prepare ahead of time for unexpected vet bills by finding the pawfect pet insurance.
Grooming dogs in imaginative ways is not a new concept. Today, the newest thing is creative grooming that uses dyes and cuts to make dogs into works of art. Whether it's a picture of Snow White with the dwarfs, or a replica of Van Gogh's "Starry Night", the subjects of creative grooming are endless. Camaraderie and challenges bring creative groomers together and attract the attention of avante-garde dog-lovers of all ages.
But not everyone loves the idea or results of creative grooming. While a dog who is creatively groomed will attract their attention, skeptics agree they would never subject their own puppers to it. They like dogs to look natural, and bright colors and dramatic art doesn't fit into their canine view. And they're not sure it's good for the doggos either.
So is creative grooming safe or is it abuse? In this guide, we'll look at both sides of the argument to better understand this debate, but first, let's take a look at what creative grooming is.
What is Creative Grooming?
While many people think only of fur dying when talking about creative grooming, there are other techniques used to create a canine masterpiece. They include cutting shapes in a sculpted bas-relief style into the fur, or shaving a design down to the skin, then colorizing it for a furbulous effect. Some creative techniques include:
Pet Tuning using one color of dye combined with a single accessory like a bow, a string of pearls or a tie. The dog's nails may also be painted to match. One style of pet tuning is dictated by the owner, while groomer created pet tuning can be more imaginative and whimsical. Chinese crested dogs, who only have hair on their heads and feet, are perfect for this style. Pet tuning is common for shows and competitions, perhaps for its startle value.
Asian Fusion, founded primarily in Japan, China, and Korea, uses very little or no dye, and looks more like a sculpture than a painting. Also known as Japanese Freestyle, it was developed by groomers who wanted a different look from more traditional dog show grooming. The dog's hair is cut into shapes that are artistic and stunning, using a unique trimming process called Radical Asymmetry that mixes Asian and Western styles.  
Traditional Creative Styling encompasses most of the dog grooming art. City skylines and other shapes are cut into the fur, then are painted or dyed in multiple shades for a colorful result. For example, hair cut to the floor changes a four-legged dog into an elegant lady in a gown. Traditional styling also includes grooming that meets certain dog-related standards for dog shows and competitions. 
What Makes the Tails of Creative Grooming Fans Wag?
Fans of creative grooming and the groomers themselves perceive the process as an expression of their artistic skill using their dogs' fur as the canvas. Many believe that the dog actually enjoys being groomed for an extended time, and thrives on the extra attention they receive when they're taken out in public. Grooming is a puptastic way to create a bond between humans and their canine buddies, but creative grooming is thought to be especially bonding because it requires increased time together.
While creative groomers agree that more complex and detailed designs take from 20 - 40 hours, they stress that they don't keep the dog on the table for more than a couple of hours at a time, the same as most routine grooming sessions. Some groomers may take up to a year to grow a dog's hair long enough to create dog art for competitions.
What are Opponents of Creative Grooming Barking About?
Although creative grooming is becoming more and more pupular, there are some who claim it is dangerous and even a form of canine abuse. They also oppose it on ethical grounds, saying that unnecessary and time-consuming grooming sessions have made our canine friends into novelty accessories instead of the sentient, intelligent beings they are. 
Animal groups such as One Green Planet and the Royal Society for the Prevention of Cruelty to Animals (RSPCA) agree that grooming should only be used for the pet's needs of comfort, safety, and good health. These groups claim that hair dye, even when marketed as "pet-friendly," may be injurious to pups. The dye can make a dog smell different, raising questions about safety around other animals and humans, and can cause allergies, burns, infections and other issues.
Some dog-advocate organizations feel strongly that the long process of cutting and dyeing that involves standing on a table for long periods of time may cause stress. When owners try creative grooming on their own, they could cause life-threatening burns or cuts if not familiar with safe dyes and techniques. Using rubber bands to anchor accessories like bows on a dog's ears may result in inadequate blood flow and result in amputation. Detractors believe that creative grooming is abusive and violates a dog's rights because the pups can't consent to the procedure, and some U.S. states have even banned dog-dyeing.
What About the AKC?
While the American Kennel Club doesn't take a stand against creative grooming and dyeing, the organization promotes adequate training for groomers to ensure they know what they're doing for the health and safety of all dogs. Their Safety in the Salon program is part of their overall AKC S.A.F.E.(Safety, Assurance, Fundamentals, Education) Grooming Certification Program, which is available online or at various locations, and aids their commitment to the training and oversight of all professional groomers.
Creative grooming can be fun and inspiring, but given the possible hazards, it's best to weigh the pros and cons when deciding if it's right for your dog. While grooming can be a great bonding opportunity, your pooch may enjoy taking a walk, throwing a ball or frisbee, or kicking up the sand with you at your local beach whatever color of the rainbow they are.