Is it Legal to Let Your Cat Roam Freely?
Is it Legal to Let Your Cat Roam Freely?
By Adam Lee-Smith
Published: 06/11/2021, edited: 10/01/2021
Save on pet insurance for your pet
You don't have to choose between your pet and your wallet when it comes to expensive vet visits. Prepare ahead of time for unexpected vet bills by finding the pawfect pet insurance.
Updated: 9/3/2021
Does your feline friend have the right to roam around your neighborhood? If you have a kitten that's itching to get outside and explore, you might be wondering how your furry friend fits into your city's animal control ordinances and trespassing laws.
While it's not clear what the laws are concerning free-roaming felines, it's a common question that Americans ask. Nearly 32 million households in the US have one or more cats as pets, which means roughly 25% of homes have a Simba or a Cleo. Read on to find out about regulations and common laws affecting your fur-baby's ability to go on an outdoor adventure. 
The law on letting your cat outside
"Unfurtunately", there is no clear-cut countrywide law on letting your cat roam freely. There aren't usually statewide laws, either. While the US does have countrywide and statewide laws on things like animal cruelty, your city or county sets laws regarding free-roaming cats.
You might think laws across the country regarding free-roaming cats would be similar; however, this isn't the case. There are huge variations relating to trespassing, cat licensing, mandatory neutering, and much more. 
Only 3 states have standardized laws for cats, or "cat codes": California, Maine, and Rhode Island. These states have laws on everything from minimum weaning times for kittens to maximum holding times at shelters. 
Many laws on free-roaming cats are strict and could result in your cat being impounded or put down by a local shelter. One common law is a "leash law," which requires cats to stay indoors or on a leash, or they'll be treated like a stray and taken to a pound, similar to dogs. 
Another common law that sounds good on paper is cat licensing. These laws require cats to wear some form of identity tag and collar. Otherwise, they'll be picked up by animal control. This means even if your indoor cat briefly gets outside without their collar on, they may be picked up by animal control and taken to a shelter. 
These laws also target feral and stray cats, and most local governments have a Trap-Neuter-Return (TNR) policy to keep community cat populations in check. Regardless of these policies, the Humane Society of the United States says that, of a population of around 35 million community cats, only 2% are neutered, making TNR generally ineffective in controlling community cat populations. 
Many pet parents with feline fur-babies might think these laws are short-sighted, considering cats have lived outside near humans for over 10,000 years. Considering around 70% of shelter cats are euthanized, restrictive laws on free-roaming cats are a serious problem for animal welfare.
How can you protect your cat when they're outside?
While laws differ from county to county and city to city, there are some basic steps you take to ensure your cat is safe outside. If you're letting your cat outside, ensure they have a microchip. This way, if they lose or manage to slip off their collar and ID tag, you can still identify them with a microchip scanner. You won't be able to track them via GPS, but it'll come in handy if your fur-baby gets taken to a pound by mistake. 
You can also encourage your cat not to stray too far from the house. Keeping a strict feeding route will help bring your cat in at certain times, as hunger will drive them to return home. You can also set outside boundaries with scent by rubbing some fur or bedding around your yard to attract them. 
If you're too worried about letting your cat roam freely, but you'd like to let your cat experience the great outdoors, you can try leash training your cat. While you may think it's odd to walk your cat like a dog, it's becoming increasingly common and is an excellent way for your cat to go outside under your supervision. 
As always, check the laws in your area on free-roaming cats to keep your cat safe and to prevent them from being picked up by animal control. Your local animal control or your veterinarian may be able to tell you about local laws on cats. You can also contact your city hall, which will be able to point you in the right direction.
Keen to let your kitty explore the great outdoors? Invest in pet health insurance so you're covered in case of an injury or illness. The sooner you insure your cat, the more protection you'll have from unexpected vet costs.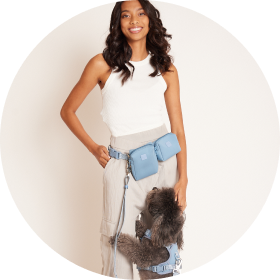 Need to upgrade your pet's leash?