By Darlene Stott
Published: 07/10/2020, edited: 08/10/2021
Save on pet insurance for your pet
You don't have to choose between your pet and your wallet when it comes to expensive vet visits. Prepare ahead of time for unexpected vet bills by finding the pawfect pet insurance.
Overview
Updated: 7/15/2021

PetPremium is a pet insurance provider that prides itself on keeping your pet healthy. The pet insurance company's motto is, "We focus on health insurance rather than sickness insurance." With the ability to use any vet nationwide and a choice of annual deductibles and reimbursement percentage options, PetPremium offers a pet insurance plan you can tailor to your budget and needs.
To decide if PetPremium Pet Insurance is the best coverage for your fur-baby, read on for an unbiased review. We'll give you information on how to choose the insurance coverage, make a claim, and more.
Premium prices are not readily available on the website. Still, the quote process is easy to complete online by filling out a simple form.

The cost of PetPremium insurance coverage is based on your dog's age, breed, and other factors, like the cost of veterinary care in your area, your chosen co-pay, and preferred deductible. Pet parents living in a city like New York may pay higher premiums than those living in a small town where veterinary costs are lower. 
Co-pay costs (the percentage of the veterinarian bill that you pay) and the deductible (the amount you pay toward medical expenses before your insurance company reimburses) will make a difference to your premium cost. The deductible, which only needs to be met once per policy period, ranges from $100 to $500. Co-pay percentages are 70%, 80%, and 90% for eligible claims. Not sure what all this means? Check out our guide on pet insurance terms.

PetPremium offers Accident Coverage and Accident/Illness Coverage, and like many pet insurance companies, the premiums are based on risk.

PetPremium also offers add-on packages. The services covered will vary depending on the selected plan, but may include dental care, vaccines, and other procedures. Here's a breakdown of the price of PetPremium's Additional Optional Preventative Wellness Care add-ons:
Basic Care: $9.95/month
Standard: $14.95/month
Prime Preventative Care: $24.95/month

If you'd like to avoid the installment fee, you can pay the annual premium in full as opposed to monthly, quarterly, and semi-annually. As long as no coverage has been provided, PetPremium offers a 30-day money-back guarantee.
PetPremium assures clients that filing a claim is as easy as 1-2-3. The first step is to obtain your claim form by mail or fax, or download it from the website. Complete the form with the required information, including identifying yourself and the insured pet, details on the symptoms and diagnosis, and a declaration. Remember to include a copy of the invoice from your veterinarian.
Once all the required information is received, payment should be processed within 30 days. The PetPremium website states that you can track the status of your claim 24/7 once submitted through PetPremium's Member Center. The claim payment can also be sent directly to your veterinarian.
PetPremium offers Total Coverage Plans and Accident Only Coverage. Pet parents can also add Wellness Coverage to help take care of basic needs. The choice is yours as to whether you opt for a basic plan which may have per incident caps for payouts, or unlimited annual benefits, which comes at a higher price, of course, in the form of higher premiums.
The PetPremium website does not offer a detailed listing of the illnesses covered. Instead, it's broken down into groups:
Medical conditions covered:
Accidental
Illness
Hereditary
Chronic
Dental illness
Medical treatments covered:
Diagnostic testing
Surgery
Hospitalization
Prescription medications
Specialty care
Alternative care
Behavioral therapy
Optional preventive care
This care coverage is aimed at keeping your pet well and will be based on whether you chose Basic, Standard, or Prime coverage. 
Preventive Care Coverage will include items like deworming, fecal tests, certain vaccines, flea/heartworm protection, and urinalysis.
Exclusions
Pre-existing conditions are excluded. Conditions that occur before the coverage is effective or during a waiting period are not covered. Once your pet is cured and treatment-free for 180 days, coverage will then be effective. 
Inhumane treatments like tail-docking are excluded. Dental procedures like orthodontics and endodontics, among others, are also not included. 
An exhaustive list of all categories listed above should accompany your insurance package. Note that not all items listed are covered on all of PetPremium's plans. There may be applicable incident and lifetime limits.
Pets aged 8 weeks and up are covered by PetPremium. There's no age limit above 8 weeks. Buying your policy when your pet is young most often ensures the lowest rates. Of course, premiums will rise as your pet gets older. Pets in all 50 states of the United States are eligible.
Take the time to read over the website, and also call PetPremium's customer care center to determine the best coverage for your dog. When applying, the quote process will require your pet's name, breed, gender, and birthday. Whether your dog is spayed or neutered is important to specify, and your zip code is required, too.
Accident coverage and Preventive Care coverage (if you choose it) will start on the effective date of the PetPremium Pet Insurance plan. If you select Accident/Illnesses Coverage, the illness portion will start 14 days after the effective date.
There's a 14-day to 12-month waiting period after the effective date for ligament issues and knee conditions. Depending on the coverage, there may be a 180-day waiting period for hereditary, genetic, or congenital conditions. It's a good idea to get clarification on these points when enrolling if you're unsure about anything.
The Better Business Bureau had no documented reviews for PetPremium Pet Insurance at the time of writing. Consumer Affairs had a basic overview without any customer input. Other non-accredited sites with reviews on this pet insurance company offer mixed opinions. Noted points were a wish for more clarity on the website and the ability to do more processing online. Customer service over the phone was considered very helpful. Some pet parents said they liked the options for accident-only and accident/illness along with added wellness coverage.

PetPremium pet insurance may be the right coverage for pet parents looking for good value and flexibility. The ability to choose accident coverage only is an attractive option for some. The accident and illness combination offers more comfort as far as unforeseen illnesses go. The 3-tier Preventive Care option is accessible to all budgets and is reasonably priced, ensuring that pets who may miss their annual vaccines and wellness checkups due to finances are covered.
Not sure which pet insurance company to choose for your pet? Compare pet health insurance plans today with Wag! Wellness.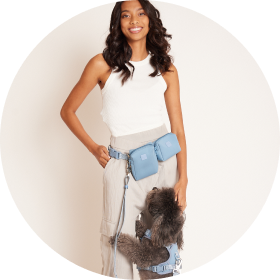 Need to upgrade your pet's leash?