Spot Farms Dehydrated Human Grade Dog Food: What You Need to Know
Spot Farms Dehydrated Human Grade Dog Food: What You Need to Know

By Tim Falk
Published: 01/13/2021, edited: 09/07/2022
Save on pet insurance for your pet
You don't have to choose between your pet and your wallet when it comes to expensive vet visits. Prepare ahead of time for unexpected vet bills by finding the pawfect pet insurance.
Spot Farms may be best known as a manufacturer of a range of dog treats. However, it also offers two dehydrated dog food recipes designed to meet the nutritional needs of dogs at all life stages: a Chicken Recipe and a Turkey Recipe.

But is Spot Farms Dehydrated Dog Food right for your pup? Keep reading for an in-depth look at the cost, nutrition facts, and key features of this human-grade dog food.
Overview
Founded in 2013 as a premium pet treat and food brand, Spot Farms specializes in products made with natural, human-grade ingredients. All ingredients used in Spot Farms for dogs are fit for human consumption, with products prepared in US kitchens.
Its range of dehydrated dog food features two products that can either be fed as a complete meal if you add water and stir, or used as a topper. Those products are:
Grain Free Chicken Recipe. Made from chicken grown without the use of antibiotics on North Carolina farms, this food is designed for dogs at all life stages. It's made from human-grade chicken and also features potatoes, flax seed, apples, and carrots. No animal meal is used in the recipe but probiotics have been added to help support a healthy gut. An 8-pound box makes 32 pounds of dog food.
Grain Free Turkey Recipe. This recipe is made from turkey grown without antibiotics on Indiana farms. It features human-grade turkey and no animal meal, while probiotics and extra fiber help support healthy digestion.
Spot Farms also offers an extensive range of treats for dogs. These include:
Training Treats. Training Bites and Stix are available in duck and chicken.

Basics Jerky Tenders. These jerky tenders are available in beef and chicken.

Classics. Spot Farms for dogs also offers its Classics range of treats, which includes products like Chicken Nuggets, Turkey Meatballs with Cranberries, and Duck Tenders.

Freeze Dried. Treats in this range include freeze-fried duck, turkey, and chicken.

Functional Jerky. This range features specialist chicken jerky treats designed to promote healthy skin and coat and improve hip and joint health.

Natural Cut Jerky. Natural Cuts Chicken Jerky is made with US-grown chicken.

Wild Shreds. Products in the Wild Shreds range include Bison Jerky, Duck Jerky, and Venison Jerky.
Cost
While prices may vary between retailers, you can expect to pick up an 8-pound box of Spot Farms Dehydrated Dog Food for approximately $50. You'll find Spot Farms for dogs at a wide range of major pet supply stores.
Ages
Spot Farms Dehydrated food for dogs is suitable for all ages.
Breeds
Spot Farms Dehydrated food for dogs is suitable for all breeds.
Ingredients
Spot Farms sources its ingredients from small, American farms. Its recipes feature dehydrated meats, vegetables, and fruits to preserve freshness and increase availability. We've included the first 5 ingredients for both recipes here. For a full breakdown of the ingredients, visit the Spot Farms website.

Grain Free Chicken Recipe
Dehydrated chicken, dried potatoes, flaxseed, dried apples, and dried carrots are the first 5 ingredients of the grain-free chicken recipe. This blend is also fortified with vitamins, including vitamin A, vitamin D, and B-complex vitamins.

Grain Free Turkey Recipe
The first 5 ingredients of the turkey recipe include dehydrated turkey, dried potatoes, flaxseed, dried apples, and dried carrots.
Ratings
There are limited reviews available online of Spot Farms' range of dehydrated food on independent customer review sites. However, Spot Farms food for dogs has largely earned positive reviews from customers at retailers like Chewy, Amazon, and Petco.
Those who were impressed with Spot Farms food praised its convenience, reasonable value for money compared to other brands, and the fact that it was often well received by picky eaters. Others also reported that the Spot Farms recipes work well as toppers.
The critics were generally those whose dogs didn't like the food, who didn't like the consistency of the food, or who claimed it caused an upset stomach for their dog.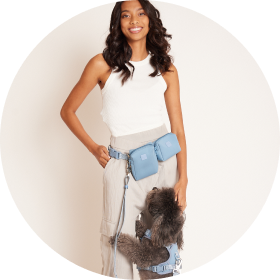 Need to upgrade your pet's leash?