The Ultimutt Guide to Zero Waste Dog Treats
The Ultimutt Guide to Zero Waste Dog Treats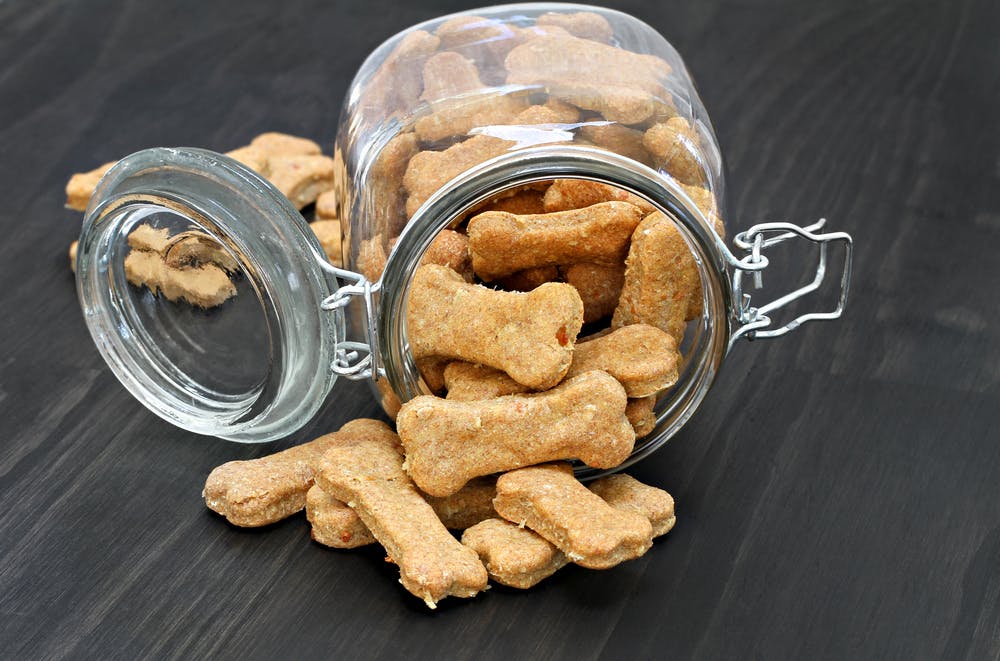 By Mel Lee-Smith
Published: 02/05/2021, edited: 08/10/2021
Save on pet insurance for your pet
You don't have to choose between your pet and your wallet when it comes to expensive vet visits. Prepare ahead of time for unexpected vet bills by finding the pawfect pet insurance.
Published: 02/05/2021
Few things in life are certain, but one thing's for sure: every dog loves treats! The slightest crinkle of treat packaging is enough to perk up your pupper's ears and send them sprinting into the kitchen for a tasty morsel.
When you grab a bag of treats off the shelf at your local pet store, you might not "pawse" to consider what went into making that little plastic bag, or where it will end up once it's empty.
In a perfect world, all dog treat packaging would be biodegradable or compostable. Unfortunately, that's not the case. That little plastic treat bag will stick around for hundreds of years after your pup finishes it.

Sounds pretty grim, but there's some good news! Whipping up your own zero-waste dog treats at home requires minimal effort and expense. Not only will you discover a new hobby (or rediscover an old one), but you'll also save money, control what goes into your dog's treats, and most importantly, bond with your fur-baby. Sounds like a win-win-win to us!
What you need to know about dog treats and climate change
When you hear the words "dog treats" and "climate change", packaging is probably the first thing that comes to mind. But the ingredients that go into your dog's treats matter just as much as the bag or box they're packaged in. Below, we've covered a few of the dog treat ingredients that harm the environment.

Meat

Meat is a major sticking point for many zero-waste pet parents. Rearing meat for both human and dog food consumes a significant amount of precious resources like land, water, and food. Fortunately, many pet food companies repurpose animal by-products, like organ meat, from human-grade meats into their dog foods and treats. Not only does this help reduce waste, but it also provides nutritious protein sources for dogs.

Because dogs are omnivores who derive much of their protein from meat, it's not wise to put them on a vegan diet in the name of going zero-waste. The good news is, you'll find an array of vegan dog treat recipes that your pup will "pawsitively" love! (Keep reading to see 3 of our favorites.)
Food dyes
Many dog treats contain food dyes. Not only do these additives not add any nutritional value, but they can also harm the environment. Roughly 15% of all food dyes end up contaminating a water source. Food dyes discolor the water, which causes a ripple effect on everything from photosynthesis to water oxygen levels.
Corn syrup
You might be surprised to learn that some dog treats contain corn syrup. Again, this ingredient provides no nutritional value for your dog and could even contribute to obesity. The commercial cultivation of corn is also a major driver of climate change. Tending cornfields uses a lot of land, water, and gasoline, not to mention pesticides and fertilizers.

The scoop on dog treat packaging
Surprisingly, there's not a whole lot of information out there on the environmental impact of dog treat packaging. But we can infer a few things based on what we know.
Common materials used in dog treat packaging

Many dog treat bags are made of laminated plastic. Unlike some single-use plastics, laminated plastic isn't recyclable and will take over 400 years to break down in landfill conditions.
Other types of treat bags are made of mixed materials, like aluminum foil, mylar plastic, polyethylene (PE) plastic, and polyethylene terephthalate (PET) plastic. Although their individual components may be recyclable, bags made of mixed materials usually aren't recyclable.

If that's the case, why do dog treat manufacturers still use these materials to package our dogs' favorite treats? There are a few benefits of using plastic packaging for dog treats:

Keeps food fresh for longer

Protects against contaminants

Holds up better during transport
Manufacturing and shipping
Disposing of that dog treat bag is only part of the story. Let's explore the environmental impact of manufacturing and shipping dog treat bags.
As we already mentioned, many dog treat packages contain non-recyclable plastics like PE and PET. According to the Ecology Center, manufacturing a 16 oz. PET plastic bottle produces 100x the emissions of manufacturing a glass bottle. Those emissions also contribute to health problems caused by air pollution. Sure, we're talking about plastic bottles and not dog treat packaging specifically, but the environmental impact still applies since they contain the same type of plastic.

In many cases, dog treat manufacturers don't make their treat bags on-site. Instead, they order them from a third party. Dog treat bag manufacturers are located around the world. Those bags are likely shipped long distances via air or freight, adding to their overall impact on the environment.

Sniffing out eco-friendly dog treat alternatives
As the zero-waste movement continues to gain momentum, businesses and consumers everywhere are rethinking their manufacturing processes and spending habits. What does that mean for a zero-waster like you? It means you'll find some "pawsome" alternatives to plastic dog treat packaging — if you know where to look (and what to look for).
Eco-friendly dog treat packaging materials

Biodegradable or compostable cellulose

Recycled paper or cardboard

Recycled cotton

Glass
Actions you can take to reduce your pup's carbon pawprint

On your zero-waste journey, you'll discover that speaking up and taking action are two of the most impactful things you can do to help the planet. Here are a few specific things you and your pup can do to take your commitment a step further.

Shop small at locally owned pet stores.

Ask your local pet shop to store treats in glass jars and let shoppers fill their own containers.

Write to dog treat manufacturers asking them to consider using more sustainable packaging.

Join forces with other pet parents in your area to educate your community on the environmental impact of pet parenthood.

Make your own zero-waste dog treats.

How to make and store your own zero-waste dog treats
Phew! We know that's a lot to take in. But we hope you'll think twice before snapping up that foil bag of dog treats at the pet store. Sure, they're convenient, but they're one of countless products harming our planet. Besides, whipping up some zero-waste dog treats of your own is a "furrific" way to bond with Bella.

We've included a zero-waste dog treat recipe for every preference and palate. All 3 treat recipes are grain-free, meat-free, and suitable for sensitive tummies.

3-ingredient Peanut Butter Bites
Your Newfy will go nuts for these delicious, nutritious peanut butter treats. Here's what you'll need. (Bonus points if your peanut butter and coconut oil are packaged in glass jars!)

Ingredients:
1 cup all-natural peanut butter with no added sugar or xylitol


1 cup coconut oil

Dash cinnamon (optional)
Instructions:
Add all your ingredients to a pot.

Bring to a boil.

Remove from the heat and pour into a silicone mold.

Freeze.


Enjoy!
Keep these treats frozen to maximize their shelf life.

Simple Sweet Potato Chews
If your Frenchie loves to gnaw on anything and everything, they'll go dog wild for these healthy chews! Bonus points for buying loose sweet potatoes and storing them in an eco-friendly produce bag.

Ingredients:
2 sweet potatoes

1 tbsp. coconut oil
Instructions:
Set your oven to 200° F.

Line your baking tray with parchment paper.

Cut off the ends and slice the potatoes lengthwise into 1/2-inch-thick pieces.

Melt coconut oil and lightly coat the sweet potatoes, if desired.

Bake for 6 hours, flipping the chews once halfway through.

Remove from the oven and let cool.
Store in an airtight container in the fridge for up to a week or freeze them for up to 4 weeks.

Berry Pupsicles
These super simple treats are the "pawfect" way to beat the summer heat!

Ingredients:
1/2 cup water or almond milk

1 cup organic berries of your choice (we like strawberries, blueberries, and raspberries)

1 tbsp. molasses (optional)
Instructions:
Blend all ingredients until well-combined.

Pour into popsicle molds or an ice tray and freeze.

Enjoy!
Everything you need to know about zero-waste dog treats: wrapping up
When it comes to reducing your pup's carbon pawprint, there's a lot to consider. No matter where you are on your zero-waste journey, be sure to celebrate every small win. You're doing a "grrreat" job!
Need some more guidance on living zero waste with a dog? Check out our other guides: