Tips and Tricks for Airplane Travel with Your Dog
Tips and Tricks for Airplane Travel with Your Dog

By Darlene Stott
Published: 07/23/2017, edited: 09/07/2022
Save on pet insurance for your pet
You don't have to choose between your pet and your wallet when it comes to expensive vet visits. Prepare ahead of time for unexpected vet bills by finding the pawfect pet insurance.
Flying is stressful enough for human passengers, but it can be dangerous and even deadly for canines if something goes wrong during or after the flight. Dogs of varying sizes also fly differently in that small dogs can go in the cabin and large dogs have to go in the cargo compartment. A lot has to be considered before choosing to put your furry buddy on a plane. How can you better the chances of a stress-free trip for you and your dog? 

Read on for valuable tips and tricks to make your next flight with your four-legged companion as smooth as possible.

Book your flight early
Many flights have limits for animal passengers; some airlines only allow one or two dogs per plane flight. Before you purchase your ticket, call ahead and make sure that there is a spot available on the flight for your pup. Once availability is confirmed for your dog, reserve the two seats right there and then. Expect to pay airfare for your dog, too. This goes for both modes of travel, whether in the cabin or the cargo hold.
Ask the right questions
If taking your pup on a flight in the cabin, ask about restrictions in regards to the weight of your dog, the distance you are traveling, and whether confirmation of a vet checkup in the form of paperwork is needed before your dog sets a paw on the plane. If your pooch is going in the cargo hold, you have more things to check out. Ask the temperature of the hold, and the outside temperature range for flying. Confirm the check-in and pick-up procedures and ensure that on a layover, you can either visit your dog or someone will take them out for a bathroom break.
Take your dog to the vet
Although some airlines don't require health documents for your dog, it's better to be safe than sorry. Take your dog to the vet before your trip for a check-up and to update any necessary vaccinations. Bring a copy of your dog's health certificate and any other pertinent paperwork with you to the airport. Carry a first-aid kit with you as well. Your veterinarian can help you determine what you should have in that kit (tape, gauze, etc.) before you take off.
Also, insuring your dog as soon as "pawssible" is essential for preventing high vet care costs. Start comparing insurance plans from leading insurers like Healthy Paws and Embrace and save over $270 a year.

Purchase and prepare a carrier
The right carrier will have enough room for your dog to turn around in, to lie down in, and to stand up in without hitting their head on the top of the crate. Carriers are available in both soft and hard sides. If your dog is traveling in the cargo hold, you will need a hard-sided carrier with plenty of ventilation holes. Also, be aware of the USDA's universal requirements for animal transportation via air:
Bedding and other necessities
All airlines have dimension requirements for animal carriers, so contact your airline to make sure that your dog's carrier fits the bill.
Get your dog proper ID
You're not the only one who has to be ID'd to get on a plane--the same goes for your dog. First, write your dog's name clearly on the carrier along with your address, contact information, and flight number. Put the same information on your dog's collar. It's helpful to include a secondary phone number in case you cannot be reached with the primary.

Carry a current photograph of your dog. If your pup is lost during the trip, the photo will make it easier to relocate them. Also, it's strongly recommended you get a microchip implant for your dog. Doing so will increase the odds of recovery should they be separated from you.


Exercise the day before you leave
Take some meaningful time the day before you leave to engage your dog in quality exercise, such as a vigorous hike or a long walk. The goal is to wear them out so that the flight the next day won't be so stressful. The morning of your trip, plan to take your pooch on a walk as well, so they have time for whatever toileting is necessary.
Pack water and food for the trip
Dogs can get dehydrated during flights. Freeze some water before your leave for the airport, so your pup has water in their dish before you board the plane. Some airlines require that pets be offered water and food within four hours of check-in and the owner's signature affirming this fact. On the other end of the scale, do not feed your dog in the four hours leading up to the flight. This allows the stomach to settle and avoids nausea.
Don't give your dog tranquilizers
Even if it seems like knocking out your pup for the duration of the trip is an easy solution to traveling woes, it's not. The American Veterinary Medical Association discourages giving dogs tranquilizers, like valium, before a flight because these drugs can cause cardiovascular and respiratory problems as the altitude pressure within the plane changes. Dogs can also have their equilibrium affected by sedatives, which can make their time in the carrier uncomfortable and overwhelming. If your dog must have a sedative to fly, discuss this with your veterinarian.
Practice for the flight
Especially for first-time four-legged fliers, the plane's ascent to 35,000 feet can be quite alarming. Practice taking your dog in their airline carrier frequently while you run errands so they can become accustomed to it. If you live in a busy city, try practicing with your dog via other modes of public transportation, like the subway, so they can get used to the crowds and sounds similar to what they will see in an airport.
Arrive at the airport early
Most airlines encourage travelers with dogs to arrive at least two hours before their flight. Have your dog's health certificate in hand. You will need to check-in at the airline's counter as self-service and curbside check-ins are not allowed when traveling with an animal.
Bringing a dog with you on a flight can seem frightening and you may be fraught with worry, but by following these tips you and your pup will be off the plane and relaxing on the beach in no time at all!

Related: Additional Tips on How to Fly with a Dog (What to Know)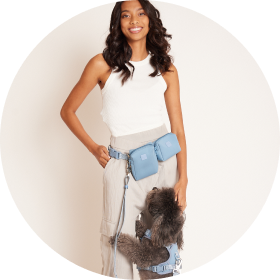 Need to upgrade your pet's leash?