Tips for Taking Your Dog on a Road Trip in the Snow
Tips for Taking Your Dog on a Road Trip in the Snow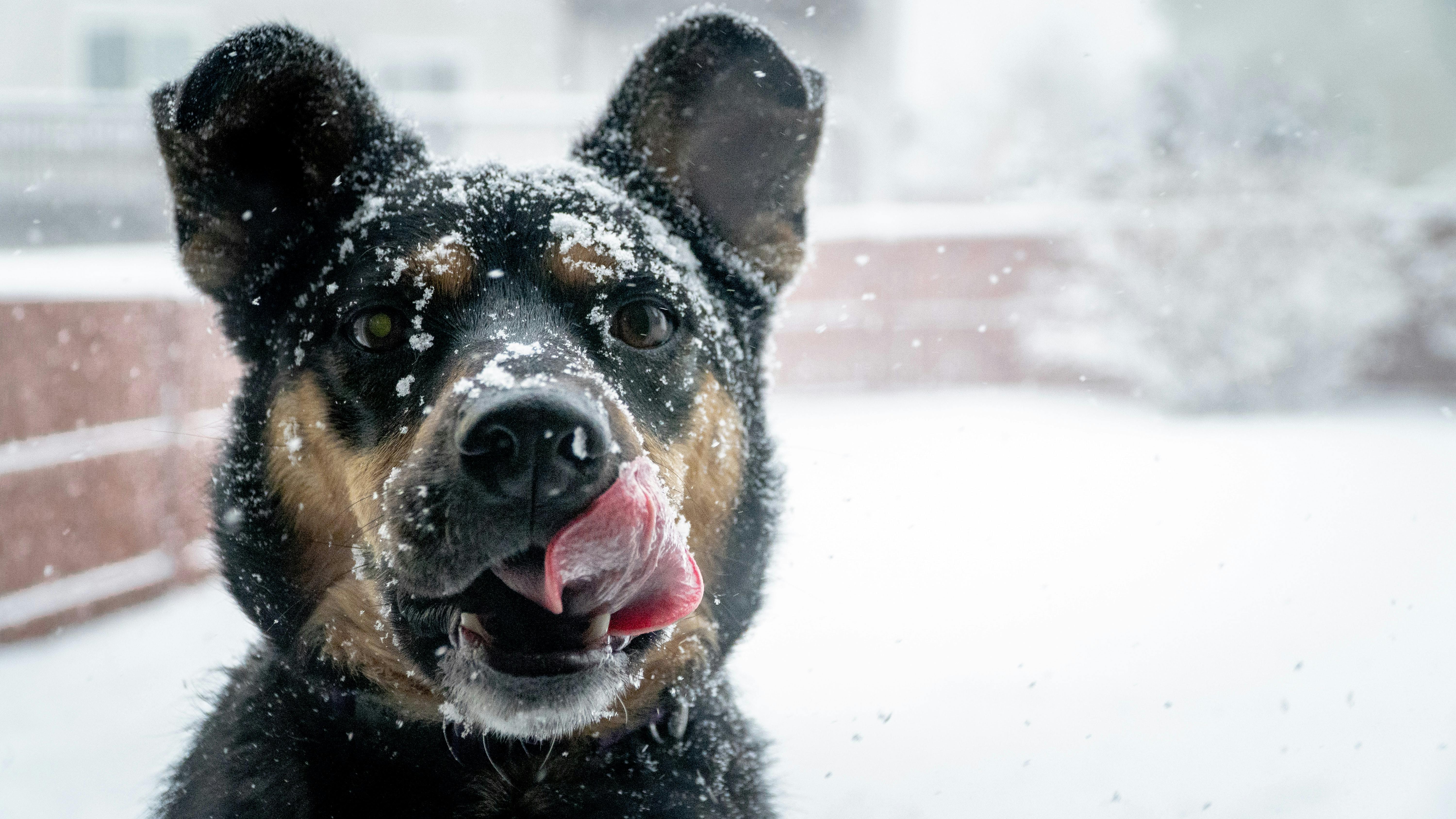 By Mel Lee-Smith
Published: 09/28/2020, edited: 09/07/2022
Save on pet insurance for your pet
You don't have to choose between your pet and your wallet when it comes to expensive vet visits. Prepare ahead of time for unexpected vet bills by finding the pawfect pet insurance.
Updated: 8/2/2021
Every dog should get the chance to see snow at least once in their lifetime. Well, not just see it, but run, dig, dive, and frolic in it too! And there are few more memorable vacation experiences than driving cross-country with a dog to visit the snow.
But if you're thinking of taking a dog on a road trip in the snow, there are several important factors to consider before you hit the road. Keep reading to find out how you and your pup can enjoy a "pawsome" snow getaway.


Confirm your dog's health records
Winter is here and the snow is falling thick and fast, but don't jump in the car just yet. Before you leave home, visit the vet to find out whether your pup is fit to travel.
Make sure all of your pet's vaccinations are up to date before you travel. And if your pup has any underlying health issues, check that they won't stop them enjoying a safe and happy snow trip. 
You can also get a copy of your pet's health records and proof of their rabies vaccination, both of which might come in handy on your trip.


Dog-friendly road trip to the snow: Packing checklist
If you live in a warmer climate, you'll probably need to put a little more thought than usual into packing for your dog-friendly road trip in the snow. Not only will you need to pack all the usual doggy travel essentials, you'll also need to equip your pup to handle the colder climate.
Make sure you pack:
Food and treats
Food and water bowls
Leash and collar
Harness
Bed and bedding (some pets may even need a heated bed)
Blankets
Towels
Toys 
Medications
Car harness or travel crate
Pet first aid kit
Winter booties
Warm jackets and coats for your pup
One of the most important travel tips for dogs is to always pack more than you think you'll need. It might seem like overkill, but there are times when you'll be so glad you remembered to pack that extra bag of food, doggy sweater, or chew toy.
Planning your furry friend's and your route
Okay, so you know your end destination, but have you put much thought into how you're going to get there? Sure, you could take the direct route, but that may not be the most practical for you and your dog, or the most fun.
Do some research to help plot out the most pet-friendly route for your dog. You can look for off-leash dog parks and dog-friendly walking trails along the way, and maybe divert from the beaten path to check out some iconic sights and attractions too.
Finally, don't forget about meals. Sure, you and your pup might want to pack your own meals and pull in at truck stops along the way. But if you ever feel like a treat, you might want to research dog-friendly restaurants and cafes along your route.
Where to stay with your pet
If you're planning on staying overnight, research your accommodation options before you leave home. You'll obviously need to find dog-friendly places to stay, so research local hotels, motels, and rental properties at your destination.
As anyone who has ever taken road trips with dogs before will tell you, there can be a big difference between hotels that claim to be dog-friendly and those that welcome pups and pet parents with open arms.
If you're considering staying at a particular venue, read the pet policies first to make sure you and your dog will be made to feel welcome. It's also a good idea to check reviews from other pet parents to find out what sort of experience they had during their visit.
Wherever you stay, make sure your pup has somewhere warm and cozy to rest their head after a big day of snowy shenanigans.
Staying safe (and comfortable) on the road
If you're taking a dog on a road trip, take some simple steps to help your pup travel in the ultimate comfort and safety.
First and foremost, make sure your pup is safe and secure inside your vehicle. No matter whether you use a travel crate, a special car harness, or your pup's very own car seat, this is an essential step for your dog's safety (and your own).
Next, your pooch will be a lot more comfortable if you create their own cozy space in your vehicle. Comfy bedding, a few of their favorite toys, and ample ventilation will all help your pup feel at home on the road. Providing plenty of fresh water and keeping the interior temperature at a suitable level will also help.
Finally, plan lots of rest stops to give your dog a break from the monotony of car travel. They'll appreciate the chance to go potty, get a bit of exercise, and explore some new territory, while taking a break from driving is a must for you too.
Snow safety tips for the dogs
Baby, it's cold outside — so it's important to remember a few key snow safety tips for dogs.
Keep that coat nice and long. If you're thinking of giving your pup a haircut, think again. The extra fur will help them stay warm in the freezing conditions, so don't reach for the clippers just yet.
Give them time to adjust. Going from a mild climate to freezing-cold weather can be a shock to anyone's system. Give your pup a chance to gradually get used to the chilly conditions before letting them stay outside for any longer period of time.
Protect those paws. Many dogs love to walk on snow, but the snow doesn't always love them back. Wearing special booties can help protect your pup's delicate paws against the ice and snow, as well as against salt that can also irritate their paws. 
Rug up. Just because your dog is covered in fur doesn't mean they're properly equipped to stay snug and warm in the snow. If you've got a short-haired pup, make sure you invest in a couple of quality doggy sweaters and jackets to help protect them against the elements.
Be wary if you're letting them off the leash. Letting your dog run free in the snow can be a wonderfully entertaining experience, but you'll need to exercise caution. Your pup may lose their scent or simply get lost in a snowstorm, so keep a close eye on your pooch at all times.
Watch out for antifreeze. Antifreeze is extremely toxic to dogs but they like the taste, so keep your eyes peeled for any telltale spills. 
Dry off. Be sure to thoroughly dry your pup off with a towel when you head indoors after playing in the snow. This will help them warm up again and prevent the cold seeping in.
Feed them a little bit extra. Did you know that dogs burn a little bit more energy than normal just to stay warm in winter? If you're staying in a cold climate for awhile, you might need to feed your pet slightly more than usual to help boost their calorie intake.
Use your common sense. If it's far too cold for you outside, then it's too cold for your pet. Remember, dogs can get frostbite and hypothermia in extremely cold conditions, so it's always important to limit their time outside. If your pet ever shows signs of struggling to cope with the cold, get them inside into a warm and cozy environment as soon as possible.
Keep your pet secure & safe. Most pet insurance companies don't cover pre-existing conditions. To avoid stress and high veterinary care costs, secure pet health insurance today and save up to $273 each year.
You'll also find plenty of other useful tips in our guide to helping your dog stay warm this winter.

Last but not least, don't forget to enjoy yourself. From skijoring to snow fetch, there are lots of great dog-friendly activities you and your pup can enjoy. 
Trips with dogs don't get any more memorable or enjoyable than heading to the snow, so take the time to appreciate the fact that you're on an adventure with your dog.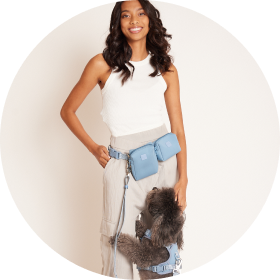 Need to upgrade your pet's leash?