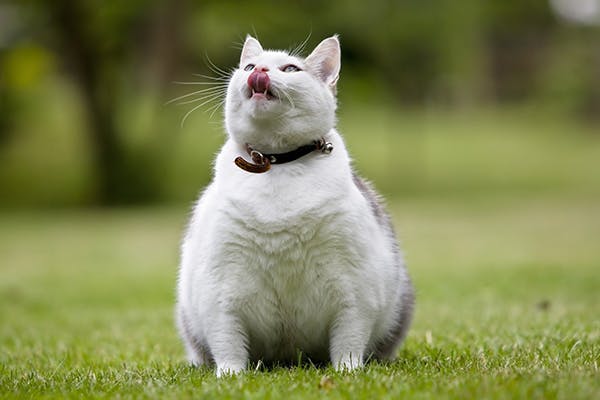 What is Obesity?
Obesity in cats can reduce life expectancy and lead to serious health disorders like heart disease and diabetes. It's also one of the most common nutritional disorders in domestic cats. According to the Association for Pet Obesity Prevention's 2021 report, 45% of cat parents think their cats are overweight or obese.

Not sure how to tell if your cat is obese or overweight? To be considered obese, a cat must weigh at least 20% more than their ideal weight range. On the other paw, overweight cats weigh between 10% and 20% more than their ideal weight range.
What is the ideal weight range for a cat? Somewhere around 8 to 10 pounds. However, this can vary depending on the cat's age, breed, and lifestyle. For example, larger breeds like Maine Coons can weigh anywhere between 13 and 17 pounds and still be considered within a healthy weight range. Older cats are also more likely to become obese.

Read on to learn the signs and causes of obesity in cats, how it's diagnosed and treated, and what you can do to manage your cat's weight. If you believe your cat is overweight or obese, consult your vet or chat with a veterinary professional now for advice.
Obesity Average Cost
From 570 quotes ranging from $200 - $2,000
Get a free pet insurance quote in less than 60 seconds!
Easily compare quotes from the most trusted pet insurance companies in the United States.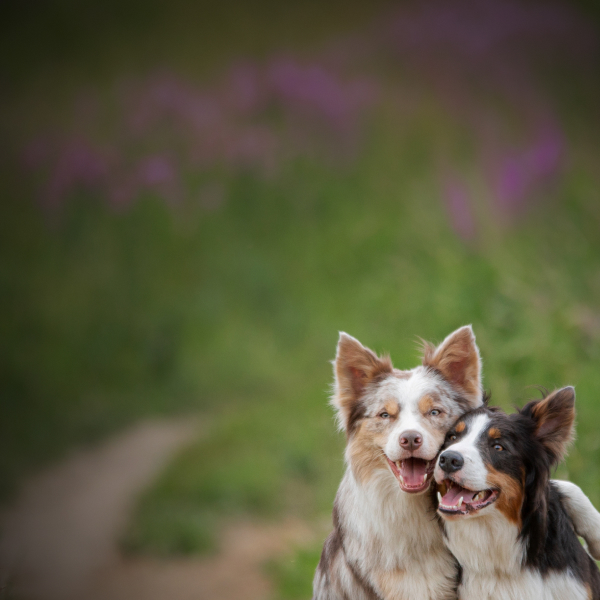 Signs of Obesity in Cats
Determining whether your cat is obese or overweight can be a tough task, as cats come in different sizes and shapes.

Additionally, all cats have a protective layer of loose skin, fat, and fur called the primordial pouch. Because this pouch can be more noticeable on some cats than others, many cat parents mistake this pouch for excess belly fat. However, even cats with large primordial pouches may still be within a healthy weight range.

Here are a few signs your cat may be obese:

You can't see a discernible waist when looking at your cat from overhead.
You're unable to feel your cat's ribs underneath their belly fat.
Their abdomen is noticeably round and appears bloated.

Causes of Obesity in Cats
What causes obesity in cats? Common causes and risk factors include:

Older age; reduced activity and a slower metabolism 
Diet
Illness
Medication
Low-quality diet

Inadequate exercise or activity
Neuter status (neutered cats often have a decreased metabolism)
A low-quality diet is the main cause of obesity in cats. According to Cornell University College of Veterinary Medicine, free-feeding is one of the biggest contributors to feline obesity. (Free-feeding means letting your cat have access to a full bowl of dry kibble throughout the day.)

Whether you choose to feed your cat dry kibble or wet food (or a mix of the two), check the ingredients list before serving. The first ingredient in your cat's food should be meat or fish, says Dr. Linda Simon MVB MRCVS, veterinary consultant with Wag!. "While grains and other carbohydrate sources aren't the 'devil' some food manufacturers would have you believe, they should be present in high quantities," says Dr. Simon.

Additionally, pay attention to feeding guidelines on cat food packaging to ensure you aren't overfeeding your cat. Speak to your vet if you're unsure how much you should feed your cat.
Related: How to Read Cat Food Labels

Diagnosis of Obesity in Cats
Cats of different breeds and ages are expected to have different ideal weight ranges, so a professional must examine your cat to decide if they are suffering from obesity.
To diagnose obesity, your vet will perform a physical exam using a body condition assessment scale to determine whether your cat is obese. The most common body condition score ranges from 1 to 9, although some clinics use a scale of 1 to 5.

A score of 1 on the body condition assessment scale means a cat is extremely skinny, with their ribs and spine clearly visible. A score of 9 means a cat is obese, with clear abdominal swelling under which the ribs can't be felt during a physical exam. The middle scores of the body condition assessment scale are considered average and are what we aim for.
In addition to a body condition score test, your vet may also recommend your cat undergo diagnostic testing. This testing may include blood work to can rule out medical conditions, such as an underactive thyroid, that may be causing the weight gain. This condition is incredibly rare in cats.

Tell your vet about any medications your cat is taking that may contribute to weight gain. Your vet may also request a detailed report of your cat's diet.
Treatment of Obesity in Cats
Once your cat's obesity has been diagnosed, your vet will create a treatment and weight management plan. Avoid modifying your cat's diet without consulting a vet first — losing too much weight too quickly can also cause serious health problems, like fatty liver disease.
Treating obesity in cats typically involves modifying the cat's diet, exercise, and medications.

Diet

Dietary modifications are perhaps one of the most effective treatments for obesity in cats. However, avoid abruptly or significantly reducing the amount of food your cat eats — any dietary modifications must be done on a gradual, controlled basis and in partnership with your vet.

Your vet will likely place your cat on a weight loss program that will track both their weight and food intake. Your vet may also recommend or prescribe specific cat food products, like Purina's Pro Plan Weight Management. 
Rather than reducing the amount of regular food given, feeding a weight loss food has been proven to ensure better results.
Exercise

Adequate exercise can help your cat stay within a healthy weight range. Most cats need at least 30 minutes of exercise per day, split up into short play sessions of 10 to 15 minutes each.

Letting your cat outside can help them lose weight and increase their activity levels. Indoor cats may have a slightly harder time staying active. To encourage your indoor cat to play, try using interactive toys that will keep them on their feet.

If you're not sure whether it's safe to let your cat out, you may want to consider using a pet harness and leash to walk your cat outside.

Related: How Much Exercise Do Cats Need?

Medication
If medications are causing your cat to gain weight, your vet will discuss alternatives or modifications.

If a medical condition, like hypothyroid disease, is causing the weight gain, your vet may recommend a treatment for the condition that will also resolve the weight gain.

Worried about the cost of treating your pet's symptoms?
Pet Insurance covers the cost of many common pet health conditions. Prepare for the unexpected by getting a quote from top pet insurance providers.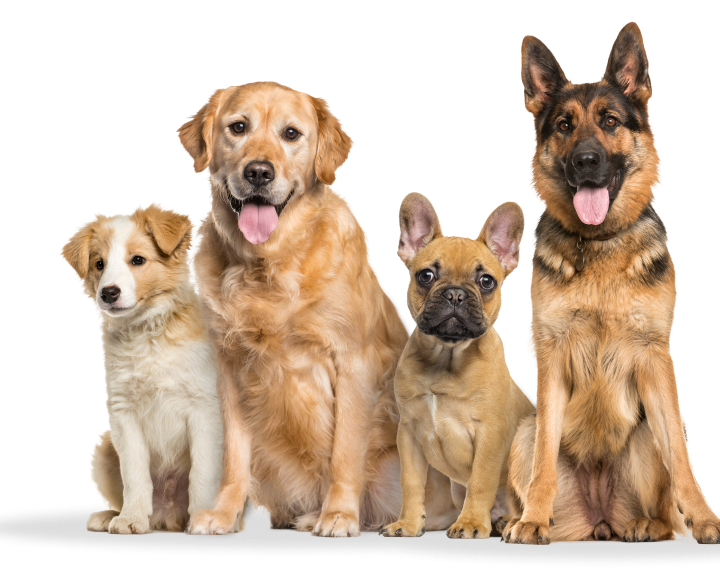 Recovery of Obesity in Cats
Your vet will stress the importance of taking things slowly when treating obesity. Because you see your cat daily, it may be difficult for you to notice real change — but remember, the process of weight loss can take up to a year or more. To ensure your cat is making progress, weigh them once every 2 to 3 weeks. Your vet will likely schedule follow-up appointments to monitor the weight loss program and make adjustments if needed.

When it comes to weight loss for cats, gradual is always best to ensure that your cat doesn't become susceptible to other serious illnesses. When an ideal weight range has been reached, be sure to maintain it through diet and exercise. A relapse can occur if portion control and activity are not properly managed, and this back-and-forth weight loss/gain can be very harmful to your cat.
Obesity Average Cost
From 570 quotes ranging from $200 - $2,000
Top
Obesity Average Cost
From 570 quotes ranging from $200 - $2,000
Get a free pet insurance quote in less than 60 seconds!
Easily compare quotes from the most trusted pet insurance companies in the United States.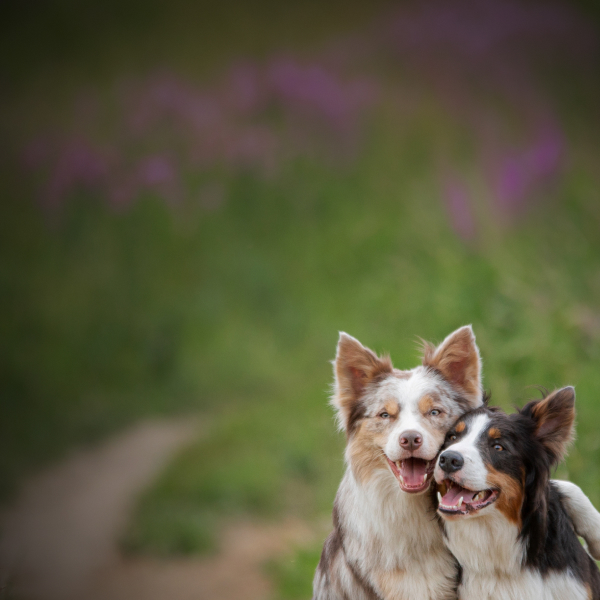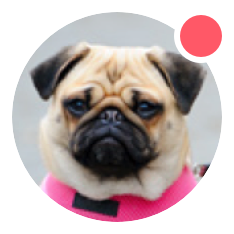 Need pet insurance?