Ampicillin
Written By hannah hollinger
Published: 08/05/2020
Updated: 08/30/2021
Ampicillin for dogs is an antibiotic used to treat bacterial infections, and has also been used in humans and other animals. For dogs, ampicillin can be prescribed for several types of infections, such as upper respiratory infections like pneumonia, urinary tract infections, skin infections, soft tissue infections, gastroenteritis, tonsillitis, salmonella, canine parvovirosis, and leptospirosis. It can also be used to prevent possible infections before, during or after invasive surgical procedures or dental work.
Dosage
Ampicillin for dogs is available in several forms, including capsules and tablets, a liquid oral suspension, or as an intramuscular (IM) or subcutaneous (SC) injection. Intravenous (IV) injections are sometimes given by a veterinarian, but are not generally prescribed for home use. Depending on the form given, dosages can vary. General dosing guidelines are:
Oral capsules, tablets and solution: 10 – 25 mg per kilogram of weight, 2 – 4 times daily
IM, IV, and SC injection: 5 – 10 mg per kilogram of weight, 2 - 3 times daily
Higher doses can be given when infections are caused by antibacterial-resistant bacteria, or for certain infections such as parvovirus, or those within the central nervous system.

Dosage instructions
Ampicillin for dogs should be given as prescribed by your veterinarian. If administering capsules, tablets, or oral solution, give ampicillin by mouth 2 to 4 times daily, on an empty stomach, 1 to 2 hours before a meal. If your dog vomits, try giving the next dose with a bit of food or treat. Be sure to shake liquids well before measuring each dose.
Administer ampicillin through an intramuscular or subcutaneous injection 2 to 3 times daily. Always use a new needle and syringe, and safely dispose of them after each treatment. Be careful not to inject the medication into a vein, as it can be lethal. The intravenous injection given by your veterinarian may be a different formulation.
Efficacy
Ampicillin has been shown to be effective against several strains of bacteria that can infect dogs, including in the species of Staphylococcus, Clostridia, Bacillus anthracis, and against Escherichia coli, Salmonella, and Pasteurella.
One study that examined ampicillin's effectiveness in treating alimentary tract infections in dogs found a recovery rate of 70%.
Side effects
While side effects from ampicillin treatment are not common, they can include:
Lack of appetite

Pain at site of injection

Vomiting

Diarrhea
More serious side effects can be seen in higher doses of ampicillin for dogs, and can include:
Incoordination

Increased respiration

Increased heart rate

Swelling
Some side effects affecting the digestive system can be reduced when medication is given with food. When discontinued, ampicillin effects should subside within 24 hours, but can last longer in dogs with kidney or liver disease.
Considerations
Dogs allergic to any type of penicillin antibiotics should not use ampicillin. This medication should be used with caution in dogs with kidney or heart disorders, or who are dehydrated. Although current studies have shown no signs of adverse effects in pregnant or lactating mothers, or their fetuses, use of ampicillin is also used with caution in these.
Drug interactions
Ampicillin (Polyflex, Omni-Pen, Teva-ampicillin) may interact with other medications, including:
Uric acid reducer (allopurinol, probenecid)

Antibiotics (aminoglycosides, tetracycline, erythromycin, cephalosporins, chloramphenicol, rifampin)

Beta-blocker (atenolol)

Carbonic anhydrase inhibitor (dichlorphenamide)

Phosphate Binder (lanthanum)

Antimetabolites (methotrexate)

Immunosuppressive medication (mycophenolate)

Stomach acid reducer (pantoprazole)

Blood-thinner (warfarin)
Let your veterinarian know about any vitamins, supplements or herbal remedies your dog has been taking.
Allergic reactions and sensitivity
Allergic reactions and sensitivity to ampicillin are rare, but can include several signs. If you notice your dog breathing irregularly, has developed a fever, rash or hives, or is experiencing swelling in the face or other areas, discontinue use of ampicillin and call your veterinarian immediately.
Other signs of anaphylaxis could include excessive drooling, diarrhea, vomiting, increased heart rate and seizures.
Frequently asked questions
What do I do if I miss a dose?
If you forget to give a dose of ampicillin for dogs, administer it as soon as you remember. If it is closer to the time for the next dose, skip the missed dose and give the regularly scheduled dose. Never give a double dose of ampicillin at one time.
Will my veterinarian need to monitor my dog while taking ampicillin?
Unless your dog is affected by heart, liver or kidney disease, there is no specific monitoring that is recommended while taking ampicillin. Your veterinarian may monitor your dog to be sure the medication is working. Use of ampicillin can result in false positives with some urine glucose tests.
What should I do in case of emergency?
If you suspect your dog is having an allergic reaction, or has overdosed, call your veterinarian or emergency veterinary hospital immediately. Signs of a drug overdose can include vomiting, weakness, disorientation, increased urination and thirst, pale mucous membranes, lethargy and seizures.
How should ampicillin be stored?
Ampicillin capsules, tablets and powder for oral suspensions can be stored at room temperature (59°F to 86°F). A liquid oral suspension can be stored at room temperature for 7 days, or in the refrigerator for 14 days. Any one allergic to penicillin or beta-lactam antibiotics should refrain from handling this drug due to the possibility of allergic reaction from contact.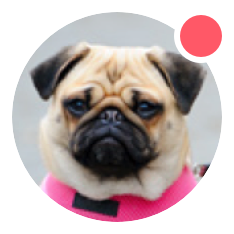 Need pet insurance?