Are KOA Campgrounds Dog-friendly?
Are KOA Campgrounds Dog-friendly?
By Mel Lee-Smith
Published: 10/08/2020, edited: 08/10/2021
Save on pet insurance for your pet
You don't have to choose between your pet and your wallet when it comes to expensive vet visits. Prepare ahead of time for unexpected vet bills by finding the pawfect pet insurance.
If you're going RV camping with a dog or tent camping with dogs, finding a dog-friendly campground is essential. And if you're searching for somewhere you and your pup can set up camp for a while, a KOA campground could be the "pawfect" choice.
KOA campgrounds throughout North America are dog-friendly, which is great news for pet parents. However, pet policies differ between individual campgrounds. You'll need to do your research to find out about the specific policies that apply where you're planning to stay. 
What is KOA?
KOA (Kampgrounds of America) is a chain of campgrounds throughout the United States and Canada. With more than 500 locations throughout North America, KOA was founded in Montana in 1962.
Its campgrounds offer RV sites, tent sites, and cabins, with some facilities also offering unique accommodation options like yurts, cabooses, and "glamping" tents. 
What are KOA's national pet policies?
KOA campgrounds are pet-friendly. However, pet policies can differ from one KOA campground to the next. We'll explain how this could affect you and your pup in the next section.
It's recommended that you phone ahead before booking to find out about a particular campground's pet policies.
Once you arrive, all KOA campers and their four-legged friends must abide by the following simple rules:
Your dog must be well-behaved. No matter what breed of dog you have, if your pup is hostile or aggressive towards people or other pets, you and your fur-baby will be asked to leave.

Your dog must be kept on a leash in the campground. Your dog will need to be kept on a leash of 6 feet or shorter whenever they're outside your vehicle or rental unit. You're also not allowed to leave a tethered dog unattended in the campground.

You'll need to keep your dog's barking to a minimum. If your dog barks too much and disturbs other campers, you may be asked to leave the campground.
As always, cleaning up after your dog is a must, while service dogs are also welcome at all KOA campgrounds.
These are the key rules you need to know to enjoy a relaxing stay when camping with a dog in a KOA campground. However, depending on the campground, other restrictions may also apply.
How do pet policies differ between KOA campgrounds?
KOA's pet policy makes it clear that different campgrounds have their own specific pet policies. For example, pets may not be welcome in cabins at some venues, or they may only be welcome in those cabins that are designated pet-friendly. 
In other cases, the campground's insurance provider may classify certain breeds as aggressive, so dogs of that breed won't be welcome in the camping area. You'll also need to check whether you'll need to pay an additional nightly fee to go camping with a dog.
To give you an idea of how these restrictions differ in the real world, let's take a look at an example. At the Ventura Ranch KOA in California, pets are welcome on RV sites and tent sites. They're also allowed in 3 cabins and 1 teepee, but aren't welcome inside any other accommodations. You'll also need to pay a nightly fee of $25 per pet and a $150 security deposit.
Meanwhile, at the Waldport / Newport KOA in Oregon, dogs deemed to be an aggressive breed are not permitted. So if your pup is a Pit Bull, Rottweiler, Doberman, Chow, Malamute, or a mix of any of those breeds, they won't be allowed to stay. Otherwise, dogs are welcome in most of the park's cabins for a $10 nightly fee per pet. 
This shows why it's important to take a closer look at each campground's pet policies before making a reservation. And if you're unsure about anything, phone the campground directly for more information.
What dog-friendly features do KOA campgrounds offer?
Many KOA campgrounds offer what is known as a Kamp K9. This is essentially an off-leash dog park where four-legged campers can run, play, sniff, and socialize with other dogs. Seating is provided for weary pet parents, while there are also pet cleanup stations and ample fresh water.
In some cases, the Kamp K9 will also feature separate areas for small and large dogs  — a great feature if you're camping with a dog that's a bit too boisterous for smaller breeds, or a bit too delicate to mix it with larger pups. 
5 dog-friendly KOA campgrounds worth checking out
Whether you're planning a weekend away or driving cross-country with a dog, here are 5 dog-friendly KOA campgrounds you might like to visit:
Port Huron KOA. Located in Kimball, MI, the Port Huron KOA features three dog walk areas for doggy play and socializing, plus a dog wash station. Human guests can make the most of amenities like 2 swimming pools, mini golf, and basketball courts.

Bar Harbor / Oceanside KOA. All dogs are welcome in this campground, no matter their breed, but must be kept on a leash of 8 feet or shorter. Pets are allowed on all tent and RV sites and in some cabins, while the on-site dog park should put a big smile on your pup's face. Even better, the many dog-friendly hiking trails of Acadia National Park are just a stone's throw away. 

Delaware Water Gap / Pocono Mountain KOA. If you love camping with dogs, you'll feel right at home here. Not only does it boast a Kamp K9 with agility obstacles and lots of off-leash space, but leashed pets are also welcome in most parts of the nearby Delaware Water Gap Recreation Area. There are even pet-friendly cabins available for pups who aren't keen on camping out.

San Francisco North / Petaluma KOA. If you're looking to go RV camping with dogs in the San Francisco area, this KOA is well worth checking out. It features a huge Kamp K9 dog park where your pup can socialize, participate in competitions, and have a whole lot of fun. Two-legged guests will love the petting zoo, pool, and rock climbing wall, not to mention the fact that there are heaps of great wineries in and around the local area.

Missoula KOA. This pet-friendly park welcomes dogs of all breeds, and the first 2 dogs you bring are free. There are 3 dog walk areas in the campground, including a Kamp K9 with agility obstacles and ample space. Other features that humans will appreciate include a heated pool, 2 hot tubs, and free Wi-Fi. 
If you're traveling with a dog and searching for a dog-friendly place to stay, your pup may well be welcome at your nearest KOA. Just make sure to check the campground's pet policies before making a reservation.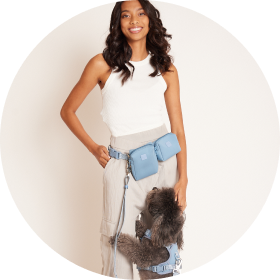 Need to upgrade your pet's leash?