10 Tips for RV Camping with Your Dog
10 Tips for RV Camping with Your Dog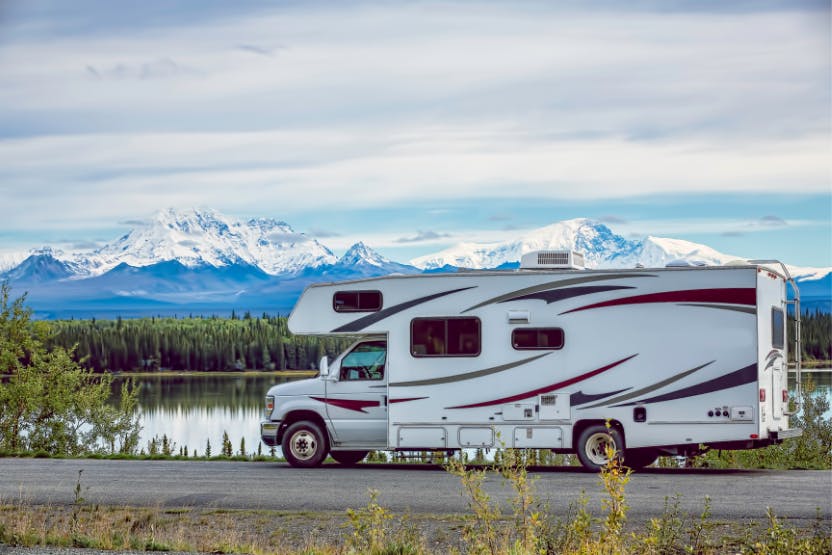 By Tim Falk
Published: 09/11/2020, edited: 03/31/2022
Avoid expensive vet visits
Get peace of mind from the comfort of your home
Chat with a veterinary professional directly in the Wag! app
Return with more questions any time, any day
Get Vet Chat
Overview
There's no better way to see the USA than in an RV. And when you can bring your pup along to join in the fun, get ready to enjoy a lifetime of memorable travel adventures. 
But RV camping with a dog isn't as straightforward as just jumping in your motorhome or hitching up the trailer and hitting the road. Planning ahead will make your journey as safe and stress-free as possible. Keep reading for our top tips for successful RV travel with dogs.
Remember, safety first!
Before you load up your RV and hit the road, make your fur-baby's safety your number-one priority. If you're thinking of leaving your dog in the trailer or camper while you drive, think again — that's simply not safe. It's also not a good idea to let your dog travel on your lap, or to wander around in the back of an RV.
Instead, find a secure way to ensure that your dog is buckled up. Whether you use a crate or a harness that connects to a seat belt, it'll make traveling with a dog a whole lot safer.
It's also important to make sure your pup is as comfortable as possible. That means keeping the temperature at a suitable level, ensuring adequate ventilation, and providing plenty of fresh water.
Build up to long journeys
Ask any experienced camper for advice about RV travel with dogs, and many will tell you about the importance of taking it slow. Instead of setting off on a cross-country odyssey as your pup's first taste of RV life, give them a chance to acclimate to camping with a few shorter trips first.
Start with a quick overnight trip to a destination no more than a couple of hours away, then slowly work up to longer getaways. Not only will this be a gentle introduction to RVing for your pup, but it'll also help you get a better grasp of the ins and outs of camping with dogs. You'll discover what works and what doesn't, and you'll be better prepared for your next big adventure.
Check out more useful tips in our guide to training your dog to like car rides.
Choose a dog-friendly destination
Traveling with a dog is quite a unique situation as it forces you to rethink your travel itinerary to a certain extent. Not only do all the usual factors come into play — how much time you've got off work, how far you want to drive, what sort of experiences you want to enjoy, etc. — but you also need to plan a journey with your dog in mind.
That means researching what dog-friendly activities are on offer at the destination. For example, are there restaurants where pups are welcome? Are there lots of dog-friendly parks and beaches in the area? What about walking trails? What other attractions can you enjoy with your pup by your side? 
With a little bit of research, you'll come up with lots of dog-friendly road trip ideas.
Pack the essentials
Now it's time to think about what you need to pack for your fur-baby. Put together a list of all the things your pup will need on their RVing escape — you can then add and remove items as you figure out what your pup does and doesn't need on the road.
Here's a quick checklist to help get you started:
Dog bed and bedding

Food and treats

Food and water bowls

Dog car harness/crate/car seat

Leash

Doggy medications

Toys

Cleaning supplies
Your pup may need additional supplies, depending on where you're traveling and what you'll be doing when you get there. For example, if you're headed for the beach, maybe your pup will need a doggy life vest. If you'll be leaving your pup alone in the RV, an RV temperature monitoring system is a good idea. A collapsible water bowl could also be a handy addition, while a reliable vacuum cleaner can help prevent your RV being covered by a thick layer of dog hair.
Finally, it's also a good idea to put together a pet travel pack with items you may need on the road. This can include photos (in case your pet gets lost), proof of vaccinations (which some RV parks will require before letting your dog stay), and a doggy first aid kit. 
Find a dog-friendly campground
If you're going camping with a dog, there's one crucial factor that can make or break your trip: finding the right place(s) to stay. From Alaska to Florida, there are thousands of "woofderful" dog-friendly campgrounds in every state — so how do you choose where to park your rig?
The trick is to do your research and find a campground where pets are welcomed, not just tolerated. Some RV parks that claim to be pet-friendly can actually turn out to be anything but, so check reviews from other pet-parent RVers for some inside knowledge.
And the more dog-friendly features a campground has, the better. Whether that means an off-leash area, hiking trails, or nearby parks, it'll go a long way toward ensuring a more relaxing stay.
Related: Are KOAs dog-friendly?
Make your RV feel like a home away from home
The one thing your dog needs more than anything else to be happy is to be right by your side. Of course, you can also make their camping experience a lot more enjoyable if you make an effort to turn your RV into a comfortable and welcoming home on wheels.
Regardless of whether you're vacationing in your own rig or whether you're renting a pet-friendly RV through RVezy for your adventure, give your pooch a space they can call their very own. That might mean setting up a crate or creating a cozy corner where your pup can rest their head. When your fur-baby has a familiar and comfortable space where they feel safe and secure, they'll be much more at ease setting off for an adventure.
You'll also need to take steps to ensure that your RV is completely pet-safe. That means keeping any cleaning chemicals out of reach, fixing other potential hazards like exposed cables, and maybe even making changes like choosing flooring that is easier to clean.
It might take a little bit of work, but the peace of mind that it provides is well worth the effort.
Related: How to Rent a Pet-friendly RV
Take a break
When you're traveling with a dog, it's not fair to expect your pup to stay cooped up in the RV while you drive for hour after hour. Not only will your pooch need regular potty breaks, but they'll also relish the chance to get out and stretch their legs as often as possible. 
Make regular stops to help make the experience more fun and interesting for your pup. You could plan your route to stop off at dog-friendly attractions along the way, or include some off-leash dog parks in your travel itinerary. Give your dog treats and plenty of fresh water to help keep the smile on their face.
It's also a good idea to tire your pup out before spending a long day in the RV. This should help ensure that they're much more content to sit back and relax while you cruise along the highway. You'll find plenty of other useful tips in our guide to traveling safely with your dog.
Do the right thing
American pet parents are blessed with a huge range of RV parks and campgrounds across the country that welcome dogs — so let's keep it that way. By being a model guest and a good neighbor in every campground you visit, you'll help ensure that more campgrounds stay pet-friendly.
The best part is that being a responsible pet parent when camping with a dog isn't hard. Check the campground's pet policies ahead of time so you know what's expected of you, then follow the rules closely. Here are a few common rules:
Dogs must be kept on a leash, usually 6 feet or shorter, whenever they're outside your RV

Dogs must never be left unattended

You must clean up after your pup at all times

Aggressive behavior towards other pets or people will not be tolerated

Dogs mustn't disturb other guests with their barking

Certain areas of the campground or RV park where dogs are not permitted, such as the bathrooms or swimming pool 
A little training can also go a long way. Maybe your pup will need a refresher on how to walk calmly on a leash, how to stay calm around strangers, or just how to behave in public. Some pups may even need to be trained to stop barking to ensure that they're always on their best behavior at the RV park.
Show a little courtesy and you and your pup will be welcomed back with open paws!
Make alternative arrangements in advance if your dog can't come along
While you'll want to include your dog in as many activities as you can, it won't always be possible to take them along. So make sure you have a plan for what to do when you're visiting an attraction that isn't dog-friendly.
If you'll only be away for a short while, you can leave your dog in the RV. Of course, you'll need to ensure that the RV is climate controlled and that it's completely safe for your pup.
If you'll be away from the RV for an extended period, you can always book a local dog walker or dog sitter with Wag!. That way, you know your pup will have a "pawtastic" time until they're reunited with you once again.
Stay safe when camping with canines
If you're worried about what sort of risks your dog may face during your journey, it's worth remembering that RV camping with a dog is all about the 4 Ws: Weather, Wildlife, Workouts, and What to do in case of an emergency.
Weather. In a "pawfect" world, the sun would shine brightly on every day of your RV adventure. In reality, severe weather can pose health risks to your pet. From temperature extremes causing heat stroke and hypothermia to storms posing the risk of injury, you need to keep an eye on the conditions at all times.

Wildlife. When you're on the road, you and your pup might come across different and sometimes dangerous wildlife you'd never encounter at home. From ticks and snakes to bears and bobcats, there are plenty of creatures that can potentially harm your fur-baby. Research the risks before you go and make sure you know how to avoid any potentially nasty experiences.

Workouts. Regular exercise and mental stimulation are essential for every dog, regardless of whether you're at home or on the road. So when you're RVing with a dog, make sure to give them plenty of opportunities to raise their heart rate and put their brain to work. This will keep your pup happy and healthy, plus help ensure that they're a better-behaved campground guest.

What to do in case of an emergency. Finally, compile a list of local vets or animal hospitals at your destination (and along your route). This will ensure that you can access veterinary help quickly if something goes wrong on the road.
Enjoy!
Last but not least, don't forget to have fun. RVing with a dog is a wonderful way to see America, so be sure to savor each and every day. 
Whether you're on an action-packed adventure, a cruisy road trip, or anything in between, there's nothing better than sharing a truly memorable vacation with your pup. If that doesn't put a smile on your face and a wag in your tail, we don't know what will!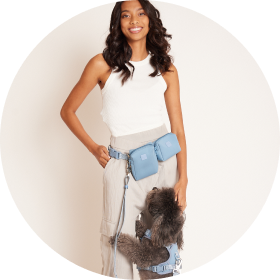 Need to upgrade your pet's leash?