Everything You Need to Know About Traveling Cross-country with a Dog
Everything You Need to Know About Traveling Cross-country with a Dog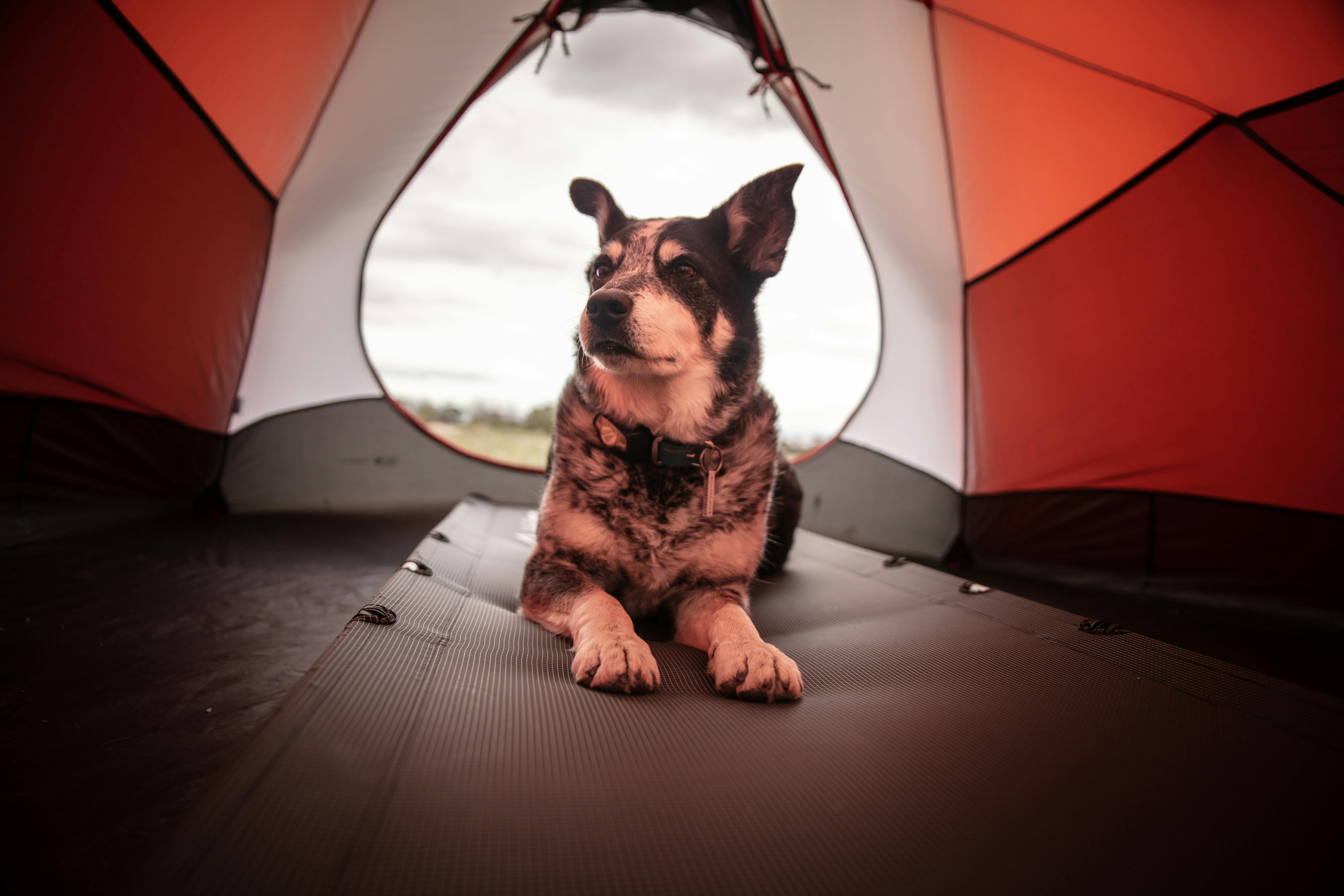 By Mel Lee-Smith
Published: 09/29/2020, edited: 09/21/2021
Save on pet insurance for your pet
You don't have to choose between your pet and your wallet when it comes to expensive vet visits. Prepare ahead of time for unexpected vet bills by finding the pawfect pet insurance.
Updated: 9/21/2021
A cross-country road trip is a rite of passage for many Americans. And if you're planning on heading on an epic road trip, why not turn it into the journey of a lifetime and take your dog along for the ride? Whether you're checking out iconic sights, visiting friends and family, or just enjoying the freedom of the open road, it's always better with your fur-baby by your side.
But before you go traveling with a dog, there are a lot of simple steps you can take to help make your road trip safer, stress-free, and more enjoyable. Keep reading to find out everything you need to know about driving cross-country with a dog.

Developing doggy driving skills
If you're thinking of taking your dog on a road trip, don't throw them in the deep end. Give your pup a chance to get used to long car journeys before setting off on your cross-country odyssey. 
If your pooch isn't used to driving for anything more than 20 minutes or so, start taking them on some longer trips. Reward them with praise, play, and treats for good behavior. Try to visit places you know your dog will like — an off-leash dog park or a pet-friendly hiking trail might be a good bet. Gradually increase the length of the trips until your pooch is a seasoned long-distance traveler.
Some dogs may also be nervous or anxious about going for a car ride. Maybe they only ever hop in the car to visit the vet, or maybe they're just uncertain whenever faced with new experiences. Whatever the case may be, you can train your dog to like car rides. Use a patient, positive reinforcement-based aproach and you should soon start seeing an improvement.

Get a pre-trip health check for your pup
Before taking a dog on a road trip, visit the vet for a pup health check. Your vet will be able to confirm that your pooch is in good shape to travel, and offer advice on any health risks (such as ticks) you may encounter along the way.
Now is also a good time to consider taking out pet insurance to protect against any nasty surprises. Insuring your dog as soon as "pawssible" is essential for preventing high vet care costs, so start comparing insurance plans from leading insurers like Healthy Paws and Embrace and save over $270 a year.
This is also a good time to check that your pup's vaccinations are up to date. Taking digital copies of vaccination records and health certificates on your road trip is a good idea — some campgrounds and dog-friendly hotels will need to see them before allowing your pet to stay.
Finally, make sure to stock up on all the medication your pet will need for your time away. Take along a little extra so you've got spare supplies in case your travel plans change.

Packing the essentials for your dog's cross-country trip
If you've taken plenty of shorter road trips with dogs before, you should have a good idea of what you need to pack for your fur-baby. Some of the items you'll need include:

Food and treats
Water
Collapsible travel bowls
Leash
Car harness or crate
Bedding
Toys
Pet insect repellent
Doggy jackets/sweaters (if you're headed for cold climates)
Medications
Poop bags
Cleaning supplies 

It's often a good idea to pack more than you think you'll need, especially when it comes to food. That way, you won't be caught short if driving cross-country with a dog takes longer than expected.
Planning a pet-friendly route
Next, it's time to think about the route you'll take on your dog-friendly road trip. While taking the quickest and easiest route will sometimes be the best option, that won't always be the case. Remember, a cross-country road trip with a dog could end up being one of those once-in-a-lifetime experiences, so make sure you take the time to stop and smell the roses along the way.
Maybe you'd like to research popular off-leash dog parks you can visit along the way, "pawsome" dog beaches, or hiking and walking trails you can explore with your pup. And then there are dog-friendly diners and restaurants where you can stop off for a bite to eat.
With a little forward planning, traveling cross-country with a dog can be much easier (and much more fun).
Which dog-friendly campgrounds to stay at
Another key factor to ensure that your road trips with dogs are as successful as they are memorable is finding the right place to stay.
If you want to go RVing with a dog or try your paw at tent camping, you'll need to research dog-friendly campgrounds along your route before hitting the road. It's worth noting that just because a campground is promoted as pet-friendly, that doesn't mean it's actually all that welcoming to four-legged guests. 
Read the pet policies carefully before you book. Campgrounds don't always list their pet policies online, so call ahead if you have questions. If you clean up after your pup, keep them leashed, and show courtesy to other guests, you'll go a long way to having a successful camping experience.
For those of you who prefer the hotel life, start researching dog-friendly hotels. It's a good idea to read reviews from previous visitors to gauge just how welcome dogs really are, and make sure you check what rules apply to doggy guests. For example, if you're leaving your dog in your room while you go out, most venues require you to crate your pup.
Finally, if you're booking accommodation in advance, don't leave yourself with too long a distance to travel between overnight stops.

Staying safe on the road
One of the most important travel tips for dogs is to make sure your dog is safe and secure in your vehicle. You could choose a crate or a special car harness for your pup — just make sure they're not going to move around the vehicle or turn into a projectile if you have to hit the brakes suddenly.
Next, take steps to make your dog's space in the car as comfortable as possible. Ample ventilation, cozy bedding, a couple of chew toys, and fresh water will all help, as will setting the AC at a suitable level. And if your pup suffers from motion sickness, be sure to feed them at least a couple of hours before hopping in the car.
Finally, never leave your pup unattended in the car — take them with you wherever you go.

The importance of rest stops
When the miles start ticking away, there's a temptation to just keep on rolling. But one of the most important travel tips for dogs is to take regular breaks.
This is important for a few reasons. First, your pup will relish the chance to go potty, stretch their legs, and sniff a few new smells. Whether you're at a truck stop or a dog park en route, give your pooch plenty of time to enjoy being out of the car.
Second, you need to rest to stop fatigue setting in, so take plenty of time to explore at each little pit stop along the way.

While we're on the subject of resting up, both you and your pup can benefit from taking a day off driving once in a while. Being on the road day after day can be boring and repetitive for humans and canines alike, so allow time in your itinerary for some R&R.
This gives your dog a chance to enjoy just being a dog again, and gives you the opportunity to just slow down and enjoy yourself. Then, when you're feeling a bit more like your normal selves, you can hit the highway once again.
Know what to expect in different states
When you're a long way from home, you might not be familiar with the risks and dangers you and your pup might encounter in new areas. For example, maybe your pup has never been swimming at an ocean beach before, or has never come across a venomous snake.

If you're just passing through and sticking to major roads, chances are you won't have anything to worry about. But if you're taking your time to explore new areas, it pays to research what to expect in different parts of the country. Taking note of local vet clinics where you're planning on staying is also a good idea.
Enjoy yourself!
Whether you're getting your kicks on Route 66 or taking the road less traveled, a cross-country adventure is paws-down one of the best road trips for dogs. You can expect to see iconic landmarks, beautiful scenery, and memorable adventures — and you get to share it all with your dog.
So never forget just how lucky you are to be exploring with your fur-baby. Driving cross-country with a dog is an experience you may never get to repeat, so make sure you enjoy every moment.