How to Train Your Dog to Like Car Rides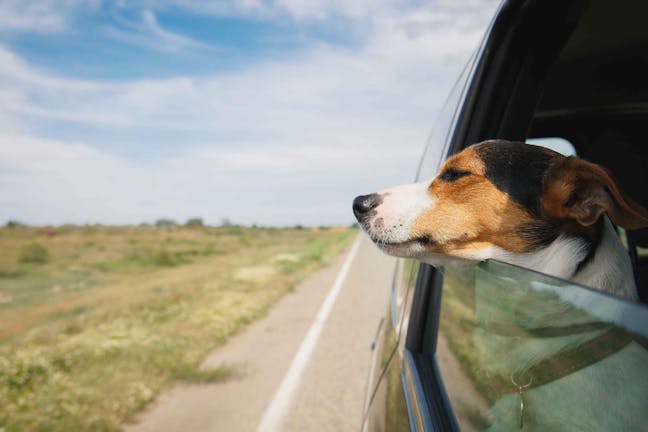 Introduction
If you have to spell out the word C-A-R or R-I-D-E, your dog is probably overly eager to go with you. On the other hand, if you are pulling your dog by the leash to get him into the car, you may need to spend some time working on training your dog to enjoy going for a ride. Getting in the car is necessary even if it's only for veterinary appointments. But there are probably other places you will need to take your dog, whether it's to the groomers, for dog boarding, to a dog park to socialize, or to puppy training classes. The number of times you could potentially have your dog in the car is endless. If your dog doesn't enjoy being in the car, it could be because he feels ill, he may not be used to the motion, or he's not sure what to do while he's in the car and unable to be close to you. 
Top
Defining Tasks
Teaching your dog to like car rides is about making him feel comfortable and repeating the process, so he knows that he is safe and you are with him. He will also know if the journey is not fun, at least there will be a reward at the end of the trip. Turn your car into a place your dog would like to be. Keep a soft blanket on the seat where you would like him to sit. Take his favorite toys with him, so he has emotional comfort as well. Be sure to make your car safe for your dog, whether you are using a harness and the seat belt or a dog carrier, depending on your dog's size. If your dog is anxious because he feels sick, you can lift him higher with a seat or a crate, so he can see out the window. Preparation before going on a car ride with your dog is key. If your dog is truly afraid of being in the car, you will want to take short trips before you move on to a long-planned trip.
Top
Getting Started
To get started, you are going to need a vehicle your dog can be safe and comfortable in. A blanket or a chew toy, or even both, to take with you would benefit your dog. A leash and/or a harness for stops will be imperative, so if your dog bolts when open the door, you don't lose control over him. And be sure to have lots of treats handy so you can reward him for a job well done.
Top
The Overcoming Fear Method
Using meals
If your dog is fearful of the car, begin to feed him one meal a day next to your car. To do this, simply place your dog's bowl next to the car with the car door open so he can peer inside while he's eating.
Move to treats
Once your dog is used to viewing the inside of the car while he eats his meals, take his meals away and put treats near the car. Continue to leave the car door open so he can look inside while he's gobbling up his tasty treats.
Play
Play with your dog near the car. This will help teach your dog that good things occur near the car.
Sit inside
Get inside your car. You can choose to sit in the back seat or in the passenger seat if your dog will fit with you. Remember not to encourage your dog to sit on your lap, because he will not be on your lap while you're driving. Just sit, have a conversation, praise him, and then get out. This will introduce him to the inside of the car and what it feels like for him to be in the car.
Treats inside
Put a few treats inside your car and encourage your dog to jump in, or if he's a small dog and needs help, lift him and put him inside, offering him treats he will find throughout the car.
Ride
Take your dog for his first car ride. If you have a friend or family member who can join you for verbal encouragement with your dog you can try this for the first couple of times. If not, put your dog safely inside the car and start driving. Be sure to talk to your dog and encourage him, reminding him with the tone of your voice and verbal praise how well he's doing.
Get excited
Get excited about going for rides. Let your dog hear the excitement in the tone of your voice.
Rewarding
From your first drive, increase the amount of time you spend in the car with your dog. Go for longer rides. Go for rides where the destination will be fun for your dog, such as a dog park or a pet store where he could pick out a new toy or a treat.
Upright
If your dog tends to get car sick, keep him upright in the vehicle. A dog harness or a seat belt could give him enough height to look out the window. On the other hand, if you have a small breed dog, using a dog crate is best. You can lift the dog crate up and strap it in so that your dog can see out the window.
Prepare
Before leaving home, make sure your dog has an empty stomach and hasn't just eaten a meal.
Stopping
Give your dog a rest. If you are going further than he's ever gone before on a trip, be sure to stop every so often to give him some fresh air and a potty break.
Windows
Roll your windows down a tad to give your dog some fresh moving air. Be sure not to roll them down too far so your dog does not escape a moving vehicle.
Keep it short
Keep your rides as short as possible until your dog is used to the motion of the vehicle as it moves.
Build up
Increase the time you and your dog are in the car up to longer rides And get excited each time it's time for you and your dog to go for a ride.
Products
If after several times riding, your dog is still not used to it and still gets sick every time he's in the car, you could see your veterinarian for anti-nausea medication. If you have a highly anxious dog, you can also look into getting him in an anxiety vest that will help him to feel better if he's getting sick in the car.
Introduce crate
Get your dog used to riding in a travel crate by putting him in the dog crate when he's in the house. Put your dog inside his travel crate for a few moments at a time. Talk to him and offer him treats and verbal praise for being inside the crate. Don't leave him in the dog crate for very long, and praise him when it's time for him to get out.
Crate in car
Place the dog crate in the car and talk to your dog. Talk about getting inside and going for a ride. Get your dog into the dog crate and offer him a treat.
Drive
If your dog is crying or whining or barking, make your first trip inside the crate a short trip. Go around the block or travel a couple of streets around your neighborhood.
Communicate
Talk to your dog the whole time you're driving, encouraging him and praising him for being a good boy.
Exit car
Once you're done with your ride, take your dog out of the car and give him a very special treat and verbal praise for a job well done.
Practice
Increase the length of time you spend with your dog in the car making your drives a little longer every time you take your dog for a ride.
Rewards
Be sure to give your dog a reward when he gets out of the car both at your destination and when you are back home.
By Darlene Stott
Published: 10/11/2017, edited: 04/22/2021
---