Best Car Seat Types for Dogs
Best Car Seat Types for Dogs

By Mel Lee-Smith
Published: 10/14/2020, edited: 09/28/2021
Save on pet insurance for your pet
You don't have to choose between your pet and your wallet when it comes to expensive vet visits. Prepare ahead of time for unexpected vet bills by finding the pawfect pet insurance.
Whether tagging along on a day trip, going for a vet checkup, or traveling to dog park meetups, traveling with dogs is a necessity and often a source of enjoyment for our pets. Nearly 85 million families in the US have a pet in the household, and AAA estimates that 80% of these pet parents chauffeur their woofer.

Despite these numbers, only 16% of US pet parents use a safety system for their furry passengers. In fact, some pet parents have never even heard of them. Keep reading for the down-low on the best car seats for dogs and how to choose the right one for your woofer.

Why do I need a doggy car seat?
There are many reasons why dog car seats should be a priority. The right safety seat will: 
Secure your pet and decrease the likelihood of injuries during a rapid deceleration or impact

Limit distractions and allow you to focus all your attention on the road

Prevent Fido from interfering with steering, braking, visibility, or accidentally changing gears

Reduce wear and tear caused by sharp claws

Prevent your pup from being catapulted, possibly injuring others during a crash or hard-braking scenario
What type of car seat do I need?
Six US states require pets to be secured in a moving vehicle, though quite a few have outlawed driving with a pooch in your lap. Some of these laws are very vague, and it's up to the officer to determine what constitutes safe confinement measures or distracted driving.
An internet search will reveal hundreds of models and styles for dog car seats. Sifting through all those results can be a daunting task when you have no experience buying doggy car seats. Unlike car seats for human kiddos, there are no federal guidelines. It's up to the manufacturing companies and nonprofit organizations like the Center of Pet Safety (CPS) to develop and test designs that will protect our pets.
In the next few sections, we'll discuss the different types of pet restraints and what to look for when purchasing a safety seat for your fur-baby.
Safety harness systems
Though not technically a car seat, safety harness attachments are the most effective travel restraint systems for dogs. These systems rely on a tether that attaches to the seat belt or LATCH anchors to hold your pup in place. The safety harness differs from a regular harness in construction and function. Reinforced seams, tightly woven materials, and a proper fit ensure the harness will not fail in an accident like a typical harness would. 
These systems are suitable for most dogs, except those with medical issues that interfere with sitting upright. Safety harness attachments can be used with most boosters and dog hammocks, depending on the vehicle's layout. Since harnesses substantially limit a dog's range of motion, it may take a while for your floofer to get comfortable in one. 
Choosing the right safety harness system
Look for strong material and reinforced stitching.

Look for models that have undergone crash-testing by the Center for Pet Safety.

Make sure the system is compatible with your car's factory seat belt or LATCH system.

Refer to the weight and size specifications to make sure the harness fits correctly and is strong enough to hold your pup. 
Design downsides
Not all pets like this type of restraint since it's so restrictive. 

Safety harnesses may cause your dog to become restless during long trips. 

Misuse of this device can increase the likelihood of injury to your pet. 
How to use a safety harness correctly
Don't use this equipment with a regular harness or neck collar since this can cause strangulation and even death. Using an improper harness is more dangerous in a car wreck than none at all. 
Booster seats
Though they come in all shapes, sizes, boosters primarily feature an open-box design constructed of dense yet comfy foam and a plush lining. Most dogs love luxuriating in these stylish bed-like safety seats. 
Some boosters sit flat on the seat cushion, whereas others strap to the backrest. Boosters that lie flat on seats usually have a cut-out along the bottom where you feed the seat belt through. 
Not all boosters are created equal; in fact, some offer little in the safety aspect. When picking a booster, make sure it either has a safety harness built-in or is compatible with other restraint systems.
While bells and whistles like heated seats and storage compartments sure sound nice, the main priority when picking a seat is keeping Fido and your other passengers safe. 
Choosing the right booster
Double-check your pet's measurements and compare them to the booster's specifications.

Opt for a booster with a cover that you can remove and throw in the washing machine.

Look for a model with a safety harness built-in, or one that's compatible with CPS-tested safety harnesses. 

Water resistance is a plus.
Design downsides
Manufacturers only make booster seats for small and medium dogs.

A booster seat alone won't prevent your dog from becoming a projectile.

Boosters can get quite expensive. Basic models start around $50, but a decent one with CPS certification costs $100 or more. 
How to use a booster seat correctly
Always follow the user manual when installing a safety seat. Do not attempt to manipulate or affix a booster seat in ways not specified in the directions. Only use a booster seat with small dogs, not for large animals. Most importantly, remember that boosters work best in conjunction with a safety harness attachment system. 
Pods
Imagine a pet bed with a mesh top which attaches to the lap belt — give it the shape of a UFO, and you've got a pet pod! Dog pods are one of the hottest travel restraint systems for small animals on the market, but the design concept isn't new. Pods are essentially a soft-sided crate with a seat belt attachment and are great for anxious dogs who find respite in their kennel.
Pods are a complete system, meaning they protect pooches and prevent vehicle ejection without a harness. This style of car seat is one of the few that the Center for Pet Safety recommends.
Like the other car seat types on our list, pods aren't without their flaws. Pods only come in small sizes, so your Great Dane won't be getting one any time soon. 
Choosing the right pod
Verify that your prospective pod has a crash test certification (preferably from the Center for Pet Safety). 

Choose a model with breathable mesh and a zip top. 

Check to see the fabric along the seat belt pathway looks and feels durable. 

Buy from a reputable retailer to avoid knock-offs. 
Design downsides
Pods are only for small animals.

CPS-tested models are expensive. 
How to use a travel pod correctly
Never use a pod without feeding the seatbelt through it. Not securing the pod can cause the pod itself to become a projectile. CPS recommends that owners only use pods and boosters in the back seat, due to the risk of injury from airbags. Keep the pod opening zipped while operating your vehicle — this will ensure your Fido can't get loose and cause distractions while you're behind the wheel. 
Dog hammock
Dog hammocks aren't technically a restraint system, but they do have their place in the travel arsenal. This car "seat" consists of a flat piece of durable material that attaches to the front and back headrests, creating a hammock-like shape. Dog hammocks are generally the most affordable option, though they provide little (if any) security during car wrecks. 
Manufacturers market hammocks as a solution to wear and tear on the vehicle interior and as a way to keep woofers out of the driver's seat — which for the most part, they do. However, a "pawticularly" determined pupper can easily slip over or under the barrier. Hammocks can be tremendously helpful for arthritic dogs that require a lift harness when entering and exiting a vehicle since they need little to no maneuvering. 
Choosing the right hammock
Select a hammock with a durable waterproof lining.

Measure your vehicle and compare it with the hammock measurements to find the size.

Dark colors are usually best since they won't stain as easily. Beige may also be a good option for golden-haired dogs who shed. 
Design downsides 
Offers little security when used alone.

A strong-willed pooch can easily break through this barrier if they want. 

Limits seating capacity.

May not work with the LATCH system attachments depending on the vehicle layout.

Only work with vehicles that have a back seat.
How to use a dog hammock correctly
When securing the headrest straps, make sure they don't block the rear window visibility. Also, check to see that the fabric lies flat against the seat. Do not use a dog hammock that is too short or too long for your back seat. Always use a seatbelt harness attachment for added security. 
Introducing a doggy car seat
Try to create positive associations when introducing a new car seat. Rather than just sticking your pup in the seat and taking off, let them investigate it in a space they feel confident in, like a bedroom or den. These apparatuses will literally attach to your woofer, so their cooperation is essential. 
Treat your dog with food and pets for showing interest in the seat. With boosters or pods, coax your dog into lying in them while in the house. Always use a calm and encouraging tone when integrating safety apparatuses into your home and vehicle. Using stern commands and forcing your dog to sit in the seat is counterproductive and will only instill fear. The end game is making your dog like the seat, not object to riding in it. 
Learn more about car seat safety
Still unsure which seat is right for your floofer? Check out our in-depth guide on choosing the right car safety seat for more info, tips, and car safety facts. Safe riding, pooches!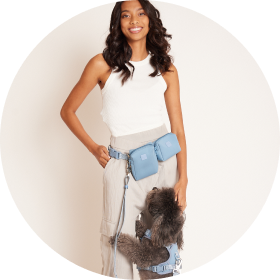 Need to upgrade your pet's leash?