Save on pet insurance for your pet
You don't have to choose between your pet and your wallet when it comes to expensive vet visits. Prepare ahead of time for unexpected vet bills by finding the pawfect pet insurance.
Aging. It's one of the inevitable facts of life that each of us will one day grow old. Along with the wrinkles, fine lines, and thinning hair, people also develop a variety of skin conditions as they age. Some of these are a natural part of the aging process due to a reduction in hormones and loss of skin elasticity. Others, such as age spots, are a result of accumulative damage caused by exposure to the sun. 
Hours spent outside playing sports or lounging at the beach can cause age spots over time. But what about those hours spent running with Fido? Can your dog get spots on the skin, too?

Can Dogs Get Age Spots?
YES!
While you may think that your dog's coat protects them from the harmful effects of UV rays, you'd be only partially correct. Your dog's fur can block some, but not all sun. Thin spots in the coat such as the belly, nose, and parts of the head and feet are also more prone to sun exposure and, eventually, spots.
Does My Dog Have Age Spots?
Age spots may not be easy to identify on every dog. In dogs with dense, thick fur, skin discoloration can be hidden by their coat. Age spots will appear as darker, discolored areas, typically on the belly, ears, and nose.
Age spots in your dog are caused by a buildup of excess melanin in the skin. Melanin causes increased pigmentation in areas. Age spots are also sometimes called liver spots, although there is no connection to liver health and the appearance of these variations in color.

If age spots appear, your vet may want to closely examine the pigmented areas for any changes in skin tone or texture. These types of changes may indicate additional damage from the sun such as skin cancer or more serious conditions.

For a more in-depth discussion of age spots, including a comparison to other forms of skin hyperpigmentation, visit Hyperpigmentation in Dogs.

How Do I Treat My Dog's Age Spots?
Age spots are benign in both dogs and humans. While no treatment is necessary, dog owners should pay close attention to Fido's skin and coat to ensure they are otherwise healthy. If your dog starts licking, scratching, pawing or biting at their belly or age spots in other areas, you should seek the advice of a veterinarian. Skin cancer is highly treatable when caught early, so be sure to not let a potential issue go untreated for too long.
How are Age Spots Similar in Dogs and Humans?
Both dogs and humans show signs of aging in their skin and outward appearance, including age spots. Common characteristics between those you face and those seen in your pooch include:

Increased frequency and size of age spots in older animals

Light-haired humans and dogs are more prone to age spots

Age spots are seen in dogs and people who don't follow proper skincare protocols such as applying sunscreen
How are Age Spots Different in Dogs and Humans?
While we both get age spots, there are a few differences between this sign of aging in pets and people:

Age spots on dogs are more difficult to see due to dense coat covering most of the body

It may be difficult to determine whether age spots are abnormal in shape or size compared to humans

Dogs have a higher pain and irritation tolerance, which means many animals will be stoic when age spots begin to create other health problems
Case Study
The typical instance of age spots in your dog will begin gradually. Sometime between 5 to 7 years, depending on your dog's breed and coat color, you may begin seeing smallish dark brown areas of pigmentation on their belly. The size and number of these areas will increase as your dog ages. 
Pet owners will typically monitor these spots and should point them out during their yearly and senior dog well visits. Just like in humans, pet owners should do regular age spot exams to check for irregular shapes and sizes and any raised or otherwise distorted skin in the area of the spot. 
With regular diligence, your dog will not be bothered by the addition of a few beauty marks and should bear the signs of old age gracefully into their twilight years.
Sun damage in dogs can be expensive to treat. If you suspect your dog is at risk, start searching for pet insurance today. Brought to you by Pet Insurer, Wag! Wellness lets pet parents compare insurance plans from leading companies like PetPlan and Trupanion. Find the "pawfect" plan for your pet in just a few clicks!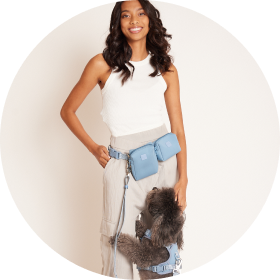 Need to upgrade your pet's leash?