Dog-friendly Road Trip Ideas in NYC
Dog-friendly Road Trip Ideas in NYC
By Mel Lee-Smith
Published: 10/02/2020, edited: 08/10/2021
Save on pet insurance for your pet
You don't have to choose between your pet and your wallet when it comes to expensive vet visits. Prepare ahead of time for unexpected vet bills by finding the pawfect pet insurance.
Fancy taking a bite of the Big Apple with your canine compadre as company? Despite being known for its bustling streets and towering skyscrapers, New York City is surprisingly dog-friendly, with plenty of urban parks, nearby campgrounds, and restaurants that will welcome Odie with open arms. Here are a few of the best things to do and places to go in the Empire City if you're planning an NYC road trip with a dog.
Where to play
Hillside Dog Park
If you're looking for a place within the city to let your dog stretch their legs, consider Hillside Dog Park. Situated just across the Brooklyn Bridge, this dog park is surprisingly secluded considering its central location.
The park features an off-leash area with a double-gate system, in case your woofer is prone to bolting. The park's wood chip cover ensures mess-free play, and shaded picnic tables provide a place for pet parents to beat the heat. Due to the nearby busy city streets, you should train your pup to come when called. Before visiting this park, make sure your dog has up-to-date rabies vaccinations and an ID tag. 
Prospect Park Dog Beach
Prospect Park Dog Beach is one of the best dog-friendly beaches in NYC. Located at the sprawling Prospect Park, this dog beach is perched upon a small lake, where dogs can roll around in the sand and doggy paddle in the refreshing water. The lake has a chain-linked fence, which stops dogs from venturing too deep and disturbing local wildlife. 
While this area of Prospect Park is off-leash, your dog will have to be kept on a 6-foot leash throughout the rest of the park. There are some great walking trails in Prospect Park in case fancy going for a stroll after your pooch takes a dip. While your dog is allowed off-leash on the beach, there are restrictions during certain times of day, so double-check with the park before visiting. 
Harriman State Park
Harriman State Park is the perfect location for an outdoor adventure near the City That Never Sleeps. This park consists of dozens of serene lakes, rolling hills, and lush woodlands. Despite being only 40 miles outside downtown Manhattan, Harriman State Park is the second-largest state park in New York State. 
Your pup is welcome on the park's trails as long as you keep them on a 6-foot leash. However, pups aren't allowed on the beaches or inside buildings. Your pupper must have a visible rabies vaccination tag. You'll find an array of walking trails that range from gentle strolls to challenging, hilly treks. Popular hiking routes within Harriman State Park include the strenuous West Mountain Trail and the laidback Skannatati Loops. 
Central Park
No trip to the Big Apple would be complete without a trip to Central Park. As one of the largest urban parks in the world, Central Park is the perfect place for you and your woofer to escape the hectic city streets. 
Your pup is welcome in certain areas of the park but must stay out of playgrounds, bodies of water, and sports courts. Despite some restrictions, there's still tons of room for you and Fido to roam. Popular on-leash dog-walking areas include Shakespeare Garden, Conservatory Garden, and Strawberry Fields.
As well as being welcome on many of Central Park's trails, there are 23 areas where your pup can run off-leash. Be advised these areas are only off-leash from 6 AM to 9 AM and after 9 PM. If you plan to take Tucker to Central Park, bring along proof of rabies vaccination and your license. You should keep your mutt on a 6-foot leash at all times in on-leash areas. 
Hudson River Greenway
Located on the western edge of Manhattan overlooking the Hudson River, the Hudson River Greenway is sure to put a spring in your doggo's step. You and your barking buddy will love taking a long hike down this 13-mile riverside walking trail. Biking is popular along the Hudson River Greenway, so you may want to rent a bike and teach your woofer how to run along with you. 
As you stroll or cycle along this greenway, you'll come across a number of dog-friendly parks, such as the West 87th Street Dog Run and Pier 84 at Hudson River Dog Park, in case you fancy letting your pupper off their leash for a while. From the greenway, you'll be treated to views of the George Washington Bridge, the Statue of Liberty, and Ellis Island. Keep your pooch on a leash at all times, and bring along some doggy bags to help keep the greenway clean. 
Where to stay
New York City North/Newburgh KOA 
If you're looking for a peaceful spot for you and Princess to pitch a tent, consider the New York City North/Newburgh KOA. This is one of the best dog-friendly campgrounds near New York City, located about an hour and a half north of Manhattan. Your fur-baby will love this campground, thanks to the onsite Kamp K9 dog run, where they can make some new pupper pals and enjoy an off-leash sprint. 
There's loads for pet parents to do at this campground, too, with everything from a mini-golf course to fishing ponds to rock climbing walls. Keep your pooch on a 6-foot leash at all times and don't leave them unattended. 
Deerpark/New York City NW KOA
KOAs offer the best camping options close to New York, and another excellent option is the Deerpark/New York City NW KOA. This dog-friendly campground is very similar to the Newburgh KOA but is slightly further away from the city. The Deerpark/New York City NW KOA is close to some state parks, great for adventures with your woofer, such as Harriman State Park and New Jersey's High Point State Park. You'll also find a Kamp K9 dog run on-site where Fido can frolic. 
There are tons of activities around camp for a fur-baby's family to enjoy, including a swimming pool, fishing pond, and outdoor games like horseshoes. As with the Newburgh KOA, your pup must be kept on a 6-foot leash at all times around the campsite.
Where to eat
While NYC may not come across as being a great place to dine with your doggo, there are several superb pet-friendly restaurants dotted across the metropolitan area. Many of these restaurants offer outdoor and indoor seating, so you can enjoy a meal with your mutt even on a cold winter's night. 
A few restaurants in New York City actually specialize in doggy dining, with themed restaurants that cater to your canine's every need. Looking to celebrate a special occasion with your hound in tow? You'll be able to find upscale eateries that welcome your pup and even have dog menus with everything from salmon to grilled ribeye steaks. If you're searching for a quick meal, there are a couple of well-known fast-food joints that also allow dogs. 
Where to roam
New York City to Philadelphia
While taking a bite out of the Big Apple, why not plan a quick road trip with your dog to the City of Brotherly Love? Philadelphia is a great city for pup parents, with plenty of nearby pet-friendly state parks and unique attractions to enjoy.
 The trip from NYC to Philadelphia is roughly 95 miles and will take about two hours, depending on traffic. A relatively short drive with lots to do makes this one of the best New York City road trips to take with a dog.
If you're looking for a place to stop and let your pup stretch their legs on the way to Philadelphia, take a short detour to Cheesequake State Park in New Jersey. Cheesequake State Park offers several dog-friendly riverside and swampland trails, which range from 1.5 to 3.5 miles in length. 
Once you reach Philadelphia, consider planning for an outing at one of the dog-friendly parks surrounding the city, such as Ridley Creek State Park and Evansburg State Park. 
After your hiking adventure, you might want to camp overnight before road-tripping with your dog back to the Big Apple. In that case, book a site at the Philadelphia South/Clarksboro KOA, situated 20 miles south of the city.  
Where to learn
While you'll find several world-famous attractions in NYC, you won't be able to take your pup along with you on some of these excellent excursions. If you're planning to visit some of the Empire City's best sights, consider booking an NYC dog walker through Wag!. These vetted dog walkers will take your pup on an exciting escapade while you soak up some local culture.  
The Statue of Liberty
The iconic Statue of Liberty is a must-visit while road-tripping with a dog through NYC. Gifted to America by the French in 1886, this monument is an important symbol of American liberty and freedom. 
Visitors can book a ferry ride over to Lady Liberty, operated by Statue Cruises. Once you arrive at Liberty Island, you'll be able to climb to the top of the statue's crown, which affords stunning views of the Hudson and NYC's skyline.
The Metropolitan Museum of Art
Art enthusiasts will undoubtedly want to swing by the Metropolitan Museum of Art. Commonly referred to as the Met, this art museum is the largest in the US and boasts over 2 million art pieces in its collection, dating back over 5,000 years. 
Some of the highlights from the collection include Self Portrait with Straw Hat by Vincent van Gogh, Washington Crossing the Delaware by Emanuel Leutze, and Bridge Over a Pond of Waterlilies by Claude Monet. 
Empire State Building
Another New York icon, the Empire State Building is the ideal place to get a bird's-eye view of the Big Apple. An Art Deco masterpiece, the Empire State Building has 102 floors and stands at 1,250 feet tall. 
Surprisingly, the Empire State Building is only the seventh tallest building in the city. Visitors can head all the way to the 102nd floor observation deck, which offers dizzying panoramas of the metro area.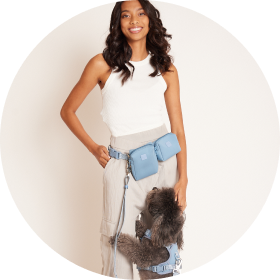 Need to upgrade your pet's leash?