The Ultimutt Guide to a New England Road Trip with Your Dog
The Ultimutt Guide to a New England Road Trip with Your Dog
By Mel Lee-Smith
Published: 10/09/2020, edited: 09/21/2021
Save on pet insurance for your pet
You don't have to choose between your pet and your wallet when it comes to expensive vet visits. Prepare ahead of time for unexpected vet bills by finding the pawfect pet insurance.
With vibrant fall foliage, fun festivals, and delicious regional delicacies, it's unsurprising New England is amongst the most "pawpular" destinations for autumn road trips with dogs. While this part of the country is lovely at any time of the year, the autumnal colors draw travelers by the droves in September and October.
You can't spend your whole vacay admiring the scenery, so we're here to help! We've assembled a list of the most extraordinary (and some downright odd) attractions you won't want to miss on your New England adventure.
Mapping out your route
This region encompasses over 71,000 square miles through 6 states, so for easy reading, we'll break up our New England dog-friendly road trip ideas by state. Our route begins in Maine and ends in Maryland, and most locations are easily accessible from Interstate 95. Let's get to exploring!
Maine
Wild blueberries, towering evergreens, lighthouses, and rugged cliffs await you in the Pine Tree State. Maine has a little bit of everything — beaches, mountains, forests, lively cities — and luckily, most of the popular destinations are pup-friendly! 
Ovens Mouth Preserve in Booth Bay
First, gear up for a hiking adventure at Ovens Mouth Preserve in Booth Bay. The East Trail is the shortest and easiest and, for the most part, runs parallel to the Back River. This path is great for little learners, offering walkers a close-up with osprey, otters, and colorful fungi and lichen. 
The West Trail is longer and more difficult, but the views are well worth the challenge. Plus, there are heaps of side trails if your pack wants to extend (or shorten!) the excursion. 
Portland
When you're ready to return to civilization, Portland, Maine, is just the place. This spunky city is one of the most welcoming to furry road-trippers on our list, with lots of dog-friendly restaurants and breweries to put some hops in your step! 
After food and drinks, let your shaggy sailor see the coast from a different angle on one of Portland's many pet-friendly cruise lines. Bring some sweaters for your furry (and not-so-furry) buccaneers — these trips get chilly!
Vermont 
The French word vermont directly translates to "green mountain", which is a pretty accurate description of the state's scenery for most of the year. In the fall, these forests burst into a rainbow of color, but the autumn splendor is just one reason so many vacation here. 
Vermont is the land of luxury ski resorts, snow-capped mountains, artisan cheeses, and real maple syrup. As if you need more incentive, here's our favorite stops for road trips with dogs around Vermont. 
Smugglers Notch State Park in Stowe
Stop into Smugglers Notch State Park in Stowe for a cardio session and quick history lesson. What was once a smuggling route for liquor, enslaved people, and illegal goods is now a vibrant preserve filled with families on any given day. 
The massive cliffs, geological formations, and cool climate translate into tons of activity opportunities. Visitors can spend their time rock climbing, cave exploring, hiking, and even ice climbing! 
Dog Mountain
Dog Mountain in St. Johnsbury is a testament to everything canine. The creator, artist Stephen Huneck, made this place to honor pets and the people who love them and regularly hosts events for pups and their owners. The park owners encourage pups to explore the mountain-top trails and dog ponds to their hearts' content!
Huneck's abstract renderings are available for purchase at the on-site gallery, where your pup is welcome to shop alongside you. Most of the proceeds from art sales go toward the upkeep of Dog Mountain. The chapel beside the gallery has a more somber tone, serving as a memorial to fur-babies who are no longer beside us but will forever be in our hearts. Visitors call Dog Mountain a special place where the love for animals is heartwarmingly abundant. Bring some tissues. This one's a real tear-jerker. 
New Hampshire
New Hampshire is the quintessential New England destination, with snow-covered peaks, adorable bed-and-breakfasts, and more covered bridges than you can shake a stick at. So what should your pack do on road trips with dogs in the White Mountain State? We have a few ideas. 
Franconia Notch State Park, Lincoln, NH
Few dog-friendly parks in New England compare to Franconia Notch State Park in Lincoln. Words fail to do this park justice — seriously, look up the pictures! — two stunning lakes, countless wooded trails, and cascades straight out of a nature magazine. 
This park is so gorgeous it caught the eye of literary icon Nathaniel Hawthorne, who detailed the park's geological formations in the story "The Great Stone Face". Literary musings aside, this spot is an excellent place for a pack swim or hike with the pack. Don't forget your camera — the scenery is one for the photo albums. 
Wildcat Mountain Gondola in Pinkham Notch
Soar atop the New Hampshire highlands with a ride on the Wildcat Mountain Gondola in Pinkham Notch. Pups can tag along on this high-flying adventure as long as they mind their manners and stay on-leash. 
Massachusetts 
The Spirit of America, the Commonwealth, and the Pilgrim State are all nicknames for this larger-than-life place. Finding dog-friendly activities in Massachusetts is easy; it's narrowing them down to the best is the hard part! 
Old Kings Highway
When mapping out scenic drives in New England, be sure to add the historic Old Kings Highway to your itinerary. Gorgeous scenery is a given, but you'll also see some of the oldest villages in the country, and where Massachusetts grows one of its most prized crops — cranberries! The route takes a little over an hour, starting at Sandwich and meandering through to Provincetown. 
Provincetown
When you reach the finish line in Provincetown, put the car in "bark" and explore the most pet-friendly city in the Commonwealth. You'll find heaps of shops, eateries, and parks to enjoy with your fur-babies. No matter which canine cafe you choose, make sure to grab a bowl of authentic fresh-from-the-bay New England Clam chowder for the full experience.
After grabbing some grub, head over to the Pilgrim Bark Park. Your pup will have a fit sniffing out the sculpture obstacle course made by local artists! Even the benches look like Labradors — now that's artwork we can appreciate. 
Plymouth Beach in Plymouth
You can't pay a visit to the Pilgrim State without seeing the place where America's foundation was laid, Plymouth, Massachusetts. Pups are welcome in most areas of the beach where the pilgrims landed over 400 years ago. You can go online to schedule a pup-friendly history tour or just wing it and enjoy the beautiful scenery. 
Be mindful of the signage since dogs can't go near the bird nesting sites or the section from the day parking area to the Daymarker area during certain seasons. For an all-access seaside spot, check out Rexhame Beach in nearby Marshfield, one of the most dog-friendly beaches in New England.
Connecticut
With Connecticut's rich history, local artisans, fantastic food, and spectacular natural parks, there's no shortage of entertainment for packs. Two things you absolutely must do is try the local apple cider and the lobster rolls; everything else is optional. 
Gillette Castle State Park in East Haddam
Leash up your faithful steed and trot over to Gillette Castle State Park in East Haddam. Gillette Castle is a sight like no other around, with architecture more fit for the English countryside than the Connecticut hills. The natural stone exterior and careful landscaping will make your pup think they've found their way into a fairy tale! 
During your visit, you can trek the dog-friendly nature and art trails or have a treat at the picnic area. Your pup can even join you for one of many yearly theater productions the castle puts on — many of which the castle's builder wrote himself. 
Dinosaur State Park in Rocky Hill
Your pack will have the time of the millennium with a trip to Dinosaur State Park in Rocky Hill. Here your pup can accompany you while you piece together prehistoric mysteries on the archeological tour or tag along while you scour the grounds for the hidden geocache. You can even try your paw at mining for gems and fossils--there's no telling what you may unearth!
Rhode Island 
The little state of Rhode Island packs a big punch when it comes to family fun. White sand beaches, historic lighthouses, and chilling local lore make this state a doggone interesting one. These dog-friendly Rhode Island road trip ideas will have your pup's barking for weeks to come! 
Compass Rose Beach in North Kingstown
Looking for a dog-friendly beach in New England where you can rest your weary paws? Check out Compass Rose Beach in North Kingstown. Locals call this quiet spot a "hidden gem" and brag about its cleanliness, soft sand, and friendly visitors. This dog beach even has a little grassy area where pups can go when they need to answer nature's call (make sure you bring bags, though). 
Providence
Next, head over to Providence, a Rhode Island city that's "pawsitively" brimming with pup-friendly activities! Fido can check out a flick and enjoy a dog sundae at the drive-in, do some reading at the bookstore, or get spooky with a ghost tour! 
Route 114
When it's time to bid the Ocean State farewell, opt for Route 114 from Providence to Newport over Interstate 95. This picturesque ride will take you through green countryside, vineyards, and adorable New England villages, allowing you to see more of Rhode Island's natural beauty than you ever could on paw. 
Thinking of taking a dog on a road trip? Be sure to check out our Ultimutt Dog-Friendly Road Trip Planner for everything you need to know about traveling with a dog!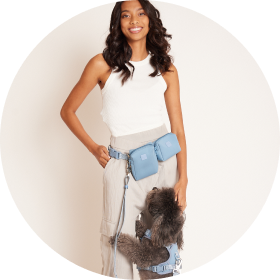 Need to upgrade your pet's leash?