The Ultimutt Guide to a Rocky Mountains Road Trip with Your Dog
The Ultimutt Guide to a Rocky Mountains Road Trip with Your Dog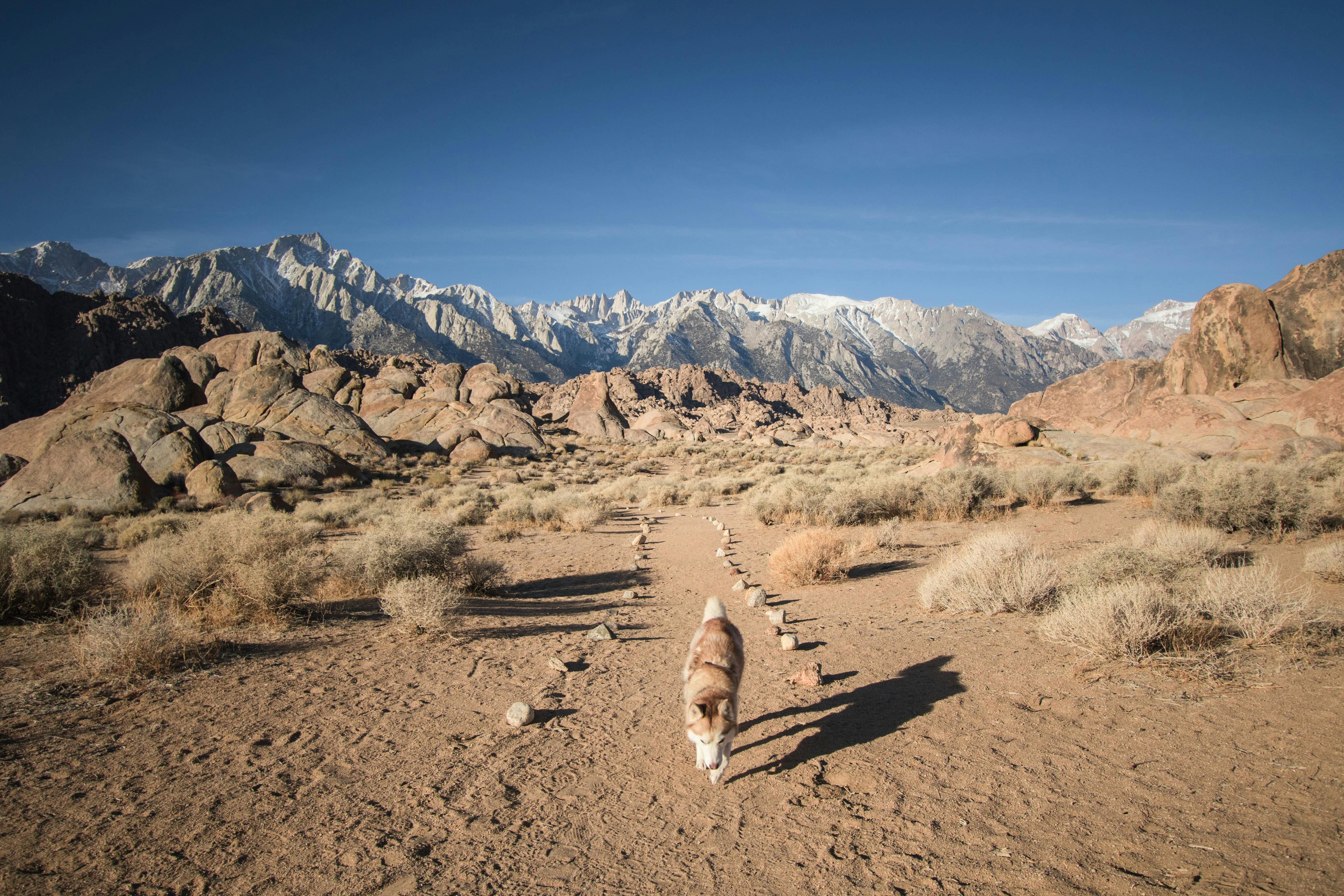 By Mel Lee-Smith
Published: 10/09/2020, edited: 09/07/2022
Save on pet insurance for your pet
You don't have to choose between your pet and your wallet when it comes to expensive vet visits. Prepare ahead of time for unexpected vet bills by finding the pawfect pet insurance.
Updated: 9/1/2021
If you're planning a road trip with a dog to the Rocky Mountains, you're in the right place! We've assembled a list of must-see sights along the Rockies — let's get to it!
The best mountains to take your dog to
The Rockies have plenty of "furrific" places to stretch your legs on road trips with dogs! The mountain chain runs from Mexico to Canada, but our route will focus on "mutts-see" sights from Colorado to Idaho. Below are some of our favorite spots for pup-friendly adventures in the Rockies. 
Estes Valley Dog Park  — Estes Park, CO

Kick-off your adventures with one of the most dog-friendly parks in the Rocky Mountains, Estes Valley Dog Park, in Estes Park, Colorado! Here, athletic Afgan hounds can work up a sweat on the agility course, socialize in the main enclosure, then cool off with a dip in the lake just a ball's throw away. This off-leash bark park is one of the few with water access. Dogs come from far and wide to chase the resident fish through the water! 
Garden of the Gods Park Off-leash Area — Colorado Springs, CO

Head south from Estes Park to the Garden of the Gods, Colorado Springs' most popular natural destination. Over 4 million people flock here each year to see the spectacular rock formations, ancient petroglyphs, and wildlife. Admission is free, and leashed woofers are welcome to explore all outdoor features. There's also an off-leash area near the main entrance where Fido can really get in the adventurous spirit! 
Crater Lake Trail — Silverton, CO
Next, lace up your walking shoes for a scenic stroll alongside the beautiful yet mysterious Crater Lake in Silverton, Colorado. What was once Mount Mazama, a sacred volcano, is now America's deepest and most enigmatic lake. 
Crater Lake Trail offers walkers a glimpse of the area's volatile past and may leave you with more questions than answers. It takes about 6 hours for most Terriers to traverse this 11-mile, medium-difficulty trail. We suggest bringing along some lunch to enjoy while you soak up this scenery. Your pup will agree Crater Lake is one of the best dog-friendly trails in the Rocky Mountains!
Pa'rus Trail — Zion National Park, UT
Packs looking for a tranquil trek should check out Pa'rus Trail in Zion National Park, Utah. This valley path will lead you alongside the Virgin River and through wildflower meadows with stunning views of the desert mountainscape and jagged red cliffs throughout. Besides being gorgeous, smooth asphalt makes this trail both wheelchair- and stroller-friendly! Wanna make a day of it? Check out our guide on activities for trips with dogs in Zion National Park. 
Shoshone Falls Park — Twin Falls, ID
Wrap your adventures at gorgeous Shoshone Falls Park in Twin Falls, Idaho. Massive cascades, lush forests, and abundant wildlife are just a few reasons this spot earned the name "the Niagra Falls of the west." 
Our favorite thing about this spot is that the falls viewing area is wheelchair-accessible, allowing everyone to enjoy the beauty of these majestic cascades. Leashed woofers are welcome to explore wherever their nose leads them — just keep them off the grassy expanse near the lake.


The best campgrounds to stay at with your dog
You'll pass many "furrific" dog-friendly campgrounds in the Rocky Mountains along your journey. Some of our favorites include:
Pikes Peak RV Park — Manitou Springs, CO
Pikes Peak RV Park in Manitou Springs, Colorado, will ensure your pup has it made in the shade! If Fido bores of the on-site dog run, your crew can paw over to the park, nature trail, or "pawpular" restaurants nearby. This adorable creekside campground will make your pack feel right at home!
Century RV Park — Ogden, UT
Century RV Park in historic Ogden, Utah, is a great midway point for camping with dogs when in the Rocky Mountains. This campground is outfitted with a pool, hot tub, sports courts, and a swing set for human kiddos. Pay a visit to the lounge to watch sports games, access the computer, or jam out on the piano (if you're so musically inclined). 
Twin Falls / Jerome KOA — Jerome, ID
Twin Falls / Jerome KOA is the "pawfect" campground if you're traveling with a dog to see Twin Falls. This KOA has pet-friendly cabins and RV sites but also allows tent camping with dogs. Shoshone Falls Park is just a bone's throw away, and the campground will rent you a bike to help you cover more ground while exploring. In your downtime, you can wind down with a game of putt-putt or a swim in the campground pool. Each night the campground hosts ice cream socials for human campers to mingle and enjoy a sweet treat! 
The best places to dine at with your dog
One of the best parts of road trips with dogs is trying the unique local flavors with your best pal, and you'll come across plenty of dog-friendly snacking spots from Colorado to Idaho! When passing through Colorado, pick up some local Palisade peaches and Rocky Ford cantaloupe to nibble on during the ride. 
Bison burgers are another Colorado classic. Traditional fixin's include sauteed onions, mushrooms, and green chiles, but some restaurants offer unconventional toppings like sundried tomatoes, pico de gallo, chipotle sauce, guac, and flash-fried pickles. No matter how you dress 'em, they're bound to be delicious! 
You can't leave Utah without trying the famous "Utah scones," a delectably crispy sweetbread with a drizzle of honey butter. By the time you reach Idaho, your pack is bound to be starving. Fill up on local favorites like finger steaks, home fries, and huckleberry ice cream! 


The best places to roam with your dog
Scenic drives in the Rocky Mountains are great for exploring areas that prohibit pooches on-paw. Rocky Mountain National Park is one such place, but Trail Ridge Road allows packs to explore the landscape without breaking any rules. Rocky Mountain National Park has the second-most visitors of any national park in the US, and you'll see why on this scenic 48-mile drive. 
As you meander along from Estes Park to Grand Lake, watch as low-altitude montane forests give way to subalpine forests, then turn to rugged alpine tundra. You'll reach heights of 12,000 feet in just a few miles, making for breathtaking views of the mountains and valleys beneath. Despite the craggy landscape, you'll find colorful wildflowers and a tremendous amount of mountain, forest, and desert-dwelling creatures unique to this region. Make sure you pull off at Fair View curve for some spectacular views and a pack selfie! 


Plan ahead: decide where to board your dog for an "overnight" stay
No matter where you go when traveling with a dog, you'll always find a place you want to visit that prohibits pets. Instead of skipping your bucket-list destination, why not book a dog walker to entertain your pup while you explore some humans-only attractions? No clue where to start? We have a few places in mind! 

A trip to the Midwest isn't complete without a trip to a real ghost town. Start your learning adventures with a trip to the Wild West Ghost Town Museum in Colorado Springs. Here, you'll discover local antiquities, learn the town's history and lore, and pan for gold where many sought their fortune over a century ago. 
Next, head over to The Leonardo Museum in Salt Lake City, Utah, where creativity and innovation collide. You'll learn about kinetic energy and physical properties with a collection of interactive puzzles and displays at Leonardo's workshop. Creative types won't want to miss Leonardo's studio, where guests learn to master sculpting, painting, and create claymation shorts. No matter your age, Leonardo is sure to inspire! 
Finally, round out your learning experiences with a trip to the Herrett Center for Arts and Sciences in Twin Falls, Idaho. The ever-changing and diverse exhibits truly have something for any knowledge seeker. You'll see fossils, experience what life was like for ancient natives, and learn about symbiotic relationships in plants and animals through vivarium exhibits. 
With so much to do, it's no surprise many consider the Rocky Mountains one of the best destinations for road trips with dogs. Planning a Rocky Mountains road trip with a dog? Check out our travel safety guide for dogs first!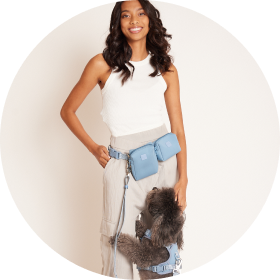 Need to upgrade your pet's leash?