Overview
For many of us, Easter means chocolate — and lots of it. Unfortunately, because chocolate is highly toxic to dogs, spoiling your fur-baby with Easter eggs and chocolate treats galore simply isn't an option.
But that doesn't mean your dog has to miss out on the Easter fun. With the 5 "furbulous" dog-safe Easter treat recipes below, you can spoil your pup with yummy, nutritious snacks this holiday weekend. So grab your chef's hat, strap on an apron, and let's get cooking.
Dog Easter Eggs
Original recipe and image credit: Tails.com. Photo included with permission.
Where better to start your Easter feast than by making your dog their very own Easter eggs? These super-yummy Fido favorites are quick and easy to make, featuring xylitol-free peanut butter as the main ingredient.
And once they've been poured into egg-shaped molds and left to set in the fridge for a couple of hours, they make scrumptious Easter snacks for your fur-baby. So while you're peeling the wrapping off yet another chocolate egg for yourself, your pup can tuck into their own little stash of treats. Or if you're in the mood for some fun, why not set up an Easter egg hunt for your pup?
Check out the full recipe for a list of ingredients and the steps you need to follow to make these dog-safe Easter treats.
Homemade Peeps for Pups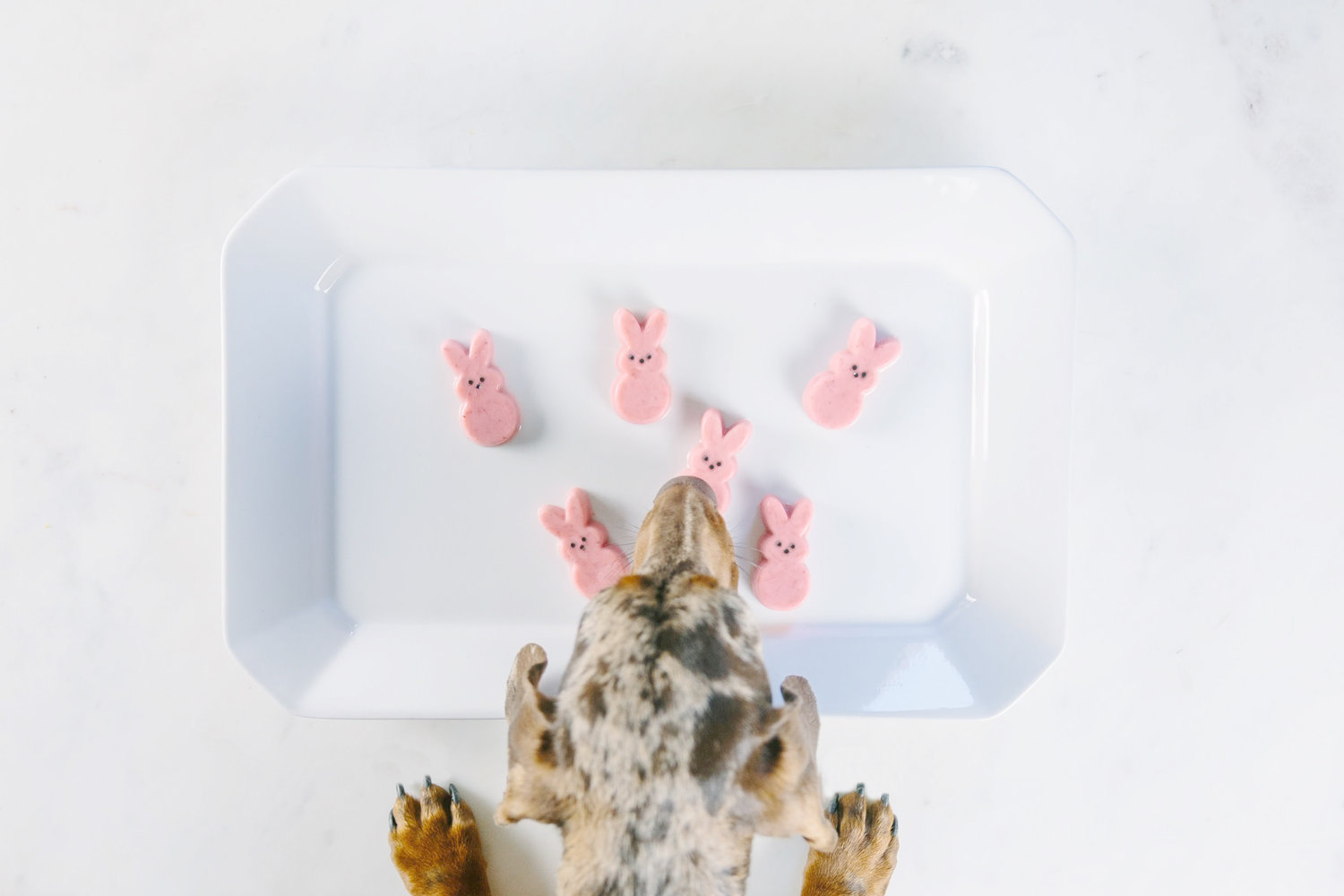 Original recipe and image credit: The Dapple. Photo included with permission.
Chocolate isn't the only sweet treat some of us like to enjoy at Easter. Marshmallows are another popular Easter treat that we love scoffing by the handful, but which are not safe to share with our fur-babies.
That's where this pup-safe twist on marshmallow Peeps comes in. These frozen delights are made using strawberries, peanut butter, and Greek yogurt. And when paired with an Easter bunny-shaped mold, they're the "pawfect" snack for pups this holiday weekend.
Treat your pup to some lip-lickingly good Easter Peeps with this recipe.
Carrot Pupcakes
Small in size but big on flavor, these Carrot Pupcakes are mouthwatering Easter treats for dogs. They feature the goodness of carrot and manuka honey, plus delicious yogurt icing topped with carob drops or grated carrot — yum!
Bake a batch of these bite-sized treats and your pup will be begging for more all Easter weekend. If your pooch is craving some "pawsome" pupcakes, check out the recipe at The Pug Diary.
Pastel Pupsicles
Original recipe and image credit: Dalmatian DIY. Photo included with permission.
These doggy Easter treats come in all the colors of the rainbow. 
Pupsicles are frozen dog treats made using yogurt, kefir, or even reduced fat coconut milk. But the really clever part is the coloring — instead of using artificial food coloring, these vibrant shades come from natural sources like beetroot powder, turmeric powder, and spirulina powder.
They're a wonderful cooling treat for pups to enjoy as the weather starts heating up. Best of all, they taste "grrr-eat"!
You'll find a list of ingredients and step-by-step instructions in the full recipe over at Dalmatian DIY.
Easter Egg Dog Biscuits
Original recipe and image credit: ZippyPaws. Photo included with permission.
Delicious homemade dog biscuits with a fun Easter twist — now that sounds like something to get your tail wagging!
These cute little doggy biscuits are easy to make using just a few ingredients, and you can draw on your own decorations before baking if you're short on time. But if you really want to wow your dog with your culinary skills, use yogurt icing and natural food coloring to make the biscuits look like colorful Easter eggs. Then, you can pop them into your dog's Easter basket and let them enjoy treats that taste as good as they look.
Check out the recipe for a step-by-step guide to baking these "egg-cellent" Easter goodies.
A word of warning about chocolate
In case you didn't know, chocolate is very dangerous for dogs. It contains caffeine and something called theobromine, 2 substances that dogs can't metabolize the same way us humans can. And the darker the chocolate, the more toxic it is for your dog.
Chocolate can cause symptoms ranging from vomiting, diarrhea, and restlessness to an elevated heart rate, seizures, and even heart failure. Chocolate poisoning can be fatal, so you should always keep your own Easter treats well out of reach of your fur-baby while also keeping an eye out for other Easter hazards. 
Carob is a popular option if you're looking for a dog-safe chocolate alternative. It's non-toxic to dogs and is used in many doggy Easter treat recipes. And as the recipes above show, there's no shortage of other pup-safe ingredients you can use to make delicious — and even healthy — Easter treats for dogs.

Worried about chocolate and keeping your dog safe from other dangers at Easter? Chat with a veterinary professional online now to enjoy peace of mind when it comes to your pet.