Easter Hazards to Watch for with Your Dog
Easter Hazards to Watch for with Your Dog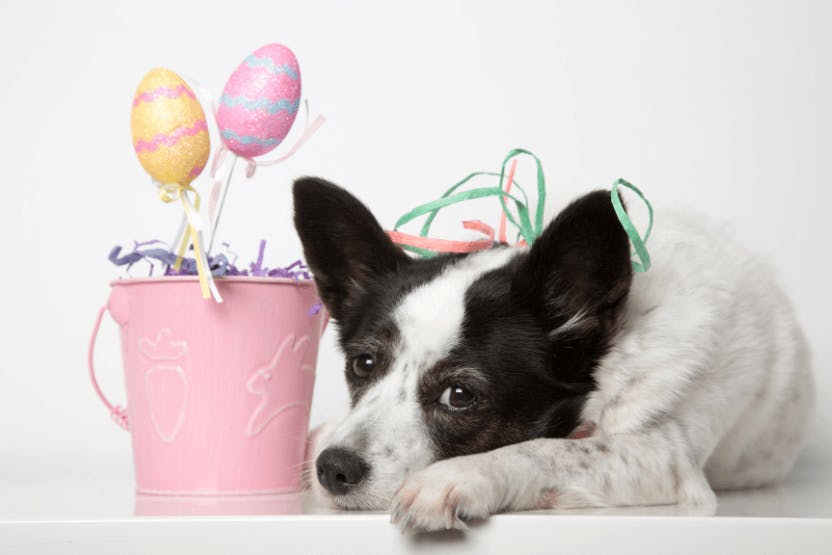 By Wag! Staff
Published: 10/02/2017, edited: 03/17/2023
Save on pet insurance for your pet
You don't have to choose between your pet and your wallet when it comes to expensive vet visits. Prepare ahead of time for unexpected vet bills by finding the pawfect pet insurance.
Overview
You don't have to be a kid to get swept up in all the joy and fun of Easter. With spring in the air and chocolate in your belly, it really is a magical time of year to share with your family.
Of course, sharing Easter with your family means including your dog in the celebrations. But while your fur-baby will love the bonding time and joining all the Easter activities, there are also some Easter holiday hazards that can cause serious problems for dogs.
From chocolate to toxic spring plants and flowers, let's take a look at how you can keep your dog safe this Easter.

Chocolate and candy
As every kid knows, Easter means chowing down on copious amounts of chocolate and candy. From Easter egg hunts to Easter baskets, there's certainly no shortage of sweet treats floating around at this time of year — and that's very bad news for our dogs.
Chocolate is highly toxic to dogs and cats. It contains theobromine and caffeine, two compounds which cause chocolate toxicity in dogs and could make your pet seriously ill. Symptoms range from vomiting and diarrhea to restlessness, an elevated heart rate, seizures, and even heart failure. Baking chocolate and dark chocolate are the most dangerous because they have the highest theobromine content, but milk chocolate can also cause serious problems. And while there's minimal risk of chocolate poisoning if your dog eats white chocolate, it can still cause life-threatening pancreatitis. With this in mind, make sure to keep chocolate well away from your dog at all times.
Candy is also a common Easter hazard for dogs. Xylitol is an artificial sweetener found in many sugar-free candies and chewing gums, and it's extremely toxic to dogs. Eating other candies in excess can also upset your dog's stomach and cause vomiting and diarrhea, so keep your dog away from all these Easter treats.
Try dog-safe treats and recipes for Easter instead that'll get your dog howling for spring!
Easter baskets
Easter baskets are a much-loved holiday tradition for many families, but they can also pose dangers to your pet. While that long plastic Easter grass might look great, some dogs think it looks good enough to eat. And that's a big problem, because this plastic Easter grass can become entangled and stuck within your dog's gastrointestinal tract, causing a range of health issues.

This can lead to symptoms like vomiting, diarrhea, loss of appetite, lethargy, and abdominal pain, and potentially cause an internal obstruction that requires emergency medical attention. So keep Easter baskets well away from your dog or, better yet, don't use any plastic Easter grass at all.

Toys
Easter baskets aren't just about chocolate and candy. Many also contain plastic toys, games, and Easter eggs, and these often tend to be cheaply made. Unfortunately, these toys might also look like a tasty treat to a curious dog, and can break into small and sharp pieces quite easily. Not only do they pose a choking hazard, but they could also cause some sort of internal injury.

That's why it's important to supervise your dog closely around any novelty toys this Easter. You can also check out our guide to the top Easter activities for dogs for some suggestions on how to safely entertain your dog over the holiday weekend.

Spring flowers
Easter also means the arrival of spring and the spring planting season. But as your yard becomes filled with colorful springtime blooms, and as you plant new additions in your garden, be very wary that you're not exposing your dog to any toxic plants.

Many types of lily such as Easter lilies, tiger lilies, and daylilies are all toxic to dogs and can cause gastrointestinal issues like vomiting, diarrhea, and abdominal pain. Other spring plants seen in easter centerpieces like daffodils, hyacinths and tulips can also be toxic if your furball gets a bite. Keep this in mind if someone gives you an Easter lily or bouquet as a gift, and make sure you're well aware which common garden plants are toxic to dogs.
Safety for the season
Keeping your dog safe this Easter is easy. Now that you're aware of the major Easter hazards for dogs, all you have to do is take a few simple steps to make sure your fur-baby stays out of trouble this holiday weekend. And with your dog looked after, you can focus on sharing the celebrations with your furry family member.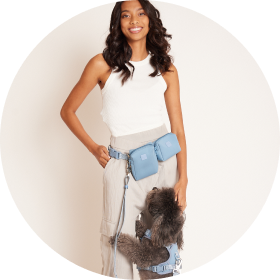 Need to upgrade your pet's leash?