Choline is an essential nutrient that plays a key role in an array of metabolic processes. How much choline does your dog need to stay healthy? What are the signs of choline deficiency and overdose in dogs? What foods are rich in choline? Read on to find out!
Functions
Choline is a building block of acetylcholine, a neurotransmitter that helps regulate heart rate, muscle contractions, blood vessel dilation, and other processes. Here are a few other ways choline keeps your canine healthy:
contributes to the structure of cell membranes
regulates fluid levels, as well as liver and gallbladder function
aids in the metabolism of fat and cholesterol
assists in hormone production
is part of the protective sheath surrounding the nerves
Daily Recommended Intake
The Association of American Feed Control Officials (AAFCO) recommends 1,200 mg of choline per kg of dry-matter diet for adult dogs. (Dry matter refers to the nutritional content of food after moisture is removed.)
Food Sources
Your dog's kibble contains all the choline they need. But you can also find choline in other food sources, including:
meat
liver
salmon
peanuts
egg yolks
whole grains
cow and goat milk
Signs of Choline Deficiency in Dogs
Choline deficiency is rare in dogs who eat kibble. Dogs fed a raw diet may not get all the choline they need. Signs of choline deficiency in dogs include:
vomiting
fatty liver*
high cholesterol
increase in liver enzymes
*Fatty liver is a potentially lethal condition.
Signs of Choline Overdose in Dogs
Research on choline overdose in dogs is ongoing. Choline overdose in dogs is rare and typically associated with supplementation. Dogs receiving 3 times the daily recommended amount of choline may develop anemia.
Choline Supplements for Dogs
Choline supplements for dogs are available in tablet and powder form. You can give your dog choline supplements without food. However, if your dog experiences nausea or vomiting, give future doses with a meal.
Few studies have investigated the benefits, side effects, and drug interactions of choline supplements for dogs. Veterinarians prescribe choline supplements for dogs with:
Anecdotal evidence supports choline supplementation in dogs with liver and kidney disease. However, VCA Animal Hospital advises using choline with caution in dogs with kidney and liver disease.
Do not give choline supplements to dogs diagnosed with brain disease as a result of severe liver disease (hepatic encephalopathy).
Side effects of choline supplements for dogs are rare, but may include:
hyperactivity
nervousness
anemia
low blood pressure
Vets recommend a dosage of 20 to 40 mg — or 0.5 mg to 1 mg per pound of your dog's body weight — up to twice daily for dogs diagnosed with canine cognitive disorder.
Choline supplements may interact with medications that regulate blood pressure.
Talk to your veterinarian before administering any supplements to your dog. Dietary supplements typically have little to no effect on healthy dogs receiving adequate amounts of choline in their diet.
Got questions about choline for dogs? Vets on the Wag! platform have answers! Chat live with a vet now to discuss your dog's nutritional needs.


Choline for Dogs Questions and Advice from Veterinary Professionals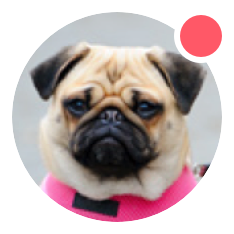 Need pet insurance?