Clindamycin
Written By hannah hollinger
Published: 07/24/2020
Updated: 08/30/2021
Clindamycin for dogs is a broad-spectrum antibiotic used to treat a wide range of bacterial infections. It can be used to treat wounds and abscesses, pyoderma, dental infections, protozoal infections, toxoplasmosis, and more.
Available with a prescription, clindamycin is particularly effective against Gram-positive bacteria. For more information on the uses, dosage, efficacy, and side effects of clindamycin for dogs, keep reading.
Dosage
Clindamycin is available as a tablet, a capsule, and an oral liquid. The recommended dosage amount varies depending on the infection, so follow your veterinarian's dosage instructions carefully. As a general guide, daily dosage amounts range from 5 mg to 30 mg per pound, with this amount often split into two doses a day. 
Dosage instructions
Administer clindamycin according to your veterinarian's instructions. Clindamycin can be given with or without food. If given as a pill, be sure to provide access to fresh water to ensure that it doesn't become lodged in the esophagus and cause ulcers. 
Clindamycin also has quite a bitter taste, so you may need to disguise it with food to ensure that your pet swallows the medication. Your veterinarian can offer advice on effective ways to get your dog to take their medication.
If giving this medication in liquid form, make sure to measure out the dose carefully. Finally, check how long your veterinarian wants you to continue giving clindamycin to your dog so you can follow the recommended dosage schedule.
Efficacy
Clindamycin is a lincosamide antibiotic approved by the FDA for use in dogs and cats. It treats skin infections as a result of abscesses and wounds, bone infections, dental infections, and serious infections like toxoplasmosis and babesiosis.
Clindamycin works by inhibiting the growth of bacteria. Studies show that clindamycin reduces the clinical symptoms of Babesia gibsoni infection, including anemia, anorexia, and listlessness. It's also a first-line antibiotic in the treatment of bacterial skin infections. Clindamycin is an effective and safe antibiotic for use in the treatment of deep staphylococcal pyoderma in dogs.
Finally, it's also an effective tool to help fight infections after periodontal procedures and tooth extractions. The use of a topical clindamycin hydrochloride gel as part of a professional teeth cleaning procedure including root planning can also aid tooth retention.
Cost
The price of clindamycin ranges from 60¢ to $2 per tablet depending on the dosage strength.

Side effects
Clindamycin for dogs can potentially cause the following side effects:
Allergic reaction

Blood in stools

Trouble swallowing
If you notice your pet experiencing trouble swallowing or bloody diarrhea, contact your vet immediately. You should also consult your veterinarian if the other side effects listed are severe, gradually get worse, or don't go away.
Considerations
Just like any other medication, clindamycin has the potential to interact with other drugs your dog is taking. It can also lead to health complications in dogs with specific medical issues, so it's essential that your veterinarian knows your pet's complete medical history before prescribing clindamycin.
Drug interactions
Clindamycin may interact with neuromuscular blocking agents such as pancuronium, cyclosporine, and erythromycin. There may also be other potential drug interactions, so make sure you inform your veterinarian of all medications your dog is currently taking.
Allergic reactions and sensitivity
Never give clindamycin for dogs to pets with an allergy to the drug or others like it, such as lincomycin. Use clindamycin with caution in dogs with kidney or liver dysfunction. Speak to your vet about the safety of using this drug in pregnant or nursing animals.
Frequently asked questions
Does clindamycin for dogs require a prescription?
Yes, you'll need a prescription from your veterinarian to give clindamycin to your dog.
How should clindamycin be stored?
Store clindamycin at room temperature in a sealed container. Keep it out of direct sunlight and out of reach of children and other animals.
What should I do if my dog has an adverse reaction to clindamycin?
If your pet has an adverse reaction to the medication or you suspect an overdose, seek emergency veterinary medical attention. You can also contact the ASPCA Animal Poison Control Center or the Pet Poison Helpline for assistance.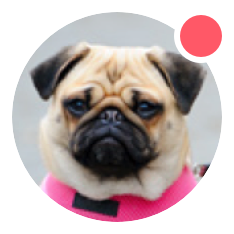 Need pet insurance?