7 Tips for Taking Your Dog on a Road Trip to the Lake
7 Tips for Taking Your Dog on a Road Trip to the Lake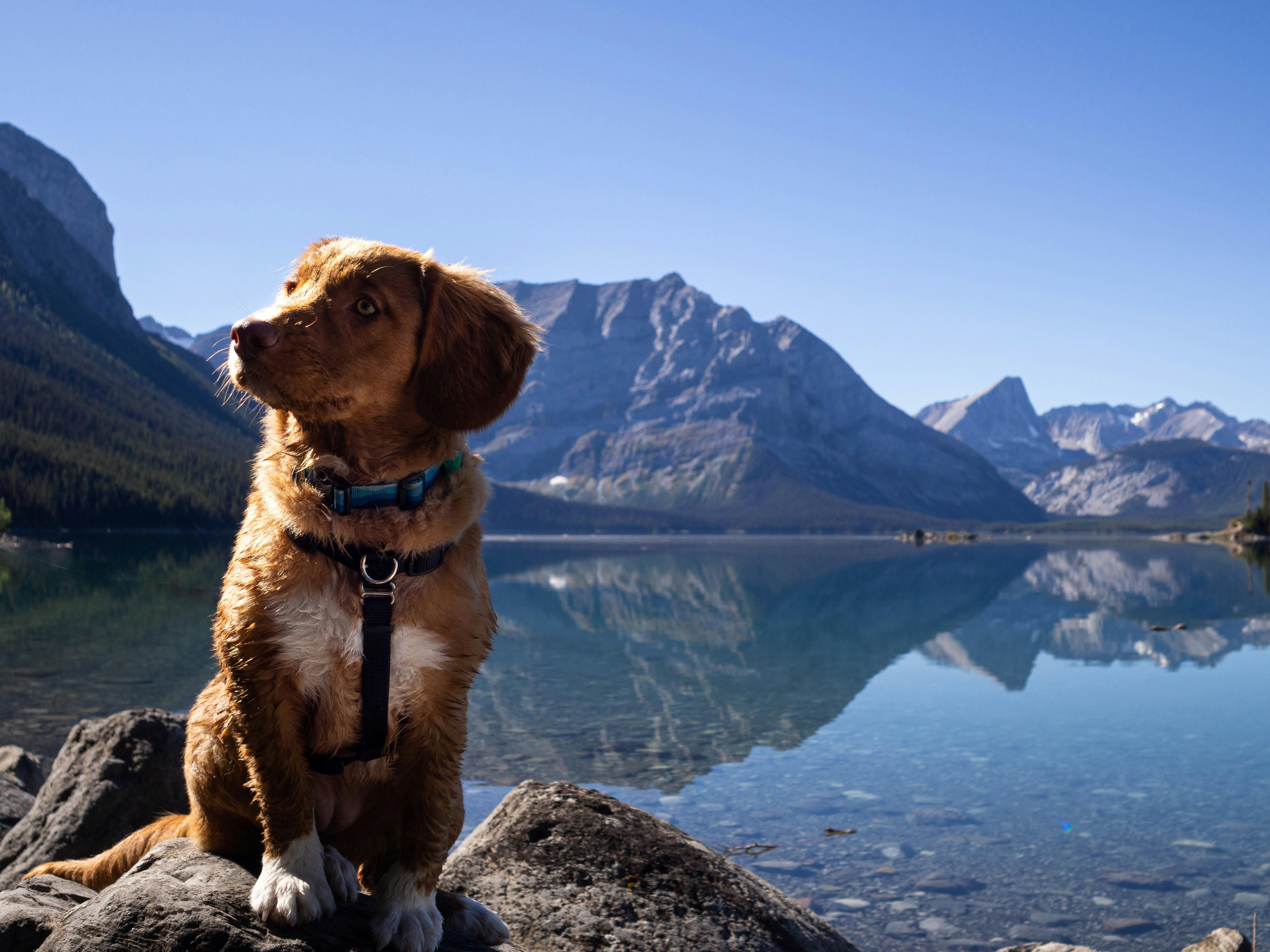 By Mel Lee-Smith
Published: 09/28/2020, edited: 09/07/2022
Save on pet insurance for your pet
You don't have to choose between your pet and your wallet when it comes to expensive vet visits. Prepare ahead of time for unexpected vet bills by finding the pawfect pet insurance.
Updated: 4/22/2021
Taking a drive to a lake is one of the best road trips for dogs of all shapes and sizes. With a host of new sights and smells for your pup to experience, not to mention all the fun of splashing around in the water, the lake is the ideal destination for a day trip or even a longer vacation.
But before you load up the car and chart a course for your nearest lake, you'll need to make sure you're well prepared for the adventure that lies ahead. Check out these 7 travel tips for dogs that'll help make your next lake road trip safe, stress-free, and a whole load of fun.
Getting your dog used to car travel
Some dogs take to car travel like a duck to water. Others are nervous and reluctant passengers, so it pays to do a few practice runs before setting out on a long road trip. If your dog only ever hops in the car for the scary experience of going to the vet, they're obviously going to be far from keen to hit the road.
The key to training your dog to like car rides is to help them associate trips in the car with positive experiences. Reward them with treats and praise for hopping into the car and sitting calmly, then take some short trips to places they love — the dog park, the beach, even a dog-friendly cafe.
As they become more accustomed to car travel, you can gradually build up to tackling longer trips. 


On the road with your dog
Traveling with a dog successfully also means taking steps to optimize your pup's comfort and safety on the road. 
First, make sure you have a way to keep your dog safe and secure while in transit. Whether it's a seatbelt harness or a travel crate, it'll stop your pup being a distraction on the road and protect them in case of an accident.
Second, make the car environment as comfortable as possible. That means setting the AC at an appropriate level, opening a window if necessary, giving your dog plenty of water, and providing some chew toys and other boredom busters. And if you tire your pup out with a walk or play before hitting the road, they'll hopefully be a better-behaved passenger for your drive to the lake.
Finally, break up the trip regularly so your pooch can take potty breaks. Not only will this let them answer nature's call, but they'll also relish the chance to stretch their legs. Best of all, it helps you slow down and enjoy the journey rather than just racing to your destination.


Teach your dog how to swim
If you're thinking of taking your dog on a road trip to the lake, it's a good idea to assess their skills in and around the water first. If there's a dog-friendly pool or swimming spot near you, take your dog swimming there before taking a road trip.
When first introducing your dog to water, take it slow and let them progress at their own pace. Gentle encouragement, treats, and praise can all help coax nervous pups to get their paws wet, but it's important that you never force your pooch to do something they're uncomfortable with. You'll find plenty of other useful tips in our guide to teaching your dog to swim in a lake. 
It's also worth pointing out that some dog breeds can't swim. A doggy life jacket is essential for these dogs, and in some cases, you may be better off steering clear of the water altogether. But if your pup loves the water, it's time to start planning a lake road trip.


How to pack for the road trip
One of the key factors you need to consider when taking road trips with dogs is what you need to pack. Some items are a must no matter where you're going, so make sure you pack food, toys, a leash, bedding (if you're staying overnight), a collapsible water bowl, and any medication your dog requires.
But then there are some more specialized items that may be worth packing when traveling with a dog to a lake. These include:
Toys that float
A doggy life vest
Towels
Dog-friendly sunscreen
Remember all the essentials and your lake road trips with dogs will be a whole lot more successful.


Finding the "pawfect" destination
Where's the best lake to go swimming with your dog? There are a lot of factors that will affect your choice of destination for lake road trips with dogs.
Not only will you need to consider driving distances and how long you plan on staying, but you'll also need to think about the facilities on offer at the lake itself. Any body of water you choose should obviously have a dog-friendly swimming spot, plus the conditions will need to be safe enough for your pup to take to the water. You'll also need to consider whether there's shade available, if there's ample parking and restrooms nearby, and if there will be somewhere to wash your dog before the drive home.
If you're staying overnight or for a few days, check if there are any dog-friendly campgrounds or hotels in the area. Researching other local attractions you and your pup can enjoy together — from parks and walking trails to dog-friendly restaurants — will help you decide where to go.


Water safety to know
Okay, you're taking your dog on a road trip to the lake and you've finally arrived at the water's edge. Your pup is a ball of energy and can't wait to make a splash. But there's a few things you need to remember to help your fur-baby stay safe:
Check the conditions. Take a couple of minutes to assess the conditions and work out if it's safe for your pup to go into the water. Is there a current or strong wind that could take your dog away from shore? Are there large waves that could swamp your pup?
Check for hazards. It's also important to check for other hazards in and around the water. Are there any submerged obstacles in the water? Are there any sharp rocks or broken glass around that could potentially cause injury? Is there any wildlife that you need to be aware of, such as snakes? And if the water has any blue-green algae, find somewhere else to swim.
Know your dog's fitness level. Some pups will splash, swim, play, and run at the lake all day long; others may not be in the same shape. Watch your dog closely for any signs that they're struggling and need a rest.
Don't let your pup drink the water. Provide plenty of fresh water for your pooch to drink. This should hopefully stop them quenching their thirst with the lake water, which could contain nasty bacteria or potentially be salt water.
Watch the weather. On a hot day, remember to provide plenty of water and shade for your dog to escape the summer sun. In cooler weather, make sure your pup won't get too cold after going for a swim in chilly water.
Finally, don't forget to savor the sheer joy on your pup's face as they frolic in the water. Many pups absolutely love swimming, which is why a journey to the lake is one of the best road trips for dogs.


Rinsing off
When your lake adventure is over and you're ready to head home, don't just jump into the car straight away — rinse your pup first. This is important for a couple of reasons. 

First, it'll remove any bacteria, salt, or other nasties from your dog's coat and prevent any skin irritation. Second, it'll stop them bringing a whole lot of sand and other debris into your car!
Finally, be sure to towel them dry so they don't get too cold on the ride home. Pay special attention to your pup's ears during the drying process to reduce the risk of ear infections.  If your dog is at risk of developing ear infections, it's also a good idea to check out our pet insurance comparison tool. Brought to you by Pet Insurer, Wag! Wellness lets pet parents compare insurance plans from leading companies like FIGO and Nationwide.
Traveling with a dog to a lake is a "woofderful" way to spend a day, a weekend, or a whole week. So why not pop on your swimming trunks, load your pup into the car, and get ready for a memorable dog-friendly adventure?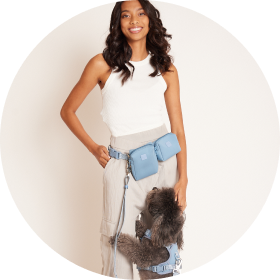 Need to upgrade your pet's leash?