Dog-friendly Road Trip Ideas in Chicago
Dog-friendly Road Trip Ideas in Chicago
By Mel Lee-Smith
Published: 09/11/2020, edited: 08/10/2021
Save on pet insurance for your pet
You don't have to choose between your pet and your wallet when it comes to expensive vet visits. Prepare ahead of time for unexpected vet bills by finding the pawfect pet insurance.
Planning a dog-friendly road trip to Chicago, IL? Chi-Town isn't just a great place to visit all year round — it's also practically overflowing with attractions and activities that you and your pup can enjoy together.
Whether you're looking for dog-friendly dining, off-leash parks, great dog walks, or a pooch-friendly campground, you'll find everything you're looking for in and around the greater Chicago area. Keep reading to find out what to do and where to stay when you're taking a dog on a road trip to Chicago.
Where to play
You and your fur-baby will probably be keen to stretch your legs when you arrive in Chicago. If that's the case, make one of the best dog-friendly parks in Chicago your first stop.
Wiggly Field
One option worth checking out is Noethling Playlot Dog Park, which is better known by the locals as Wiggly Field. Located in the Lincoln Park neighborhood, this half-acre park is an asphalt-surfaced play zone for the city's canines. A drinking fountain, shade, and a doggy timeout zone are all provided, and your pup will often be able to find other dogs to play with here.
Jackson Bark
Another park worth checking out when traveling with a dog in Chicago is Jackson Bark, which sits within 543-acre Jackson Park. Boasting an enviable position on the shores of Lake Michigan, this beautiful green space is a lovely spot for an on-leash walk. Jackson Bark is also Chicago's largest fenced dog park and boasts wading pools, agility equipment, and everything your pup needs for a fun day out. 
Montrose Dog Beach
If the weather is warm and you're on the hunt for dog-friendly beaches in Chicago, Montrose Dog Beach is the place to go. This popular stretch of sand is the ideal spot for your dog to indulge in a bit of dog paddling, run, splash, and also enjoy some socializing. And if you can ever tear your pooch away from the action to take them home, there are dog wash stations on-site to help with the cleanup.
Belmont Harbor Dog Beach
Belmont Harbor Dog Beach is also well worth checking out. While only quite small in size at 0.15 acres, this fully fenced beach offers a safe space for dogs of all ages to get wet and have fun. There are also some lovely views of the Chicago skyline from here, so you might want to snap off a few selfies with your pup.
Chicago Lakefront Trail
Finally, while you're in the area, be sure to tackle some of the excellent Chicago Lakefront Trail. Winding along the shore of Lake Michigan for 18 miles, this paved trail offers "pawsome" water and skyline views. There are also several lovely parks along the way if you and your pooch want to stop and have a rest, while there's usually a concession stand nearby if you need to grab a snack. All things considered, it's easy to see why this is one of the best dog-friendly trails in Chicago.
Where to stay
Looking for dog-friendly campgrounds in Chicago? You'll need to head a little way out of the city to find what you're searching for.
Chicago Northwest KOA
One option worth considering is Chicago Northwest KOA, which is located some 60 miles away in Union. There's plenty for families to enjoy here, with mini-golf, a jump pad, and a huge playground just some of the attractions. Four-legged family members are also well catered for with a dog park and nearby walking trails, so your pooch is sure to love their stay here as well.
Indiana Dunes State Park Campground
Another place worth considering if you want to go RV camping with a dog is Indiana Dunes State Park. Located roughly 50 miles from downtown Chicago, this 2,182-acre park boasts a beautiful position on the shores of Lake Michigan. While dogs aren't permitted on the beach, they are welcome in the 140-site campground. Just make sure to keep your pup on a leash and pick up after them at all times. 
Camp Bullfrog Lake
Closer to Chicago, Camp Bullfrog Lake also welcomes dogs. Located roughly half an hour away in Willow Springs, the park offers a mix of tent and RV sites. Two-legged guests will love the great fishing and kayaking on offer in the 16-acre lake, but you'll need to make sure your pup is leashed and attended to at all times.
Where to eat
One of the highlights of a trip to a major city like Chicago is the quality and diversity of food experiences on offer. Pretty much any cuisine you can imagine, you'll find it in the Windy City. We're talking magnificent Mexican, Chicago-style hot dogs, famous delis, and of course delicious deep-dish pizzas. 
And if you know where to look, you'll also find a wide range of dog-friendly restaurants to choose from. Some go further than just allowing you to bring your dog and also offer special menu items for canine diners. That means your pup could be dining on homemade treats, a burger patty, or a dog-friendly dessert while you tuck into your own meal!
A number of Chicago bars have also embraced the dog-friendly approach. Some allow dogs on patios and in outdoor areas, others welcome pups inside, and you'll even find venues offering special "yappy hours" and other events for pet parents. Sounds pretty "pawsome", huh?
Where to roam
Keen to hit the road for a cruise with your pup passenger? Road trips with dogs in Chicago don't get any better than a spin along Lake Shore Drive. As the name suggests, this beautiful stretch of road winds along the shores of Lake Michigan, with the sparkling water on one side and the city's towering skyscrapers on the other. 
If you're up in the north to take your pup to Montrose Dog Beach, swing south onto Lake Shore Drive to cruise past the city. Along the way, you'll pass beaches and yacht clubs, some lovely waterfront parks, and the Museum of Science and Industry. You'll also pass quite close by 312-acre Grant Park, which is home to Grant Dog Park and a great place to stop for a while.
Where to learn
In a "pawfect" world, you could take your pup with you everywhere you go. Unfortunately, that's not always possible, particularly at some of Chicago's most popular attractions, so why not book a dog walker in Chicago while you do a bit of sightseeing? That way, you and your pup can both have a wonderful time without missing out on any essential experiences.
Art Institute of Chicago

One venue you'll definitely want to visit is the Art Institute of Chicago, which is one of the city's best cultural attractions. Sitting in the heart of downtown Chicago, the museum boasts a collection that includes works by everyone from the ancient Romans to Monet and Andy Warhol. Whether you're there to catch a glimpse of Edward Hopper's Nighthawks or admire Grant Wood's American Gothic, this is one venue that's simply a must-visit.
Museum of Science and Industry

The Museum of Science and Industry is just as impressive. From exploring a German U-505 submarine to taking a virtual reality spacewalk, the museum boasts tons of cool experiences for visitors of all ages. There's a lab where kids over the age of 10 can design and create something amazing, live science shows and interactive experiments, and a transportation gallery that'll have any aviation or railway enthusiast licking their lips.
And with Wrigley Field, Lincoln Park Zoo, and Skydeck Chicago just some of the other highlights worth visiting, there's plenty to fill your time when you're away from your furry friend.
If you're searching for dog-friendly road trip ideas, Chicago is jam-packed full of attractions, experiences, and activities you can share with your pup. So, start planning your Chicago dog-friendly road trip and treat your dog to an adventure they'll never forget.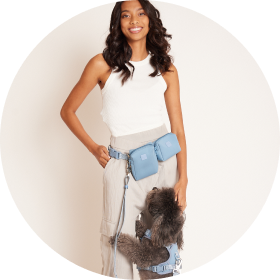 Need to upgrade your pet's leash?