Dog-friendly Road Trip Ideas in Seattle
Dog-friendly Road Trip Ideas in Seattle
By Mel Lee-Smith
Published: 09/11/2020, edited: 11/17/2021
Save on pet insurance for your pet
You don't have to choose between your pet and your wallet when it comes to expensive vet visits. Prepare ahead of time for unexpected vet bills by finding the pawfect pet insurance.
Culture vultures, nature lovers, and foodies — whatever type of traveler you are, you'll find plenty to enjoy in Seattle, WA. From its museums to its markets, its urban parks to its world-class restaurants, this is a city made for exploring. Even better, there are a host of wonderful attractions that you can enjoy with your dog by your side.
Planning a dog-friendly road trip to Seattle? Keep reading for our guide to the best dog-friendly activities, accommodation, and attractions in the Emerald City.
Where to play
Magnuson Dog Park
A "grrr-eat" way to start your adventure around any dog-friendly city is to head to some of its most popular dog parks. There are loads of dog-friendly parks in Seattle — 14 in fact — and Magnuson Dog Park would have to be the pick of the litter. Offering almost 9 acres of off-leash terrain for dashing doggos to explore, this fully fenced park also features a separate area for small dogs. There's even access to the water of Lake Washington — a must for dogs who love to splash around.
Golden Gardens Dog Park
Golden Gardens Dog Park is another popular spot for Seattle's canine residents. Offering separate fenced play areas for small and large dogs, this pretty park offers ample space for pups to stretch their legs. Fresh water, poop bags, benches, and picnic tables are also provided for added convenience.
Discovery Park Loop Trail
Next, you might like to strap on your hiking shoes to check out some of the best dog-friendly trails in Seattle. One must-do trek is the Discovery Park Loop Trail, which is a beautiful forested walk along a 2.8-mile trail. Along the way, you can enjoy lovely views of Puget Sound and the Olympic Mountains, but remember that you'll need to keep your pup on a leash the entire time.
Montlake Cut National Waterside Trail
Another of Seattle's best dog-friendly walks is the Montlake Cut National Waterside Trail, found in northern Seattle's West Montlake Park. This beautiful trail runs next to the Lake Washington Ship Canal, so there's plenty of fascinating scenery to take in along the way. And because the trail is less than half a mile long, it's also "pawfect" for less mobile dogs or those who just like to stop and sniff as much as possible.
Bridle Trails State Park
If you're looking for more of an outdoor adventure, Bridle Trails State Park is also well worth a visit. Located just 20 minutes from the city, this 489-acre park is the ideal spot for a hike. There are 28 miles of trails for you and your (leashed) pup to explore, and the 3.5-mile Coyote Trail is a particular favorite.
Where to stay
Looking for dog-friendly campgrounds in Seattle? You'll find plenty of spots worth checking out in the area surrounding the city.
Trailer Inns of Bellevue 
One option you might want to consider is Trailer Inns of Bellevue, which is found roughly 15 minutes east of the city center. Leashed pets are welcome here, and there's a dedicated dog walk area where your pooch can stretch their legs. For two-legged guests, the indoor heated pool, jacuzzi, dry sauna, and games room should keep you entertained during your stay.
Lake Pleasant RV Park
Pets are also welcome at Lake Pleasant RV Park, which sits northeast of the city center. This peaceful park is perfect for anyone who enjoys the great outdoors, boasting a small, fish-filled lake and leafy surrounds. You might like to explore the wooded nature trails here, hop on a bike trail to cycle into Seattle, or just try your luck at some catch-and-release fishing.
Manchester State Park Campground
If you really want to get back to nature, you can check out Manchester State Park's 50-site campground. It's a little over an hour's drive away on the shore of Rich Passage, and the park boasts plenty of fascinating history from its time as a coastal defense fort. Leashed pets are welcome in the campground, while human guests will love the excellent fishing, boating, and wildlife watching opportunities on offer here.
Where to eat
Good food is another crucial ingredient in all of the best road trips with dogs, so make sure you search for the best dog-friendly restaurants in Seattle. Happily, this is one area where the city goes above and beyond what you'd expect.
Whether you're craving Latin flavors, classic French dishes, a hearty Italian feast, or a memorable gastropub experience, there's a diverse range of cuisines to choose from. And the best of these eateries also offer special menu items for dogs. We're talking doggy ice cream, pooch-friendly "lattes", and a host of other tasty treats. Some venues even welcome dogs inside — an important consideration given Seattle's notoriously rainy weather. 
Of course, while you're in Seattle, you'll definitely want to check out the city's booming craft brewing scene. There are heaps of breweries on offer, but what'll really set your tail wagging is the fact that many of them are dog-friendly. Some welcome dogs in their outdoor areas, while others allow pooches inside so they can stay warm and dry (and right by your side).
Where to roam
Is Lassie ready to feel the wind in their fur on a scenic drive? One popular option can be found without leaving the city and starts in the Washington Park Arboretum. After enjoying a peaceful stroll through the greenery, hop in your car and head south through the overhanging trees and past vibrant wildflowers. Continue past the Japanese Garden and then take Lake Washington Boulevard to take in some beautiful water views. Stop off at Madrona Beach to grab a happy snap or two, then make your way to Seward Park to explore this swathe of beautiful old-growth forest.
Another of the best dog-friendly road trip ideas is to head east to Snoqualmie Falls. Taking roughly half an hour from downtown, this scenic route takes you past towering trees and stunning rocky outcrops to a 270-foot waterfall. There's a wheelchair-accessible observation deck here and the view is simply spectacular.
Finally, if you're sick of driving, why not take a backseat for a while? Leashed dogs are allowed on Seattle buses, provided they sit on the floor or their owner's lap, so you and your pup can always enjoy easy access to the city's best sights.
Where to learn
Unfortunately, some of Seattle's best attractions aren't open to pups unless your pooch is a service animal. With that in mind, why not book a dog walker in Seattle to keep your dog entertained while you set out to do some sightseeing? Then you don't have to worry about your pup while you're off having fun.
Pike Place Market

One venue you'll definitely want to visit is the iconic Pike Place Market, where you'll find hundreds of stallholders selling all manner of goodies. There's a diverse array of fresh produce at the Farmers Market, while you can stock up on handmade fashion, artworks, jewelry, and more at the Crafts Market. Throw in street performers and the iconic fish tossing tradition, and there's much to delight and entertain here. 
Chihuly Garden and Glass
Next, the remarkable Chihuly Garden and Glass is one of Seattle's most-loved attractions. This museum celebrates the work of Dale Chihuly, a local glassblower whose work has to be seen to be believed. The centerpiece is in the Glasshouse, where a 100-foot creation of vibrant orange, red, and yellow is suspended from the ceiling. There's also a beautiful exhibition garden where artworks and colorful flowers combine — well worth checking out.

Museum of Pop Culture
Finally, history buffs and pop-culture nerds will no doubt want to take a detour to the Museum of Pop Culture (or MoPOP as it's affectionately known). This weird and wonderful museum lets you immerse yourself in the history of everything from indie video games to the Seattle Seahawks through an ever-evolving list of exhibitions. Even the museum itself was designed by Frank Gehry, so it's a remarkable attraction on a number of levels. 
With so much on offer, it's easy to see why a vacation in Seattle is one of the best road trips for dogs. So if you're thinking of taking your dog on a road trip, add the Emerald City to your list of must-visit destinations.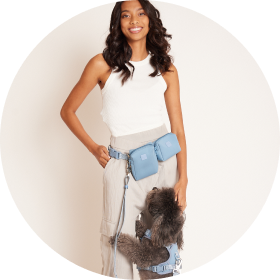 Need to upgrade your pet's leash?