Is Joy Grain-Free Dog Food Best for My Dog?
Is Joy Grain-Free Dog Food Best for My Dog?

By Mel Lee-Smith
Published: 06/03/2021, edited: 08/10/2021
Save on pet insurance for your pet
You don't have to choose between your pet and your wallet when it comes to expensive vet visits. Prepare ahead of time for unexpected vet bills by finding the pawfect pet insurance.
Published: 6/3/2021
If you're a pet parent who's concerned about meat byproducts in your dog's food, you may have considered switching your dog to a grain-free diet. This "boutique" diet is becoming more popular among pet parents — but is it the right choice for your dog?
Joy Grain-Free Dog Food is one of 3 ranges produced by Joy Pet Food. Others include Joy Performance Dog Food and Joy Ultimate Dog Food. Thinking of switching Sparky over to Joy Dog Food? Here's the low-down on the cost, ingredients, and ratings of Joy's grain-free recipe.


Overview
Joy Dog Food was acquired by Hi-Standard Dog Food, a family-owned and operated company in Illinois, in 2011. At the time of writing, Joy Dog Food partners with more than 50 dealers, while all its recipes are also available at major online retailers like Amazon and Chewy.
In the late 1980s, Wade Graskewicz, owner of Hi-Standard, became inspired to create his own line of dog foods while working at a small pet supply store in his hometown. A life-long dog lover, Graskewicz made it his mission to create a high-quality dog food at an affordable price.
Joy's dog food ranges are mostly well-received among pet parents of active and working dogs, as well as those with special dietary needs.


Cost
The cost of Joy Grain-Free Dog Food will vary depending on the retailer, the size of the bag, and the costs of living in your area. You can expect to pay $55 on average for a 28-pound bag of Joy Grain-Free Dog Food.


Ages
Joy Grain-Free Dog Food is suitable for all life stages.


Breeds
Ingredients
The first 5 ingredients in Joy Grain-Free Dog Food are chicken meal, dried peas, dried potatoes, chicken fat, and dried sweet potatoes.
Chicken meal might sound a little scary to a pet parent who's concerned about what their dog eats. The Association of American Feed Control Officials (AAFCO) defines chicken meal as dried and ground-up skin and flesh. Removing the moisture and fat content this way ensures the main protein source is highly concentrated and easy for your dog to digest. AAFCO does not consider meal a meat byproduct. Chicken meal may or may not include bone, but it doesn't include the head, feathers, feet, or organs.
Dried peas and potatoes are chock full of vitamins and minerals, and they also help bind the ingredients together. However, the FDA warns that grain-free diets with peas and potatoes listed in the first 10 ingredients could be linked to dilated cardiomyopathy in some dogs. Research is still ongoing — speak to your veterinarian if you have any questions.
Alfalfa meal is next up on the list. This ingredient is high in protein, vitamins, and minerals. If you're researching alfalfa in pet food, you may find some articles warning that it's a filler. However, few reputable sources confirm this. Contact your vet if you have any questions about alfalfa for dogs, or chat with a vet now.
To see the full ingredients list, check out the Joy Dog Food website.


Ratings
Although there are few reviews available on Joy's grain-free formula at the time of writing, they're mostly positive. Pet parents cited an improvement in their dogs' coat and said the food was "pawpular" with picky eaters. We couldn't find any negative reviews of the grain-free food online.
Ratings of Joy's other dog foods on consumer sites and social media platforms are generally positive. Pet parents praise Joy for being affordable, palatable, and high-quality. Some pet parents noted their dogs didn't like the taste or experienced stomach upset.
Although grains are an important part of your dog's diet, some dogs can develop grain allergies. Before switching your dog over to a grain-free diet, talk to your veterinarian.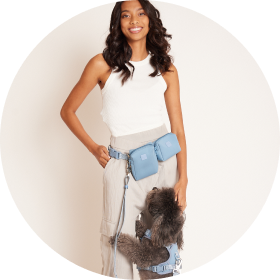 Need to upgrade your pet's leash?