By Mel Lee-Smith
Published: 07/20/2020, edited: 09/07/2022
Save on pet insurance for your pet
You don't have to choose between your pet and your wallet when it comes to expensive vet visits. Prepare ahead of time for unexpected vet bills by finding the pawfect pet insurance.
Overview
Since 1995, Pet Assure has shifted the way pet parents view pet insurance. Pet Assure describes itself as a "pet insurance alternative," which is more like a veterinary care discount program than an actual pet insurance company. This company claims to provide coverage for any animal species and offers a discount on applicable services at participating vets. 

One of the primary selling points of Pet Assure insurance is its "simple pricing" system. Unlike conventional pet insurance policies that factor a pet's age, history, and breed to calculate a premium, Pet Assure has a flat rate for single-pet households and bundle rates for multi-pet households.
How much does Pet Assure pet insurance cost?
Pet insurance costs are often a deciding factor in which company pet parents decide to go with. Pet parents typically look for affordable pet insurance companies offering the most coverage for their buck. 
Since Pet Assure isn't technically a pet insurance company, deductibles don't apply, which is why many pet parents find this plan to be a more affordable pet insurance option. Customers can choose between paying a yearly premium or the monthly premium, which is slightly more expensive.

The pet insurance cost for a single small animal (like a feline or rabbit) is $9.95 monthly or $79 each year. An individual pet insurance plan for a larger animal like a dog or horse costs $11.95 monthly or $99 annually. Households with 2 to 4 pets can enroll all their pets for a monthly sum of $16.95 or $149 a year. Pet parents with more than 4 fur-babies are eligible for the Unlimited Plan, which will cover any animal in the household for a yearly lump sum of  $199, or $21.95 a month.

Pet Assure only has the 4 basic plans and doesn't offer any packages or add-ons at this time. While it's significantly cheaper than an insurance company, Pet Assure doesn't cover as much of a pet's veterinary costs. Pet Assure only allows policyholders a 25% discount on qualifying services.
How do I file a claim with Pet Assure pet insurance?
Interestingly, Pet Assure doesn't require customers to file claims at all — instead, the vet applies the discount at the time of service. This company states it has thousands of participating clinics and that the coverage network spans the entire US and some territories too.  
Like traditional pet health insurance companies, the Pet Assure discount won't apply to grooming services, doggy daycare, house calls, or dog food. Additionally, this plan doesn't cover diagnostic tests sent to labs or any medication. 

Providers that aren't in the Pet Assure Network won't offer the 25% discount, which means some new customers must switch vets to reap the benefits of this plan. The website has a provider location tool where you can find local vets in their network. Don't feel like switching vets? This program is free for providers to join, and you can send your vet an invitation to join the Pet Assure Program at no cost to them. 
What does Pet Assure Pet Insurance cover?
Pet Assure provides a discount for many conditions that conventional pet health insurance policies don't cover, like treatments for dogs who are pregnant or have congenital conditions. Their website states that members will receive a 25% discount on all services by their veterinary partners.  
Illnesses 
Pet Assure will discount the cost of treatment for any illness, new or old, your pet may experience under their plan.  
Wellness visits 
One of the perks of this wellness plan is that it covers check-ups, shots, and routine lab work for no additional cost. Keep in mind that Pet Assure will not discount services outside of their network, including any laboratory outsourcing.  
Pet pregnancy 
Another unique aspect of Pet Assure's coverage is its discounts for treatments relating to pregnancy, including ultrasounds, C-sections, and delivery.  
Surgeries and cancer treatments 
The membership discount also applies to more invasive procedures like surgery and intravenous chemotherapy treatments, which can be quite costly out of pocket.
In-patient stays 
Whether your dog needs to stay 1 day or 30 days in the vet hospital, Pet Assure ensures active customers will receive the standard discount off their bill.

How to apply for Pet Assure pet insurance
All pets, both big and small, are eligible for Pet Assure pet insurance regardless of their health history, age, species, or breed. Pet Assure will not cover commercial animals like livestock or animals utilized for fur and wool. The online application is a straightforward 2-step process. You'll choose your plan option, then enter your personal information and credit card number. That's it. You'll receive a confirmation email, and they'll issue you a link to print your temporary card.

What is the waiting period for Pet Assure Pet Insurance?
Pet Assure's website states it covers pets from the get-go, and pet parents are eligible for their discount as soon as enrollment is complete. Although it will take a week to 10 days for your official card to come in the mail, Pet Assure gives customers the option to print a temporary card on the spot after enrolling.

Pet Assure pet insurance reviews
Pet Assure is accredited with the Better Business Bureau, but not Consumer Affairs. BBB gives this company a B+ rating, and the few reviews on this site are generally positive. There aren't many reviews of Pet Assure on Consumer Affairs either, but the reviews there are overwhelmingly negative.  
Some customers state they prefer this discount program since it covers different species and can be used in addition to pet insurance for remaining veterinary costs. Other reviewers praise this company for having excellent customer service and showing a willingness to help when issues arise with participating providers.  
Overall, the reviews are disproportionately negative and share some common themes. Customers state that Pet Assure has few participating vets in their area, which are more expensive than other local providers.
Is Pet Assure Pet Insurance right for my dog?
Pet Assure is a solid choice for parents of pets in poor health and elderly animals since, unlike most insurance providers, this plan has no age limit and covers care for pre-existing illnesses.

This company eliminates the hassle of filing claims and reimbursement waiting periods, making it a convenient option for pet parents who are short on time and want immediate savings. Many customers find Pet Assure's payment plan more financially manageable than full-coverage pet insurance policies, which often range from $70 to $150 monthly.
A downside to this plan is it doesn't cover as much as some pet health insurance policies, meaning you'll have to fork out a good bit for more invasive procedures like operations.  
If you expect your dog's vet bills will be more than you can pay out of pocket, you may need to look into a different coverage provider. Fortunately, new members have a 45-day refund period should they be unsatisfied with the service.

Thinking of investing in pet health insurance for your dog? Start comparing pet insurance plans today with our pet insurance comparison tool!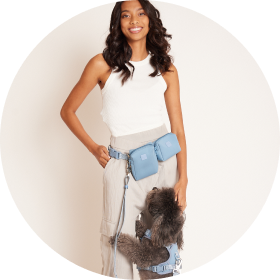 Need to upgrade your pet's leash?