By Tim Falk
Published: 07/30/2020, edited: 08/10/2021
Save on pet insurance for your pet
You don't have to choose between your pet and your wallet when it comes to expensive vet visits. Prepare ahead of time for unexpected vet bills by finding the pawfect pet insurance.
Overview
Updated: 7/15/2021

You love your dog more than anything else in the world. If they were ever to suffer an illness or accidental injury, you'd want to ensure that they got the best possible treatment and care.
Unfortunately, veterinary emergencies can be very expensive — and that's where pet insurance comes in. Pet insurance helps cover your pet's medical bills, providing peace of mind that your dog will be protected against the unexpected.
But with a wide range of insurers offering an increasing range of pet insurance plans, how do you know which policy is right for your dog? Keep reading to find out how pet health insurance works, what it covers, how much it costs, and how to find the best pet insurance for your dog.
What is pet insurance?
Pet insurance is designed to help cover unexpected vet bills when your dog has an accident or illness. Here's how it works. 
Let's say your Labrador suffers a broken leg. You can take them to any licensed veterinarian nationwide for treatment and pay the resulting bill out of your own pocket. You can then file a claim with your pet health insurance provider, who will reimburse you a percentage of the veterinary bill.
Most pet insurance plans are offered on a reimbursement basis and require you to pay vet fees upfront. However, some insurers now allow your veterinarian to send the bill directly to your insurance provider for payment.
What does pet insurance cover?
Most pet insurance companies offer two main options: cover for accidents and illnesses, and cover for accidents only. While the list of covered treatments and conditions varies between insurers, accident and illness plans will typically cover:
Accidents and illnesses

Emergency visits

Hospitalization

Surgery

X-rays and MRIs

Laboratory tests

Prescription medication
Make sure you read your policy closely to find out what dog care is and isn't covered. For example, some policies cover exam and consultation fees while others won't. Some cover behavioral training and others don't. Cover for alternative therapies (such as acupuncture), prescription diets, and a range of other expenses also varies, so it's worth shopping around for the right policy.
Will all of my vet bills be covered?
No, you won't receive cover for all of your dog's veterinary expenses for a few reasons. 
First, the level of cover depends on the reimbursement rate you select — this is the percentage of eligible veterinary bills your policy will cover. Most pet insurance companies offer options ranging from 70% to 90%, but some also offer the option of 100% cover for eligible expenses. (Note: some insurers will use the term "co-payment" rather than reimbursement. So if your policy covers 80% of vet bills, your co-payment amount would be 20%.)
Second, you'll need to select your policy's deductible. This is the amount you'll need to contribute to your pet's treatment each year before the policy will start covering your dog's medical bills. You can customize cover by choosing your deductible — options usually range from $0 to $1,000.
Third, every pet insurance policy comes with a list of exclusions. These are the conditions and treatments that won't be covered under any circumstances. Pet health insurance usually won't cover the following expenses (among others):
Routine care, such as vaccinations and flea/tick prevention (but cover for these expenses is often available as an extra-cost option)

Elective or cosmetic procedures

Grooming costs
Finally, you should also be aware of any limits that apply to your policy. These may include annual limits, per-condition limits, or lifetime limits, so read the fine print closely.
Check out our guide to pet insurance terms for more information.
How much does pet insurance cost?
There are several factors that influence how much dog insurance costs:
Your dog's age. The older your pet is, the more you can expect to pay.

Your dog's breed. Some breeds are prone to a wider range of health problems than others, so they tend to be more expensive to insure than dogs with the least health issues.

Where you live. The cost of veterinary care varies depending on where you live, and so too does the cost of pet insurance.

The policy features you select. The deductible, reimbursement rate, and annual limit you select will all affect the cost of insurance. Adding optional wellness cover will also increase your premium.
It's quick and easy to get pet insurance quotes online compare the cost of different policies. Keep in mind that you may also be able to access discounts for enrolling more than one pet and paying premiums annually instead of monthly, which can be a big help if you're searching for cheap pet insurance plans.
Is pet insurance worth it?
You're the only person who can answer this question. Some pet parents see pet insurance as absolutely essential protection against the unexpected; others view it as just another unnecessary expense. Meanwhile, some pet parents might think a pet health savings plan is a better way to go.

If you're unsure whether you need to take out a policy, ask yourself: Would I be able to cope financially if I got an unexpected $1,500 vet bill tomorrow? How would I feel if I couldn't give my dog the care they need because I was unable to afford it?
The best pet insurance is all about peace of mind, and about knowing your pet will be protected if something goes wrong. If your answers to the questions above cause you to rethink your attitude to pet insurance, maybe it's time to start comparing policies and quotes.
When is the best time to take out pet insurance?
It's generally recommended that you take out pet insurance while your dog is still a puppy. Most pet insurance companies will provide puppy insurance policies for pets 8 weeks of age or older.
Waiting until later in your pet's life to buy pet insurance is risky for a few reasons. Not only could you be hit with an unexpected vet bill before buying a policy, but your pet could develop illnesses over time that will then be classed as pre-existing and excluded from cover when you decide to take out a policy.
Some insurers also impose upper age limits on their policies, or will refuse to cover older dogs for specific health conditions.
How do I choose the best pet insurance plan for my dog?
If you want to find the best protection for your dog, you need to shop around. Make sure to consider the following factors when comparing policies and pet insurance companies:
Cost. Compare quotes from several insurers to get an idea of how much your pet insurance will cost. Of course, make sure you look past the premium amount and check out what's covered to make sure a cheap pet insurance policy offers good value for money.

What's covered. Decide whether you want accident and illness cover or accident-only cover. Then check the policy details closely so you know what expenses will be covered.

What's not covered. At the same time, check the list of exclusions so you know when claims won't be paid.

Customization. Check whether you can tailor cover to suit your budget and your dog's needs. For example, can you adjust your reimbursement rate and deductible amount, choose a higher cover limit, and add cover for routine care?

Waiting periods. All pet insurance policies have a waiting period after enrollment. During this time, you can't make any claims on your policy and any conditions that develop will be classified as pre-existing. Waiting periods are usually 48 to 72 hours for accidents and 14 days for illnesses. It's also common practice for the insurer to impose longer waiting periods (6 to 12 months) on claims for cruciate ligament problems and orthopedic conditions.

The insurer's reputation. Research the brand that sells the insurance as well as the underwriter. How long have they been in business? Do they have many positive or negative customer reviews? Check the Better Business Bureau to find out whether they've received many complaints or have been the subject of any lawsuits.
Comparing pet insurance policies is no one's idea of fun, but a little bit of hard work now could be well worth it in the future. It could mean the difference between providing your pet with the best possible care and facing a heartbreaking decision, so shop around before deciding on the best pet insurance plan for your dog.
If you'd like to start comparing pet insurance for your fur-baby, check out the Wag! Wellness page today.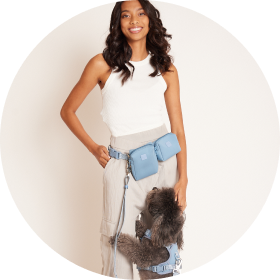 Need to upgrade your pet's leash?