Where Should You Go to Adopt a Dog?
Where Should You Go to Adopt a Dog?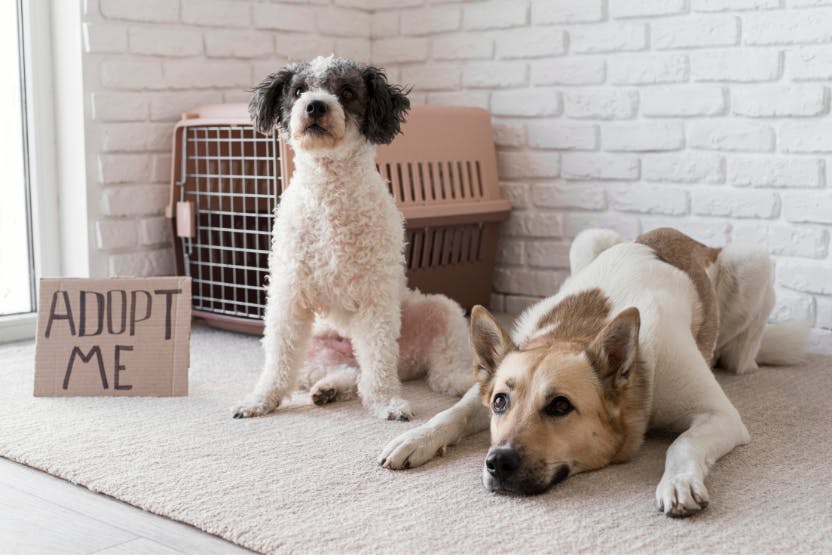 Save on pet insurance for your pet
You don't have to choose between your pet and your wallet when it comes to expensive vet visits. Prepare ahead of time for unexpected vet bills by finding the pawfect pet insurance.
Overview
So you've decided to adopt a dog — congratulations! When you adopt, you give a dog a much-needed home and a second chance at happiness.

You also save some money. Purchasing a dog from a pet store or a breeder can cost thousands of dollars; adopting a dog costs significantly less. Not to mention it's good for the planet!

Adopting a dog also means bringing a canine into your home who has already been vetted and is up to date on shots, microchipped, and spayed or neutered.

But now that you're ready to adopt, where should you start? Here are some great places to search for your new canine companion.
Private shelters
Where better to start your search for your newest family member than at your local animal shelter? Private shelters are often formed and funded by grants and tax-deductible donations. Some members of the shelter will be paid employees, but the majority are volunteers who are working outside of their regular hours to help animals in need find a forever home.
Often, private shelters partner with veterinary hospitals to provide healthcare for the dogs who are eligible for adoption. Some private shelters have facilities with specific visiting hours so you can view the animals available for adoption. Other shelters are so full that they foster some adoptable animals out to private foster homes.
Related: Do You Have What it Takes to Be a Foster Parent?

Municipal shelters
Many local county and city animal shelters are funded by taxpayer dollars. These facilities typically offer adoption and animal control services. Staff members of municipal shelters are paid employees — but some shelters also offer volunteer opportunities.
Municipal shelters are a "grrreat" resource for all pet parents, not just those looking to adopt. Not only can you view the dogs available for adoption and decide if they'll be a good fit for your home, but you can also find out more about local pet laws and dog-friendly places and activities in the area.
Every municipal shelter has its own adoption requirements and processes. Many pets are available on a first-come, first-served basis, which is something to be aware of if you're looking for a specific age or breed. Some shelters even partner with local and big-box pet stores to host adoption and fundraising events.

Check with your local municipal shelter or animal control department to learn more about the adoption process.
Online
One of the most convenient places to adopt a dog is from a pet adoption website. Most websites provide a detailed profile of each pet that includes information about their health, training, temperament, and more.

However, adopting a dog online isn't as simple as filling out a form and picking up your new fur-baby. Many listings on pet adoption websites are posted and updated by local shelters. Pet parents may need to meet special requirements, like completing an interview and home inspection, for their application to be approved.

Here are some of the best dog adoption sites where you can find your next furry family member:

Pet store chains
Unlike some other pet stores, PetSmart and Petco refuse to sell dogs that have been bred in puppy mills. Instead, both of these chain stores team up with local humane societies and rescue groups to provide viewing opportunities for people interested in adopting a pet.

PetSmart has its own PetSmart Charities, a separate non-profit organization that operates over 1,600 in-store adoption centers around the country. Petco's non-profit organization, Petco Love, has more than 4,000 animal welfare partners and helps to run adoption centers in over 1,500 Petco stores nationwide.

Visit the Petco or PetSmart website to find your nearest adoption center.
American Kennel Club Rescue Network
The American Kennel Club (AKC) Rescue Network is dedicated to rehoming purebred dogs. There's a common misconception that purebred dogs are never available for adoption, but sadly, that is far from the truth.

The network comprises more than 450 rescue groups representing 160 dog breeds across the country, so it's well worth checking out if you want to welcome an adoptable purebred dog into your home. You'll find all the details and a list of breed groups in the network on the AKC website.
Best Friends Animal Society
Best Friends Animal Society is the largest no-kill rescue facility in America. Its Utah sanctuary is a temporary home for around 1,600 dogs, cats, birds, horses, and more. However, it now also has operations in Los Angeles, New York, Atlanta, Houston, and elsewhere, plus a network of shelters, rescue groups, and animal welfare organizations around the country.
You can visit the sanctuary in person, or check out Best Friends' adoption centers on the West and East Coast. If that's not an option for you, Best Friends also offers pictures and information on all adoptable animals on its website.
Hearts United for Animals
Located in Nebraska, Hearts United for Animals is an animal welfare organization, sanctuary, and no-kill shelter situated on a 65-acre farm. But unlike many other rescue groups, Hearts United for Animals offers long-distance adoptions.

All adoptable animals have a profile on the organization's website. Once you've completed an application and passed a home visit, the rescue is able to transport your new dog to your home — even via airplane if necessary! Hearts United for Animals has also rescued more than 10,000 dogs from puppy mills.
---
Looking for places to adopt a dog near you? The shelters, rescue groups, organizations, and websites above are excellent starting points on your journey to finding your perfect pet.

Insuring your new fur-baby as soon as "pawssible" is essential for preventing high vet care costs. Start comparing insurance plans from leading insurers and save over $270 a year.