Dog-friendly Road Trip Ideas in Dallas
Dog-friendly Road Trip Ideas in Dallas
By Mel Lee-Smith
Published: 10/09/2020, edited: 08/10/2021
Save on pet insurance for your pet
You don't have to choose between your pet and your wallet when it comes to expensive vet visits. Prepare ahead of time for unexpected vet bills by finding the pawfect pet insurance.
Texas is an excellent location for road-tripping with a dog, thanks to tons of open space, dog-friendly businesses, and exciting attractions you and your fur-baby will love. They say everything is bigger in Texas, and Dallas is no exception! 
When exploring the Big D, some "puptastic" experiences which will help strengthen your bond with your barking buddy. But what are some of the best things to do when you arrive in Dallas? From places to stay to fun excursions, here are some of the best dog-friendly road trip ideas in Dallas.
Where to play
Wagging Tail Dog Park
Wagging Tail Dog Park is one of the best off-leash dog parks in Dallas. Wagging Tail Dog Park is situated north of downtown Dallas and boasts a 7-acre off-leash area, giving your pooch plenty of space to stretch their legs. 
The park also has some useful amenities which will make caring for Tucker a little easier, including an on-site doggy water fountain, waste station, and shaded picnic tables. The seven-acre off-leash area is split up into separate spaces for small dogs and large dogs, so there's no need to worry about your timid Yorkshire Terrier being overwhelmed. 
After playing a game of fetch with Fido, take a stroll down the park's looped trail system. One unique feature of Wagging Tail Dog Park is the 35-foot-tall observation deck, which affords panoramas of White Rock Creek and its waterfall. While outside the dog run, keep your woofer on a 6-foot leash at all times. Also, pick up after your pup to keep the park as clean as can be. 
White Rock Lake Dog Park
Summers in the Lone Star State can be a bit overwhelming for fur-babies, so consider taking them to a park with a beach to cool off. White Rock Lake Dog Park is perched upon the northwestern edge of the largest lake in Dallas and provides a 3-acre fenced-in area where your canine kiddo can run free. This off-leash is split into two so large dogs and small dogs can play separately. 
After working up a pant in the dog run, take Bella down to the lake's shore to splash around in the lake. Pups are welcome to make a splash without a leash, but keep an eye on them so they don't stray too far from the shore. The park provides a doggy fountain, bowls, and waste stations so you can take excellent care of your canine. Make sure you keep your mutt on a 6-foot leash outside of off-leash areas.
Cedar Hills State Park
Escape the Big D for the day with a trip to Cedar Hills State Park. One of the best dog-friendly state parks in Dallas, Cedar Hills State Park covers well over 1,000 acres of mini prairies and rolling hills on the edge of Joe Pool Lake. The park is home to several trails that welcome puppers as long as they stay on a six-foot leash. While taking Sparky on a trek through Cedar Hills, be on the lookout for some of the rare bird species that frequent the area, including painted buntings, goldfinches, and yellow-billed cuckoo. 
You'll find tons of great activities for pet parents to enjoy at Cedar Hills State Park, such as fishing, swimming, and kayaking. Please note that your pup cannot swim in or be near any of the park's lakes or ponds. Keep your dog on a six-foot leash at all times inside the park. Dogs must have proof of current rabies vaccinations and cannot go into any of the park's buildings. 
Katy Trail
The historic Katy Trail is a Dallas staple and ideal for an on-leash hike with Scoob. The trail meanders for over 3 miles through Uptown Dallas, one of the best dog-friendly districts in Dallas. You can pick up the trail from the Airline Road or Victory Promenade trailhead. Despite being at the heart of Dallas, the Katy Trail is a peaceful paved trail and an excellent way to escape the bustling city streets for an hour or two. 
Along your walk, you'll be treated to stunning vistas of downtown Dallas from the Victory Park Overlook. After walking the length of the Katy Trail, stop at one of the dog-friendly restaurants for a burger and a beverage with your canine compadre. Remember to bring doggy bags and water along on your hike, and keep your fur-baby on a short leash at all times. 
Cedar Ridge Preserve Trails
The Cedar Ridge Preserve is located next door to the Cedar Hills State Park, and offers even more trails for you and Scoob to enjoy. The Cedar Ridge Preserve Trails snake for over seven miles through the region's prairies and woodlands. There are several trails available, none of which are longer than two miles. Regardless, bring along plenty of water for you and your pup. 
Due to its proximity to Cedar Hill State Park, this nature preserve is also ideal for bird-watching, with roughly 200 species passing through the parklands. Your canine compadre can join you on all of the preserve's trails, as long as they stay on a 6-foot leash at all times. Also, bring along some doggy bags to clean up after your hound.
Fort Woof Dog Park
If you're paying a visit to Dallas' twin city Fort Worth, swing by the Fort Woof Dog Park. This dog park is a great place to take Fido if you're in Fort Worth for the day. The park provides over thee acres of off-leash space where your pupper can make some new furry friends. 
You'll find the park is divided into areas for small and large dogs, so your hound can play with pups their own size. The park will give you doggy bags to clean up after your dog but should bring your own anyway just in case. You'll also find water fountains for pet parents and fur-babies, as well as waste stations. Note that while there are picnic tables at the park, food is not allowed. 
Where to stay
Dallas/Arlington KOA
The Dallas/Arlington KOA is one of the best dog-friendly campgrounds in Dallas. Situated just half an hour southwest of the center of the city, this KOA is sure to keep your pup's tail wagging. You'll find two Kamp K-9 dog runs at the Dallas/Arlington KOA: one for large dogs and one for small puppers. As well as having dog-friendly tent and RV sites, the campground offers dog-friendly cabins in case you fancy camping in style.
While Lucky plays in the on-site dog run, you can enjoy some of the activities for pet parents. Take a dip in the pool, challenge a fellow camper to horseshoes, or plan a BBQ. When outside the dog run, keep your woofer on a leash at all times and don't leave them unattended. 
Cedar Hills State Park Campground
Another excellent dog-friendly road trip idea in Dallas is staying at the campground at Cedar Hills State Park. You'll undoubtedly pay a visit to this stunning state park, and camping there is a superb way to be at one with nature, without straying too far from the city. 
Choose from primitive campsites to RV sites with full hookups — pets are allowed at most sites. After spending a peaceful night stargazing under the Texas moon, you'll be ready to hit the trails with Fido in tow. The same rules apply to the campground as the state park. Your pooch must have up-to-date rabies vaccinations and can't go in any of the park's buildings. You'll also have to keep your canine on a 6-foot leash at all times, and they can't be left unattended. 
Waggin' Tail RV Resort
Waggin' Tail RV Resort is the perfect spot to go RV camping with a dog away from the bright lights of downtown Dallas. Situated about an hour north of the city, this RV park caters especially to pet parents and their fur-babies. Waggin' Tail RV Resort provides fenced-in RV sites, meaning you can let your pup roam outside your camper without fear of them running off. 
You'll have tons of fun testing your pup's agility skills or playing fetch with them at the on-site dog park. After letting Cooper work up a pant at the dog park, take them for a dip in the dog swimming pond, or wash off their mucky paws at the dog washing station. Help keep the park pristine by disposing of waste at the dog litter stations.
Pet parents will also find lots of fun activities at Waggin' Tail RV Resort, with a swimming pool, outdoor games, and BBQ area to enjoy. Keep your pup on a leash at all times while walking around the park outside the fenced-in areas. The resort doesn't tolerate nuisance barking or digging, so consider training your dog not to bark or dig before booking.
Where to eat
The Big D is home to over a dozen dog-friendly restaurants, so you won't be short of dining options while on a dog-friendly road trip in Dallas. Most of these restaurants offer alfresco dining, where you can sit out on a shaded patio with your canine companion by your side. With everything from Neapolitan pizzerias to tasty tacos, you'll have a wide variety of delicious meals to choose from. 
Most dog-friendly restaurants in Dallas will provide doggos with a bowl of water. Some restaurants across Dallas even provide treats and menu items, especially for hungry hounds. One Dallas eatery even has an on-site dog park, in case you fancy letting Tucker stretch their legs while you wait on your food. 
Where to roam
Dallas to Austin
Fancy a road-tripping with your dog down to the state capital? Driving down to Austin is one of the best dog-friendly road trip ideas in Dallas. This straightforward drive south is around 200 miles and will take approximately 3 hours. 
Traveling along the I-35S, roughly halfway through your journey, you'll pass through Waco. While passing through Waco, consider stopping at Cameron Park. One of the largest urban parks in Texas, Cameron Park, provides 20 miles of pup-friendly walking trails that wind along the edge of the Brazos River, with some trails offering gorgeous views from atop 100-foot bluffs. 
Taking a road trip down to Austin with your dog will be tricky to complete in a day, so book a spot at a nearby campsite. Austin has two KOAs — the Austin NW KOA and the Austin East KOA. Both campgrounds provide dog-friendly accommodation and onsite dog parks where your barking buddy can stretch their legs. 
A great park for an adventure in Austin is McKinney Falls State Park. You'll find 9 miles of trails that meander along Onion Creek and provide picture-perfect views of McKinney Falls. Bear in mind dogs can't swim in Onion Creek and must be on a leash at all times. They should also have up-to-date rabies vaccinations. 
Where to learn
Dallas is home to some of the best excursions in Texas, from thrilling theme parks to fascinating museums. Unfortunately, your pupper won't be able to join you on a visit to some of the best attractions in town. If you're unsure what to do with Bella, why not book a dog walker in Dallas through Wag!? Your pooch will have a "puptastic" time exploring a nearby park or trail while you experience some of the best cultural attractions in D-Town.
The Sixth Floor Museum at Dealey Plaza
The famous Sixth Floor Museum is a must-see in Texas. Located on the sixth floor of the old Texas School Book Depository, this was the place where Lee Harvey Oswald shot and assassinated President John F. Kennedy. Today, the museum features an array of exhibits recounting the assassination and the events surrounding it. Learn about the motorcade route through an interactive map, see JFK's legacy through heartfelt letters, and watch a film of the president moments before the assassination. 
Dallas Museum of Art
The Dallas Museum of Art is one of the best and biggest museums in Texas. The museum's collection numbers around 25,000 objects from around the world, spanning 5,000 years of history. From ancient African sculptures to contemporary American paintings, the Dallas Museum of Art has some fascinating exhibits. While perusing the museum's collection, you'll come across works by world-famous artists, including Vincent van Gogh, Claude Monet, and Mark Rothko. 
Reunion Tower
Dallas has a beautiful and recognizable skyline, and anybody looking for the best view will want to swing by Reunion Tower. At over 550-foot-tall features the GeO-Deck, which affords sweeping panoramas of downtown Dallas. If you're vacationing with a loved one, you even enjoy a glass of prosecco and VIP access with the Love Is In The Air experience.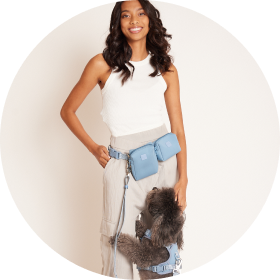 Need to upgrade your pet's leash?