Tips for Taking Your Dog on a Road Trip to the Beach
Tips for Taking Your Dog on a Road Trip to the Beach
By Mel Lee-Smith
Published: 09/11/2020, edited: 09/07/2022
Save on pet insurance for your pet
You don't have to choose between your pet and your wallet when it comes to expensive vet visits. Prepare ahead of time for unexpected vet bills by finding the pawfect pet insurance.
Packing your bags and heading to the beach has to be one of the best road trips for dogs. We're talking sun, sand, surf, and relaxation — and if your dog is a water baby, they'll feel right at home on your beach vacation. But before you load up the car and hit the road, a little bit of forward planning can go a long way to ensuring a "pawsome" trip. Keep reading to find out how to plan the perfect road trip to the beach for your dog.
Choosing your pet-friendly destination
First things first: you'll obviously need to pick a destination before taking your dog on a road trip. There are loads of dog-friendly beaches right across the country, so which one should you choose?
Where you go will no doubt be dictated by where you live, how much vacation time you've got, and how much time you want to spend on the road. But you should also keep a few other tips in mind when choosing a destination:
Finding the perfect beach(es). There are lots of different factors that make up the best dog-friendly beaches. Pups need to be welcome on the sand of course, while somewhere safe for your pooch to splash around in the water is a must. You'll also need to consider whether you want a busy spot where your pup can socialize with other dogs, or whether you and your fur-baby want to enjoy long walks along secluded stretches of sand.
Other attractions. Next, think about what you'll be doing when you're not at the beach. Maybe you and your dog enjoy hiking, exploring the local parks, or just being tourists and doing some sightseeing. Make sure there are plenty of dog-friendly activities at or near the destination you choose — and that includes finding any dog-friendly cafes, restaurants, and bars you may want to visit too.
Accommodation options. Finally, if you're planning an extended visit, make sure you and your pet have somewhere suitable to stay. That might mean booking a campsite in a dog-friendly campground if you're going RV camping with a dog, or reserving a luxury suite at a hotel that welcomes pups.
Secure your pet prior to the trip. Most pet insurance companies don't cover pre-existing conditions. To avoid stress and high veterinary care costs, secure pet health insurance today and save up to $273 each year.
With a bit of research, you'll soon settle on the ideal dog-friendly beach road trip destination.
What to pack for a dog-friendly road trip to the beach
Now it's time for the fun to start — let's get packing!
You might not need any help deciding what to pack for yourself, but it can help to have a handy checklist of all the items your pup will need for the beach. Some of the items are essential, such as:
Drinking bowl
Toys (including some that float)
Food and medications
Treats
Towels
Leash, harness, etc.
Other items you may need to pack will depend on your dog and on your road trip plans. Some things you may also need to stuff in your suitcase include:
A beach umbrella (or some form of shade)
A dog life jacket
Dog-friendly sunscreen
Dog booties
Plan ahead to make sure your pup has everything they need to hit the beach in style.
Before you and your dog head out
Aside from packing, there are a few other important things you and your pup should do before hitting the highway.
Make sure your dog can swim. Don't assume that your dog knows how to swim, nor that they'll actually enjoy being in the water. In fact, some breeds are physically incapable of swimming. If you've got a dog-friendly swimming spot near you, introduce your dog to the water to see whether they enjoy water activities.
Take practice trips. If your dog only ever jumps in the car for a quick trip to the vet or your local dog park, take a few longer practice trips before setting out on your big road trip. Make these practice journeys positive experiences for your dog — for example, you could take your pup to a dog-friendly hiking spot — so that they'll look forward to your road trip with tail-wagging excitement.
Get a vet check-up. If your pup has existing health issues, it may be worth taking them for a vet check-up to make sure it's safe for them to travel. It's also a good time to make sure all your pup's vaccinations are up to date, that they're microchipped, and that they have current ID tags.
Brush up on your dog's off-leash skills. Your dog will need to know the right way to behave at the beach, so take some time to fine tune their obedience skills. Make sure your pup will come when called, behave in public, and knows how to play with other dogs.
Research local vet hospitals. Most road trips with dogs go off without a hitch, but it's always handy to know where you can get help if there's an emergency. Note down the addresses of vet clinics or hospitals at your destination just in case. 
Tire your pup out. Finally, on the morning you're set to hit the road, take your pup for a nice long walk or run. If they're tired out before you leave, they're much more likely to sit happily (and hopefully even have a nap) in the car.


On the road for a pawtastic adventure
Traveling with a dog is a whole lotta fun, but you'll need to take a few simple steps to make the journey as "pawtastic" (and safe) as possible. Remember these travel tips for dogs when you start your next epic road trip:
Make regular stops. Your pup will need regular potty and exercise breaks throughout the journey. Stop at least every 2 hours and remember to take your time — you're on vacation, so why not stop and smell the roses? You could even research off-leash parks along your route to help break up the trip for your dog.
Keep them occupied. Take along a chew toy or maybe a puzzle toy to help keep your pup entertained on the road. You can also check out our guide to top activities for dogs in the car for more dog-friendly road trip ideas.
Keep them hydrated. Make sure your pup has access to plenty of fresh water throughout the journey.
When you get there
Some people claim it's more about the journey than the destination. But when you're headed to the beach, that's simply not true.
Your dog will love the chance to splash around in the water, dig in the sand, and sniff all those new and unusual beach smells. If they're lucky, they'll also get the chance to do some socializing with other furry beachgoers.
Just remember a few simple tips to help your pup stay safe at the beach:
Check the rules. It's worth double-checking the posted rules on doggy beach access before hitting the sand. Regulations change often and leash laws can vary based on the time of day or the time of year, so check the fine print. And as always, make sure you clean up after your pooch. 
Check the conditions. When you first arrive at the beach, take some time to observe the conditions and whether it's safe for your pup to swim. Don't forget that scorching hot sand can also burn your pup's paw pads, so avoid dry sand in the hottest part of the day. Also, keep an eye out for sharp rocks and broken glass. 
Watch them closely. Monitor your dog at all times to ensure they don't get into trouble in the water or encounter any other hazards. If you think they may be overdoing it and at risk of overheating, take them to a cool, shaded area for a rest and some hydration.
Sun safety. If your pup has short hair or light skin, be sure to apply some doggy sunscreen before hitting the sand. Staying in the shade during the hottest part of the day will also reduce the risk of your pup overheating.
Ensure that your dog drinks plenty of water (not salt water!). Provide plenty of fresh water for your pup to drink — don't let them drink salt water as this will make them sick.
Rinsing off. When you've finished your beach adventure, washing away all that salt and sand isn't just important to help keep your car clean. It'll also prevent skin irritation and keep your pup's coat in tip-top shape.
With all the responsible stuff taken care of, feel free to sit back, relax, and soak up some sunshine. Whether your pup enjoys swimming, digging, running, or exploring, they'll love every minute of your coastal escape.
A journey to the beach is paws-down one of the best road trips for dogs. With sand between your toes and your pup by your side, there's no place in the world you'd rather be.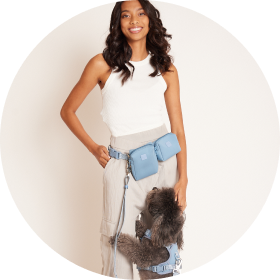 Need to upgrade your pet's leash?