How to Train Your Dog to Come With Distractions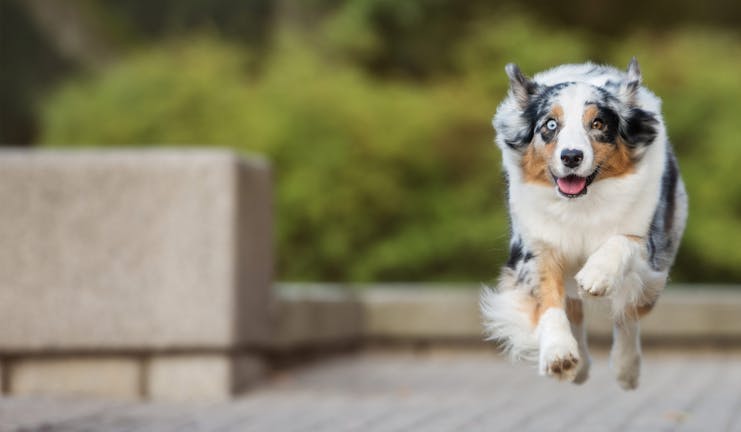 Introduction
Your dog knows how to come. You're sure of it. You've spent hours working on it in the house and backyard, along with all the other basics like 'sit', 'down' and 'heel'. Every time you call, your dog comes running, hoping for a good treat or toy, but happy to accept an ear scratch and an "atta boy". You have no concerns as you bring your dog to the dog park. Surely she will behave herself. Several hours later when you are ready to go home, you are humiliated to find that you are the one chasing your dog all over the park, calling until you're hoarse. Anyone would think your dog had never heard her name before! All those longs hours of training--wasted.
Your training wasn't wasted, and although it seems like your dog has forgotten it all, she really hasn't. It's just that when we introduce distractions, it becomes much more difficult for our dogs to obey. This may be because your dog hasn't developed the self-control to overcome the desires inspired in her by all the new distractions, or it may be because your dog doesn't understand your command to come in this new context of a dog park, or it could be because your dog is testing the limits of your authority. Most likely it is a combination of all three.
Top
Defining Tasks
Dogs that are bred to follow their nose or chase down game may have a harder time overcoming distractions and coming when called than retrievers or general purpose work dogs. Dogs that track or chase have been bred to be independent of their owner and focused on their quarry. In the field, such dogs have typically been followed by their owner until the prey was treed or taken down, depending on the breed. Because of these predispositions, such dogs may have a harder time coming when called, even if you work very hard. 
Successfully training your dog to come with distractions depends on a good deal of patience. Having your dog run off on you can be extremely frustrating, and feels like a betrayal. It does no good, however, to lose your temper. Your dog is not refusing to come because she doesn't love or respect you, but because of complex factors, many of them beyond her control. Identify why she isn't coming and work gradually with her towards success, while using external controls like barriers and long leashes to keep control of the situation and keep everyone safe.
Top
Getting Started
Training your dog to come with distractions is similar to training her to come without distractions. You need to have something that can motivate her to come, like yummy treats, a favorite toy, and of course, your enthusiastic praise and affection. If she is already coming reliably without distractions, you already know what motivates your dog. Bring these same tools to the distraction training.
Some additional tools are useful in teaching your dog to come with distractions. A more distinct attention-getting device than your dog's name, like a whistle or horn, can prove useful in cutting through distractions. Long lines, especially a lunge line with some elasticity, are extremely useful both for having ultimate control of your dog and for nudging her into paying attention. An elastic line is good because it prevents a sharp pull if your dog suddenly bolts against it. This protects both you and your dog. 
Finally, for dogs that are struggling to break out of their focus on other things, the opportunity to practice every day is key. Keep the training sessions to 10 or 15 minutes, keep the sessions fun, and always end on a positive note and when the training is going well. Don't wait until your pooch has had enough and stop at that point. That gives the session a negative vibe.
Top
Find a safe place to play
Choose a dog park or friend's house that has places for you to hide and a secure fence from which you can exit.
Introduce distractions
Make sure there are interesting distractions for your dog to become immersed in. Wait for your dog to wander off and become interested.
Call your dog
Call your dog using the whistle or call to which she has been trained to come. If she comes, reward her and let her wander off again. Wait some time and try again. If she keeps coming, introduce more distractions. When she doesn't come, move onto the next step.
Hide
Make sure your dog isn't looking at you and go hide. Wait her out. It may take some time for her to come looking. If she does come looking, reward her enthusiastically and go with her back to the distraction area. Wait some time and practice again. If she doesn't come after a half hour or more, move onto the next step.
Pretend to leave
Call your dog. If she refuses to come, pretend to leave. Make a show of closing the gate, even start your car. She should come running to the fence. As soon as she does, go reward her enthusiastically and make a great show of your reunion.
Practice
Practice over and over in many environments, until your dog learns that it is her responsibility to listen for your call and come, or else she may lose you. Over time, this fear will cut through all distractions.
Safety first
Use a secure and comfortable fitting harness so your dog won't be injured if she bolts on a neck lead. It is best if your line has some elasticity, to protect you and your dog from sudden jolts. Be very careful that your line never gets wrapped around your dog's legs or gets twisted around a tree.
Range freely
Let your dog range out from you, pulling line freely behind her. Follow her discreetly, being careful that the line doesn't get hung up on anything.
Call your dog
When she has taken a good bit of the line, take up all slack without actually pulling on your dog at all, and call her. If she comes, reward her enthusiastically. If she doesn't, move on to the next step.
Get your dog's attention
If your dog doesn't come when you call, give one quick, firm pull on the line while calling again. The pull should be just enough to jostle her and get her attention. If she still doesn't come, call and pull a little harder, until she starts coming to you.
Praise the return
Praise your dog enthusiastically as she returns to you. She may be sheepish, knowing she should have come, or she may seem reluctant. No matter how she is, be enthusiastic and shower her with praise all the way back to you and rewards when she gets to you.
Practice
Keep practicing in different settings. When you feel confident, remove the line. The first time your dog doesn't respond, put the line back on. Soon she will have practiced enough to have built the self control to come no matter the distractions.
The Short and Sweet Method
Train when the timing is right
Although when to train should always be your decision, don't push your dog into a working session when they are obviously out of sorts, bored, or already distracted. Start with a fun walk, and then get to work.
Come inside
After the walk in the fresh air, start training inside, in a small room. The area should be quiet. Work on the basic recall command that your dog already knows. Success should be relatively easy, based on the close quarters. Wrap up the session for the day.
Move around
Work in different areas of the house such as a larger room where other people may be present. In combination with the mild distraction, stand further away when calling your dog. Give the recall command you typically use. When your pooch comes, reward her with enthusiastic praise, and occasionally a treat. Again, wrap up the session after a few minutes.
Bigger and better
Once your dog is getting the idea, move the session to the backyard, where distractions like squirrels, passers-by, and other distractions may play a part. Stand at the opposite end of the yard. Practice as usual with praise and treats, and extend the training session length.
The test
Keep practicing. Your dog may get to a place where just the call or whistle can get her attention. The ultimate test will be to go to the dog park, the beach, or anywhere that major distractions will be a factor. Have treats on hand for when your super-obedient dog comes to your call.
By Coral Drake
Published: 12/21/2017, edited: 01/08/2021
---