How to Train Your Dog to Go Pee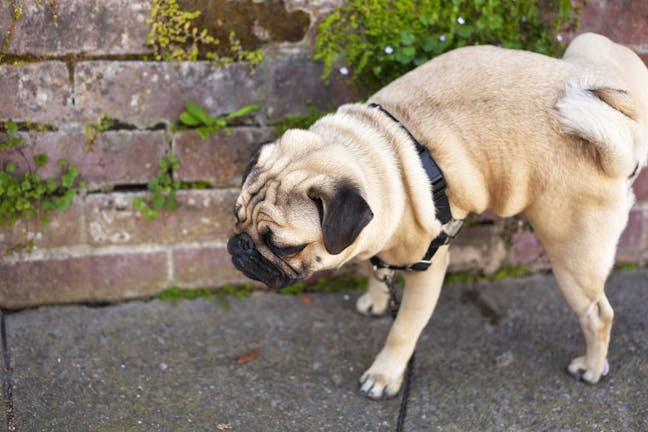 Introduction
Bringing a new puppy home is exciting. They can also be exhausting. New puppies are awake a lot during the night, need to be trained, need to be socialized, and need to know the best place to use the potty. You may train your dog to eliminate in one spot such as a pee pad within your house or one special area in your yard. Alternatively, your goal may just be to teach your dog to tell you she needs to go outside and let her roam the yard on her own until she is satisfied. In the whirlwind of having a new dog, whether it is a new puppy or an older dog who needs to be retrained, house training tops the list of things your dog must know.
Top
Defining Tasks
House training is about praise, love, and repetition. The level of frustration can be high if you are not patient, are intolerant of accidents, or are not taking the time your puppy needs to learn this important skill. It is important to know if you have a puppy, they can usually hold their bladder for about one hour for every month he is old. So, a four-month-old puppy can typically go about four hours without having to pee. However, smaller dogs may need less time in between visits to the potty. Excited dogs may need to visit outside before the magic hour per month time is up. And as your dog is learning what it feels like to have to eliminate and recognize the actions that go with it, you may find him telling you right away without warning. House training is not a difficult task, but the time you put into it these first few weeks will truly be the determinant of how long it will take you and your puppy to succeed.
Top
Getting Started
You will need a few things depending on how you would like to train your puppy.
Treats for rewarding good behavior.

If you would like to train your puppy to use a bell to let you know she needs to go outside, you will need that device from the start.

Time, patience, and commitment will be required.

Remember to ask your dog often if she needs to go potty before she does so in your house.
Your young puppy will need to go at least once, if not two or three times, in the middle of the night so be prepared to lose a little bit of sleep or increase your coffee intake for a few weeks.
Top
The Bell Communication Method
Hanging bell
Hanging a bell close to the door you wish your dog to use to go outside at a level appropriate for your dog so she can signal you when she needs to go outside. Your dog will want to nudge the bell with her nose or ring the bell with her paws. However, before you hang the bell, introduce it to her first. Introduce the bell to your dog by sitting on the floor near the door with her and showing it to her.
Bell does more
Allowing her to sniff the bell, give her a treat every time her nose touches it. Continue showing her the bell, only this time ring the bell so she can hear the noise it makes. As you continue to show her the bell, every time her nose touches it, and she makes the bell ring, give her a treat. Do not treat if she only touches the bell but does not make it ring.
Ring the bell
When she is able to ring the bell every time you show it to her, begin to place her treats outside the door where she can see them. Showing her the hanging bell again encourage her to ring it. When she rings the bell, open the door, allowing her to receive her treat.
Potty and bell
As you are bell training, watch for signs that she may have to go potty. Each time you take her out to go potty, point to the bell and encourage her to ring it. When she rings the bell, open the door and let her go outside to go potty.
Reward
If she goes potty after ringing the bell, reward her.
Repeat
Each time she goes to the door to be let outside, point to the bell, encouraging her to ring the bell before you open the door to let her out.
Practice
Getting her used to the bell may take several days. Getting her to associate the bell with going outside to use the potty may take several more days. Be patient with her and show her the bell every time.
Expectations
Leaving the bell at the door, continue to point to it every time she needs to go outside. Eventually, your dog will ring the bell on her own to let you know she needs to go potty outside.
The Same Spot Each Time Method
Introduce idea
You can teach your dog to go potty in the same place. This will protect your yard from urine damage and keep the clean-up responsibilities confined to one area. Choose a space specifically for your dog's potty needs. This area should be free of distractions and kept clean.
Puppy's age
Keeping in mind your dog's bladder can only stay full for about an hour for every month of their age, take him to his specific area and use a verbal cue such as "go potty".
Stay and treat
Keep your dog in that area until he eliminates. Offer your pup a reward in the form of a treat and praise. If you are trying to train your dog to go in one spot, bear in mind you may only want to offer the reward if he uses that spot.
Next time
Carry on with your day, allowing your dog to play and rest. Before the time of one hour per month old passes, take your dog back outside to his special potty area.
Command
Using your command words such as "go potty," leave your dog for a few minutes in his area and wait for him to pee. The more your dog uses this area, the more the area will smell like him and remind him that this is his special potty place. However, be sure to keep it clean because if left with more than one pile of stool, your dog may begin to refuse the area and will want to go elsewhere.
Reward
Reward your dog for good behavior and repeat the steps above.
Know your dog
Pay attention to your dog during normal activities and watch his body language. Your puppy may spin around, pace, or wag their behind a little more when he has to eliminate. Knowing these signs will help you to get your dog to his potty place within an appropriate time.
Accidents happen
If your puppy has an accident, clean it up quickly without punishing the dog. Take your dog to his special potty place and repeat the steps above rewarding him if he eliminates again.
The Crate and Potty Method
Using a crate
If your puppy is using a crate for his safe spot and sleeping spot, avoid putting puppy pads inside the crate if you can get him outside frequently. Every hour, take your dog out of the crate and with keywords such as "let's go potty." Take him outside to sniff around your yard.
Reward
When he eliminates, praise him with verbal praise and a treat.
When to go out
Remember your puppy will need to go out frequently. Take him out every hour repeating the steps above. After meals, take your dog outside with your keyword phrase, "let's go potty" about 10 minutes after your dog has eaten.
Out of the crate
If your dog is out of the crate, keep him close to you, watching for typical signs that he may need to go potty such as pacing, circling, or wagging his tail more than normal. If you are putting your dog back in the crate after he eliminates, offer verbal praises. Be sure to come back often to avoid accidents within the crate.
Every time
Each time you take the dog out of the crate, put him outside immediately. As your dog ages, the time spent in the crate between visits outside can lengthen to two hours or more.
Maturing pup
Eventually, with age and practice, your dog should be able to stay in your house or his crate without accidents for a full day if you are away from the house. Be sure to reward your dog for positive behavior every time he uses the potty outside as he is training.
By Stephanie Plummer
Published: 11/29/2017, edited: 01/08/2021
---