How to Train Your Dog to Perform Down with a Clicker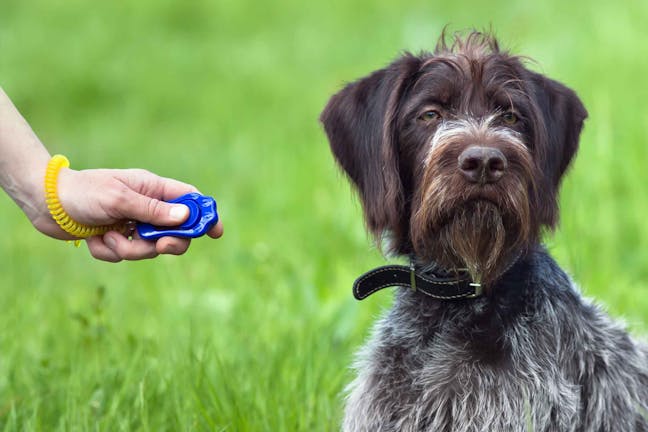 Introduction
Clicker training your dog is easy, rewarding for your dog, and fun to do. Teaching your dog 'down' with a clicker requires a bit of patience and lots of repetition. 'Down' is a command you will often use when you need your dog to be respectful of company in your home or when you would like your dog to be respectful of her space when people are around. 'Down' is a good command to use when you are settling down for relaxation time with your family or when you are sitting down to have a meal. 
Using the clicker method to teach your dog down can be easier if your dog knows the clicker 'sit' command first. Though the down command can be done on its own, it is often a two-step command with 'sit' coming first. 'Down' is a command you may find yourself often using to keep your dog well-mannered, well-behaved, respectful, and out of the way and calm while socializing. 
Top
Defining Tasks
Down is a relaxing position. This command will tell your dog to settle down, lie down, and calm down. This natural position puts your dog in a place where their demeanor is calm and gentle. Once your dog knows the 'down' command, you can use it when something exciting happens like your doorbell rings or when someone wants to pet your dog. 'Down' will keep him in a calm and relaxed position, letting him know not only is he safe, but the person interested in petting him is safe as well. 'Down' can be used to remind your dog it is time to settle in for the night and 'down' can be used to include your dog in social or family gatherings while keeping him calm.
Top
Getting Started
To teach your dog down with a clicker you will need the following:
A clicker

Small treats

Patience

It might be helpful to use special treats only used for training with your dog. This will make these courses more enticing for your dog if he knows he is getting a special treat. Also, you might want to keep the training session under fifteen minutes. Though you can do sessions several times a day, keeping sessions short will be more fun for you both and keep your dog engaged.  
Be sure whichever method you use, not to punish your dog in any way. Clicker training is reward-based, so expect to reward good behavior and learning with clicks and treats. Your dog will begin to associate the sound of the click with good behavior as a reward. 
Top
The Down with Treat Method
Entice
Hold a treat close to the tip of your dog's nose without giving it to him. For some dogs, this may require holding it in your closed hand, so your dog does not snatch it from you. Some dogs may need treats with more potent smells such as dehydrated liver treats. This way your dog will be able to smell the treat hidden inside your hand.
Lower
Once your dog notices the treat in your hand near his nose, lower the treat down to the ground and then towards your body.
Follow
Your dog should follow your motion. You should see him begin to lower his body down to the ground, following your hand with the hidden treat.
Click and treat
Once your dog's chest and belly touch the ground, click your clicker and give him the treat. These two actions happened back to back. You want your dog to associate the sound of the clicker with the reward of the treat.
Repeat
Repeat. Have your dog get into a standing position and repeat the steps above several times while clicking and rewarding each time your dog lies down.
Motion
Motion down with a hand signal and use the 'down' command.
Repeat
Repeat the steps above. Remember adding a verbal command will teach your dog the command "down."
Down
When your dog is in a down position, say the word "down".
Click and treat
After your verbal commands, click and treat.
Practice
Repeat to get your dog used to hearing the verbal command and associating it with the action of lying down.
Only command
Slowly begin to say the command "down" before he lies into position. You can stop using the hand signal at this point.
Reward
Continue with a click and treat once your dog is in position.
Clicker lure
Using your hand and clicker as a lure, flatten your hand, palm down, and lower it to the floor while getting your dog's attention.
Lower
If your dog does not follow your hand down, squat next to him while lowering your hand close to his chest.
Pull away
As the dog begins to lie down, pull your hand away.
Click and treat
Click and treat as soon as your dog's chest and stomach meet the floor.
Palm down
Repeat this with the palm down hand signal.
An understanding
Keep your hand higher as your dog begins to understand the hand signal.
Only hand signal
Once the dog knows the hand signal, you should be able to use the flattened palm down hand signal to silently ask your dog to lie down.
Reward
Be sure to click and treat for every positive outcome.
By Stephanie Plummer
Published: 11/10/2017, edited: 01/08/2021
---