How to Train Your Dog to Be a Ring Bearer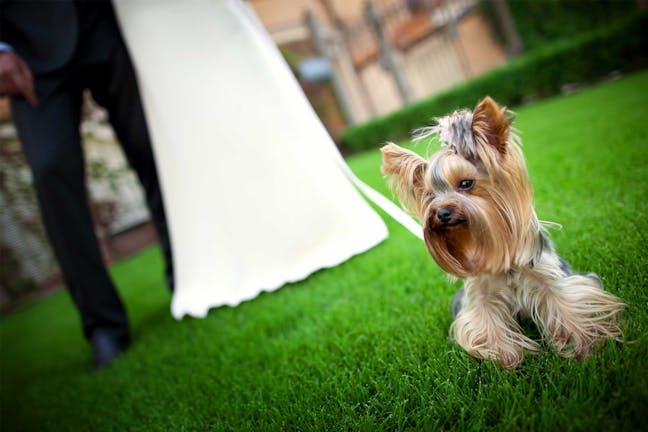 Introduction
Imagine your perfect wedding day: all your friends and family in attendance, and even your best friend, your pooch, participating in the ceremony as the ring bearer. How cute will he look trotting down the aisle, carrying the rings, with everyone oohing and awwing! Having your dog included in your wedding ceremony can be both fun and meaningful for many couples. But there are a few things you need to be aware of, some preparations you will need to make, and some training you will need to do, in order to have your furry friend be a member of your wedding party and not the runaway ring thief!
Top
Defining Tasks
Before you decide to have your dog be a ring bearer at your wedding, you should determine whether he is up for it. A very young dog, an anxious or aggressive dog, or one that gets overexcited in crowds and new situations, may not be up to the task, even with extensive training. Asking them to complete a task that they will not be comfortable performing in a strange environment is unfair to the dog. If your dog is happy, comfortable around lots of people, and calm and friendly, there are several different strategies for having your dog bring your wedding rings successfully down the aisle. You can have your dog come down the aisle walking beside a handler or another member of the wedding party, such as a flower girl, groomsman or bridesmaid, or you can teach your dog to walk down the aisle solo. If you are teaching your dog to walk solo you will have to teach him to come to you down the aisle, on command, at the appropriate speed. If your dog is walking with another member of the wedding party, he will need to have good manners on a lead and walk quietly next to his handler. Also, you will need to determine how your dog is going to carry the rings. Some dogs are trained to hold a basket in their mouth with the rings, others are fitted with a special pillow on a harness on their backs, or a pouch can be affixed to a collar containing the rings. If your dog is going to use a basket or another container that he holds in his mouth, you will need to teach him to be comfortable carrying the object down the aisle in his mouth.
Top
Getting Started
Determine what special equipment you will be using for carrying the rings: a basket, a harness with a pillow attached, a pouch attached to his collar? Also, what will your dog be wearing, a bow tie, a top hat, a doggy tux? Make sure that you train and practice with all the clothing and equipment you will be using on the big day. Start working, training your dog several weeks or months before the wedding, so you don't run out of time as the wedding day approaches and other demands crop up, and to ensure your dog has lots of time to become comfortable with what is required of him. Ensure your dog is comfortable with lots of people and crowds; try to find a way to simulate the experience and expose your dog to a similar environment ahead of time. Be sure to include your dog in the wedding rehearsal. Consider having a handler available, that can step in if things go wrong and to take custody of your dog after his delivery of the rings, to keep him happy for the duration of the ceremony, and take him home or to another venue if he is not going to be part of the reception.
Top
The Walk Accompanied Method
Heel
Teach your dog to heel or walk on a loose leash prior to training for the trip down the aisle.
Simulate
Have the person who will be walking with your dog present for training--a flower girl, bridesmaid, groomsman, or a special handler for the big day--and simulate the wedding venue by creating an aisle with chairs in a large room or yard. Having people simulate the crowd is also ideal.
Begin
Start with your dog on a loose leash at the back of the "room" with your handler. You should be at the front, where you will be on your wedding day. Both you and the handler should have treats available.
Stop Speed
Have your handler walk slowly but steadily down the aisle. If the dog tightens up on the leash or balks, stop, wait patiently until the dog is comfortable and calm, give a treat, and proceed. Do not pull or drag a balky dog, or let a dog pull your handler down the aisle.
Reward slow approach
When your dog reaches the front at an appropriate pace, give him a reward. Repeat, several times prior to the wedding day. Remember that an unfamiliar handler and aisle can be intimidating to your dog, so practice.

Teach "Come"
Establish the "come" command with your dog in a quiet, familiar environment. Have your dog sit/stay, or down/stay. Walk away from your dog, if your dog follows you, say "no" calmly and take them back to their starting position. When you have gone several feet from your dog, turn around and say "come". When your dog comes to you, reward him with a treat.
Practice
Practice "come" in more distracting environments such as outside, out in public, around other people and dogs, until it is well established.
Simulate
Simulate the wedding environment with chairs and an aisle. Have a handler practice walking with your dog slowly on a leash, so your dog gets the idea of walking or trotting slowly, not running, down the aisle.
Go off-leash
Have the handler continue to walk beside your dog, but drop the leash and allow it to drag. Give the come command, have the handler walk beside your dog as he drags the leash, and give him treats as he walks at an appropriate pace. If your dog runs, say no, have the handler stop your dog with the leash and back him up a few steps, then, try again. Continue until your dog walks down the aisle slowly with the handler, with the lead dragging behind him, to come to you at the front of the room.
Introduce solo
Gradually have the handler walk further from the dog and remove the leash. Practice lots, correcting your dog if he breaks into a run. Reward him when he gets to the front solo at the desired pace.
The Teaching to Carry Method
Introduce
If your dog is carrying the ring in a basket or container in his mouth, he will need to learn to hold the basket. Hold the basket up to your dog's nose when he sniffs it, give him a treat, and continue to hold it near his mouth. If he licks or mouths the handle, reward him. Create a positive association and get your dog used to the basket.
Put in mouth
Next, gently open your dog's mouth, say "hold", and put the handle in his mouth, close his mouth and hold it shut for a few seconds. Take it out and give him lots of praise and affection
Extend hold
Repeat training sessions, leaving the object in your dog's mouth for longer and longer, until he can hold it for a minute or two, with your hand removed. Keep sessions short, only a few minutes at a time. Stop if your dog seems upset or resistant and try again later. Wait to give him a treat until the end of each session.
Carry
Once your dog will open his mouth to hold the basket on command, start having him walk forward carrying the basket on a leash. Repeat until he is comfortable with this task.
Come and carry
Now teach your dog to come independently, while carrying his basket. Start in an environment with no distractions, and gradually move to a situation with distractions. Do not punish your dog for mistakes. This should be a fun "game" for him with lots of positive reinforcement, praise, and a treat once he has completed his task.
By Amy Caldwell
Published: 10/05/2017, edited: 01/08/2021
---