How to Train Your Dog to Take Eye Drops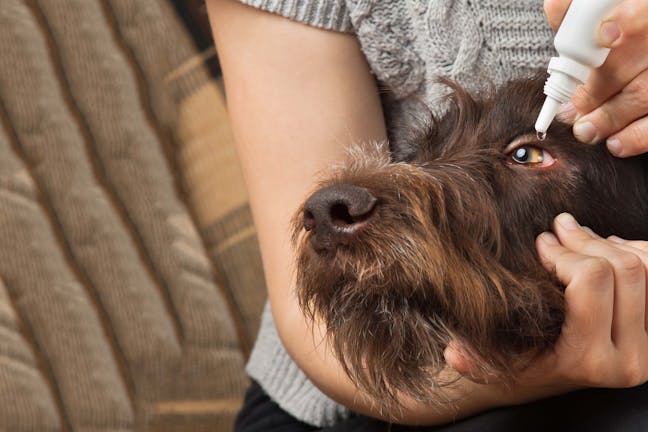 Introduction
Getting your dog to take eye drops can be quite challenging while also scary for your dog. Violet is a Saint Bernard who hates to be touched. She does not like her teeth and gums checked, she refuses to let anyone look into her ears, and her eyes grow wide with fear if her owners or veterinarian get near them. Unfortunately for Violet and those who care for her, she scratched her eye playing outside one day. Violet is a pretty cautious dog with little bravado and only enough curiosity to see the world from a safe distance. But when her backyard adventures involved meeting the thin branch of a bush, Violet required eye drops to help the healing process and rid her eye of infection. Violet's owners were faced with the challenge of getting the dog who did not like to be touched to sit still long enough to take the important medication her eyes needed.
Top
Defining Tasks
Eye infections and disease may require eye drops for an extended or limited period of time. Or giving your dog eye drops could be something required every day for the life of your dog, depending on the reason and condition. Using an eye drop trick to build your dog's trust as well as keep the dog still long enough to administer the drops is crucial to making this uncomfortable experience easier for everyone. There are a few methods you can try with your dog. Be consistent once you know what works for her and use the same method each time for better results.
Top
Getting Started
You will want to be prepared with instructions and the dosage for the eye drops your dog requires. Be familiar with this information in advance, so you are not figuring it out as your dog is anxious and waiting.
A special treat or several treats will help entice and reward your dog.
The first method requires a clicker. If you click train your dog other tricks, you may want to use a clicker no matter which method you choose.
Top

Strategy
This method involves you sitting behind your dog and placing the eye drops in your dog's eyes from behind. Many veterinarians will argue that this is the best position to put your dog in to administer eye drops. When your dog is looking straight at you, he might be nervous at something you are holding over his head and putting close to his eyes. This leaves your dog with a feeling of attack, and he's more likely to either bail out of the position or become aggressive and defensive.
Positioning
Sit on a comfortable chair where you can place your dog either on your lap or between your legs facing away from you.
Lift his chin
Gently lift his chin upward so you can see the top of his head and his eyes from behind.
Comfort and encourage
With one hand stroking his chin or a partner helping comfort your dog also from behind or alongside him, position his head so his chin is pointing upward and he is comfortable. If you have a partner helping, they could place a treat very close to his snout to entice your dog. Remain in that position until you have administered the medication. With your dog's head in a chin up position, very gently pull back the top eyelid until you can see the whites of your dog's eyes.This white part of his eyes is where you will place the drop or the ointment. Because you are coming from behind him over his head, if you focus on the whites of his eyes, he won't see the bottle coming.
Administer medication
Hold the bottle very close to your dog's eyes as you drop in one drop at a time. Avoid holding the bottle high above your dog's face as the drops may splatter, splash into your dog's eyes, or miss altogether.
Praise and encourage
Be sure to praise your dog as you are positioning his head and placing the drops.
Reward!
Once you have administered the drops, be sure to give your dog the tasty treat you have either waiting for him or hovering over his nose if you are able to use a partner to help. This method should be easy and should only take a few minutes. Be sure your dog feels safe and comfortable.
Position
This method has you face to face with your dog or approaching your dog from his side. Sit in a chair with several treats at the ready.
Lure with a treat
Hold the treat close to your body, once your dogs is close to you, offer your dog the treat and click.
Close the distance
Each time your dog gets a little closer and begins to nudge you for the treat, offer him the treat and click.
Chin rest
After a minute or so, encourage the dog to place his chin on your lap either from your side or from in front of you.
Reward and repeat
Every time your dog places his chin on your lap, click and treat.
Introduce the bottle
Add the medication bottle to the hand which is not holding the treats.
Reward and repeat
Using the treat and click method, offer your dog a treat and a rewarding click each time he puts his chin in your lap while holding the bottle in your other hand.
Bring the bottle close
Giving this about a minute, slowly move the bottle closer to your dog getting him used to the object in your hand. Once your dog is comfortable with the chin rest position in your lap and with the bottle in your opposite hand, you can begin to move to the next stage.
Open the bottle
Taking the cap off the bottle, move the bottle closer to his face.
Encourage
Taking the cap off the bottle, move the bottle closer to his face.
Administer a drop
Once your dog is used to these actions, slowly drip one drop into your dog's eye hovering the bottle above his head.
Reposition
Click and treat as your dog positions himself into a chin rest position in your lap after accepting the drop.
Repeat with and without dropis
Repeat the above steps until your dog is used to having a bottle close to his eye but not using drops every time you click and treat.
Remove the clicker
As the dog gets used to the bottle placed near his eye, try dropping the clicker and using your free hand to touch his face near his eye every time he does a chin rest position in your lap.
Click and treat
Doing this for another minute, click and treat every time your dog places his chin in your lap and allows you to touch his face close to his eyes.
Repeat
Continue this click and treat with your position near your dog's eye and drop one drop in once for every two or three click and treat moments.
Timing
This method, from start to finish, takes about 30 minutes. You may want to break it up into three or four different sessions giving your dog a break in between learning chin rest position skills, accepting the bottle, and accepting the drops.
The Restraining Your Dog Method

Strategy
Many dog owners would prefer to administer eye drops without having to restrain the dog, however some dogs need to be restrained because they are not open to receiving something like eye drops or a foreign object so close to their eyes. Some small dogs may need to be restrained because they are so small they can easily get away and become injured while administering drops.
Prepare
Be sure you are familiar with the eye drops and dosage required before you restrain your dog. Wash your hands.
Secure your dog
Secure your dog either by holding him, straddling him, or using a harness and leash tied tightly to a secure object. Smaller dogs may be held your lap, by wrapping one arm around him to secure him while on top of the table, or by having a partner hold him while you administer the drops.
Positioning
Even with your dog restrained, he will feel safer if you can come in from behind rather than from in front of him to administer the eye drops.
Lift chin
Place a hand underneath your dog's chin lifting the chin forward so his eyes are looking upwards towards the ceiling.
Open eyelid
Gently pull the eyelid down, creating a little pouch of eyelid.
Administer drops
Place the drops inside this eyelid pouch, careful not to touch the tip of the bottle to your dog's skin or eyes to keep it free of contamination.
Release
Let go of your dog's face. He should begin blinking the eye drops into his eyes.
Remove restraint and reward
Take your dog out of the restraint and reward him. Restraint is not meant to feel like punishments to your dog. This method is quick. You will probably spend more time restraining your dog and making him feel comfortable then you will put in the eye drops in.
By Amy Caldwell
Published: 09/27/2017, edited: 01/08/2021
---