How to Train Your Dog to Detect Gluten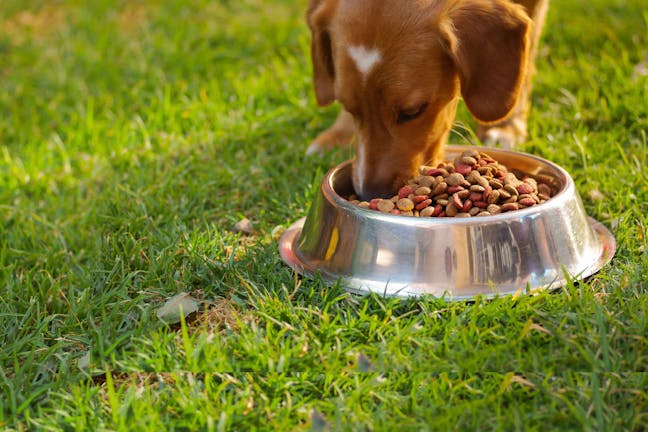 Introduction
Imagine you have such a severe reaction to gluten that even coming into contact with and ingesting a small amount of gluten could make you extremely ill. Now keep in mind that gluten is pervasive in our diets, the main ingredient in a large number of commercially prepared foods, and even contained in cosmetics and products such as mosquito repellants and medications. How do you avoid accidentally ingesting or absorbing gluten and becoming very sick?
The answer may be a gluten detection dog. Gluten detection dogs are service dogs trained to detect the scent of even small amounts of gluten in products and the environment. The first known gluten detection dog, Elias, was trained by his owner in Slovenia to detect gluten because she had severe celiac disease and coming into contact with even a small amount of gluten could result in life-threatening symptoms. Elias sniffs out food and other products, and if they contain gluten, he pulls the item away from his owner to let her know that they pose a danger to her.
Celiac is an autoimmune disease in which gluten exposure causes damage to the small intestine, resulting in serious symptoms including diarrhea, weight loss, and lethargy. While not everyone who needs to avoid gluten experiences such severe life-threatening reactions, many people with celiac disease do, and exposure to wheat, barley, or rye, which can easily be hidden in a variety of products, needs to be avoided.
Top
Defining Tasks
Dogs are trained to detect gluten by scent. The problem is that so many different items contain gluten that it can be very difficult to teach a dog to distinguish the gluten scent contained in a product with competing scents present. A gluten detecting dog must be constantly under training to keep their senses sharp and able to detect gluten in a variety of products. Gluten detecting dogs must also be trained to be obedient and act appropriately in a variety of environments, including restaurants, grocery stores, schools, workplaces, and other public places.
Dogs trained to detect gluten do so by being presented products and alerting their owners if gluten is present and by searching out and locating gluten in the environment. To alert their owners to the presence of gluten, a predetermined sign must be taught for the dog to provide their handler. Gluten detecting dogs may paw at their handler, or the item, or perform another appropriate behavior that will clearly signal to their owners the presence of gluten.
Top
Getting Started
In order to teach your dog to detect gluten, you will need multiple samples of gluten, starting with samples which are purely gluten and moving to samples that only contain some gluten and contain other substances with other distinct smells. Both food and cosmetics containing gluten should be used. The use of a scent wheel to help your dog distinguish between multiple samples in training may also be incorporated. Treats and toys for rewards are most often used to reinforce appropriate scent-detecting behaviors. Because of the complexity of the environment in which gluten must be detected, a commitment to ongoing training will be required.
Top
The Match to Sample Method
Establish signal
Teach your dog a signal such as paw or nudge.
Plant scent
Prepare two articles, one that is scented with a strong scent of gluten and one that is not. Place them in front of your dog.
Provide scent
Provide your dog with the gluten scent on a separate object.
Shape and reward match
Let your dog approach containers with scent. When your dog approaches the unscented object, ignore. When he approaches the scented object, click and reward. Gradually click and reward as your dog gets closer and closer to the scented target object. Repeat the exercise multiple times a day for several weeks.
Add signal
Now give your dog the command for his alert behavior when he approaches the gluten sample. Continue to click and reward when your dog successfully matches the scent and signals you with his alert behavior.
Remove command and click
Gradually remove the command for the alert. Gradually remove the click.
Remove provided scent
Remove the scent to match to and allow your dog to identify gluten samples without being given a matching scent.
Add multiple samples
Provide multiple samples of various products containing various amounts of gluten.
The Distinguishing Scents Method
Introduce scents
Set up a scent wheel with two containers, one containing gluten and an empty container or one filled with water.
Reward identification
When your dog approaches the container with the gluten to investigate, reward with a treat.
Teach alert
Now teach your dog an alert he can provide you, such as paw the container or nudge your hand. Provide a verbal command to direct the behavior, you may need to shape this behavior or capture it with clicker training.
Combine alert with scent
Combine the alert command with scent identification training, gradually removing the verbal command.
Reward after alert
Start rewarding the dog with only play if they identify the scent and provide the alert.
Add scents
Gradually add more scents to the wheel to distinguish between.
Continue
Continue providing this training on an ongoing basis, providing multiple samples of products containing gluten and gluten-free samples, reward identification and alert, ignore identification of non-gluten samples.
The Scent = Reward Method
Provide gluten
Provide a strong gluten sample to your dog in a bowl with a colander over the top, or in an open container in your hand. Let your dog sniff the gluten; make sure he gets a good nose full of the scent. Reward with a treat. Repeat multiple times.
Teach alert
Teach your dog a signal such as to paw a container or your leg, or nudge your hand. Use a verbal command. Reward your dog for performing the alert to the verbal cue.
Combine
Provide the gluten smell and ask for the alert behavior, reward for alert in presence of gluten smell so they become associated.
Remove command
Capture the alert behavior in the presence of the gluten without providing a command, reward.
Provide variety
Start using different samples containing less and less gluten and containing other substances. Reward for correct identification and alert to gluten containing substances, ignore wrong identifications.
By Amy Caldwell
Published: 11/20/2017, edited: 01/08/2021
---