How to Train Your Dog to Not Cry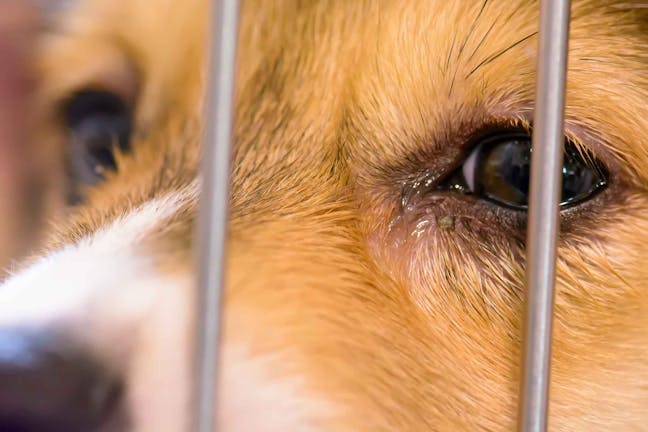 Introduction
When Buffy, a Cocker Spaniel mix, wants food, she cries. When she wants petting, she cries. When her owner leaves the house, she cries. This results in her owner providing her food, attention, and frequently returning to the home to try to calm Buffy down, which of course only makes the crying worse. After all, it worked, didn't it?
Dogs cry or whine to express their distress at being alone, not getting attention, or to get other needs met.Dogs are social, pack animals-- being alone is not comfortable for them, but our pets need to become comfortable with being alone sometimes, or waiting to have their needs met, such as waiting for play time, or food. The catch is, if you respond to your dog crying by providing attention and closeness, you reinforce the behavior, which creates a vicious cycle.
Top
Defining Tasks
A dog that cries when you are unable to provide him attention, such as when you are engaged in another activity or when you leave the house, is annoying to you and others. The solution is to teach your dog to be comfortable and confident with being alone, or not being the center of attention, and that crying does not result in getting what he wants. New puppies, especially, are subject to whining and crying behavior, as they have always felt the companionship and attention of their littermates and mother. It is normal for there to be an adjustment period when a new puppy is separated from their birth family and adopted into yours, or for an older dog that has experienced a difference in living situations, such as a move or a rehoming, to start crying due to anxiety associated with the change. 
If an older dog that did not previously cry starts crying, you may want to have him checked by your veterinarian to make sure that he is not experiencing a medical condition that is causing him to experience pain or anxiety. If no medical condition or urgent need is present, there are several strategies you can use to teach your dog that being alone or waiting to have their needs met is OK, and that there is no need to become anxious and vocal due to a temporary withdrawal of attention.
Top
Getting Started
Always make sure your dog's physical needs are met before training them not to cry.  Has your dog had the opportunity to go to the bathroom, does your dog have water, is he hungry, does he need exercise, did he get enough attention and affection today? If all your dog's needs have been met and crying is just a demand for more attention, or an objection to being alone, then training to teach your dog to wait quietly can be initiated.
You will need a lot of patience and self-discipline, as training your dog to stop crying will necessitate ignoring annoying crying and not responding to it, even with negative attention such as punishment. This will require a lot of willpower on your part, and possibly earplugs! Treats for rewarding a dog for alternative behaviors to crying may be part of your training routine. Crate training to desensitize your dog to being alone, and to provide a comfortable safe place for him to be calm and quiet, is often used to address crying behavior. You may also want to set up a schedule, to make sure your dog gets lots of exercise, play, and attention, and possibly engage other family members, or neighbors, in ensuring your dog has "no excuse" for crying, by ensuring that all his needs are met, albeit on your schedule, not his.
Top
The Crate Training Method
Provide crate
Set up a crate with comfortable bedding, and a toy or chew bone. You can introduce your dog to the crate at first by feeding him in the crate to create a positive association.
Introduce time in crate
Put your dog in the crate for a short period of time. Do not carry or lead him to the crate, reward him for going to his crate on his own. Leave him in his crate for a short period of time, initially 10-15 minutes. Sit outside the crate or remain in the room. If he is quiet, let him out. If he starts crying, wait until there is a pause in crying, then let him out.
Practice crate time
Repeat the procedure several times a day until your dog happily goes into his crate for short periods of time with you present.
Increase crate time
Gradually increase the length of time your dog remains in the crate, and change where you are in relation to the crate, moving farther away, leaving the room, leaving the house.
Reinforce quiet in crate
Only let your dog out of the crate when he is quiet and calm. If he starts crying, you can sit near the crate and talk to him, but do not let him out until he stops crying. This teaches your dog to gradually become used to being alone, in a safe place, and that calm quiet behavior with no crying will result in the opportunity to be with you.
The Extinguish Crying Method
Meet needs
Set up a routine with your dog: feeding time, bathroom time, play time. You may need to be somewhat flexible with bathroom time, especially with a young dog, but the idea is to set a schedule where you determine when it is time to spend time with your dog and meet his needs and he learns to wait quietly when it is not "his" time.
Provide distraction
Make sure your dog is not bored during down times, but has toys, a puzzle feeder, a chew bone, and a quiet, safe retreat such as a crate to meet his needs.
Ignore crying
If your dog whines or cries for attention when it is quiet time, or off schedule, ignore the dog's demands. You can do this comfortably knowing that his needs, including needs for attention and exercise, have been or are going to be met.
Reward quiet
When your dog is being quiet and not demanding attention, reward him by providing affection, a treat, or play.
Be consistent
Maintain your schedule, meet your dog's needs, and reward quiet behavior over a period of several days or weeks as necessary so your dog learns that his needs will be met on your schedule and he can have confidence in that, and that quiet calm behavior is rewarded, crying is not. You may need to engage all members of the household, and include friends, or neighbors, if you have a young dog, and need to be at away from your dog for several hours, such as at work, so that a reasonable schedule is maintained.
The Alternative Behavior Method
Determine alternate behavior
Teach your dog to ask for your attention with an alternate behavior to crying, by replacing crying with 'look at me', 'sit-stay' or 'down-stay' behaviors. Start by holding a treat in your hand.
Teach alternate behavior
Ask your dog to perform the desired behavior, such as sitting and looking at you or lying down quietly, whenever he looks like he is about to ask for attention. Try to anticipate crying.
Reward alternative behavior
Reward alternative behavior with a treat and lots of attention and praise.
Ignore crying
Ignore crying behavior, walk away.
Increase requirements
Gradually expand this exercise to include other locations and sitting or lying quietly for longer periods of time quietly in order to gain your attention.
Reinforce alternative behavior
When your dog sits and looks at you or lies quietly, give him lots of attention and rewards such as treats to establish that being quiet and sitting or lying gets your attention, not crying.
By Laurie Haggart
Published: 11/06/2017, edited: 01/08/2021
---