How to Train Your Dog to Eat His Food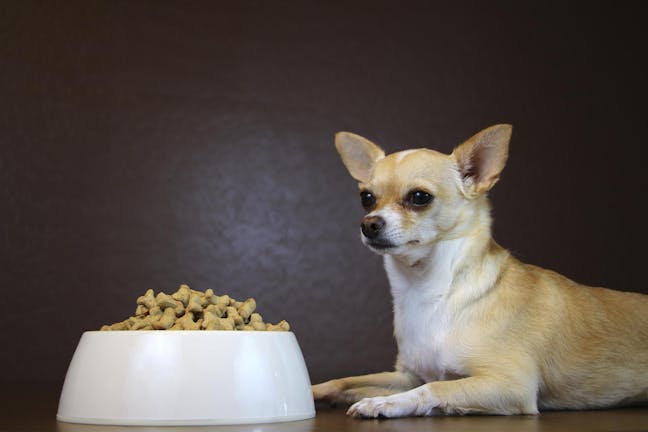 Introduction
You might think every dog should automatically know how to eat his food and be more than ready to do so as soon as you put his bowl down.  But, not all dogs will do so; some are fussy and will spend time sniffing the food, licking it, and looking at it, yet he still will not eat it. What's going on? Isn't he hungry or maybe he just doesn't like his food? If you are under the impression that the reason he won't eat is that he wants variety in his foods, it's possible that nothing could be further from the truth. The simple fact is, your dog will keep eating the exact same food day in, day out for the rest of his life.
It is your job to make sure you offer him a tasty nutritious meal. In fact, chances are good that the biggest reason he won't eat his food is that you have probably been feeding him table scraps. When he gets used to these tasty morsels, he isn't going to want the dry or canned food you have been putting in his dish. Or perhaps you started him out by offering him several different types of food to see which one he liked the best, now he is simply holding out for a better food. No matter what the cause, now you have to teach him to eat the food you put out for him. 
Top
Defining Tasks
In this particular case, there really isn't a specific command to teach, such as "Eat" or "Chow Down". It is important that your dog learns to eat, but at the same time, if he takes a day off from eating, it is usually nothing to worry about. Not all dogs eat every day and some need to eat more than once a day. In most cases, training your dog to eat what you put in his bowl is nothing more than a matter of time and patience. You can teach a dog of any age to eat what you put out for him; in most cases, it could be no more than waiting until he is hungry enough to eat.
Remember, your dog will not starve himself to death, he will only go without eating until he can no longer stand being hungry. Be patient and in time he is sure to put his nose down in the bowl and start scarfing down his food. 
Top
Getting Started
If your dog is being fussy about his food or seems to be refusing to eat what you put down, patience is the only real tool you need. Be sure to keep his food bowl in the same location at all times and pick it up when he is done eating.  Try to pick a quieter spot in your house such as the kitchen floor and choose a time when no one is likely to be in there to disturb him while he eats. Again, there aren't any real commands you need to use to make him eat, you just have to be patient. 
Top
Choose the food
Choose one food that you know your dog normally likes to eat
Put his food down
Put a bowl of it down at the normal feeding time (try to find a different time than family dinner time).
No more than 30 minutes
Leave the bowl in place for no more than 30 minutes.
If he won't eat
If he doesn't eat, take the bowl away.
He will eat
It might take him a couple of days before he is hungry enough to eat. But you can bet when he finally gets hungry enough, your pup will eat. It might take a few sessions like this, but he will eventually get tired of going hungry.
Start at three times a day
When your dog is a puppy, feed him two or three times a day.
Cut back
Over time, you can whittle this down to once or twice each day.
Same time every day
Be sure you always put his food down at the same time every day without fail. In time, he will associate the time of day with when his food comes.
Same food, same everything
Use the same food and the same amount every time you feed your pup.
Consistency is key
Consistency is the key to getting a fussy eater to eat what he is given when he is given it. Keep in mind that no matter what type of training method you decide to use to convince your dog to eat, there are going to be days when he simply won't eat because he may not feel well or he simply isn't hungry. If for any reason your pup won't eat for several days, you should take him in to see his vet for an examination to make sure his lack of appetite isn't due to a medical condition.
Half rations
Start by putting half of his usual amount of food in his bowl and putting it on the floor in his usual spot.
Count to five
Count to five and see if he is eating, if not, remove the bowl and put it away without saying a word.
Wait to try again
Wait for a full 12 hours and try again.
Full rations
If he eats, then wait another 12 hours and put out his regular amount.
Try again
If after he starts eating he stops eating his full amount, remove the dish and start the process all over again. Remember it is your job to make sure he has plenty of food to eat, but it is his job to choose whether he eats it or not. All you can do is teach him to take advantage of the food you provide.
By PB Getz
Published: 01/23/2018, edited: 01/08/2021
---