How to Train Your Dog to Come Using a Long Lead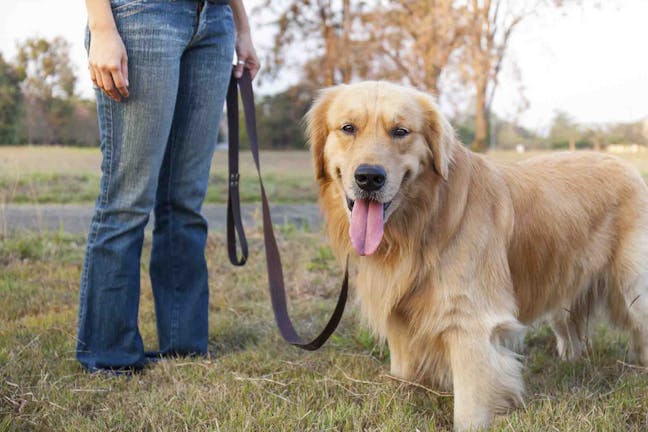 Introduction
Training a dog to come back to you from a distance is considered to be one of the more challenging tasks, as you are asking your dog to return to you when he is interested in doing something else or being elsewhere. But, if you don't train him to come back on your command, he could simply run off and get lost or be injured, or worse. It is only natural for a dog to want to roam and explore his world, it is your job to teach him to come back to you when you call him.
There is nothing worse than having to worry about your dog running loose just because the front door is open, or the gate didn't get closed properly. At the same time, you don't want to treat your dog like he is a prisoner in his own home or yard.  Long lead or as it is also known, long leash, long line, or check cord training is one of the fastest and best ways to train your furry friend to come each time you call him. 
Top
Defining Tasks
The basic command is "Come!", meaning that no matter what your dog happens to be doing when you call his name and use the command, you want him to immediately stop what he is doing and return to you. This is one of the most important things you can teach your pup to do, as it could easily save his life at some point. Imagine if your dog was just about to step out onto a busy street and he ignored your command to 'come'.
While the command and the anticipated response are relatively simple, it can take a while for the concept to set in and for your dog to learn to come to your command whether or not he is on a long lead. You can use this method of training on both puppies and adults. In fact, the earlier you start this type of training, the faster your pup is likely to learn what is expected of him. 
Top
Getting Started
When it comes to getting started, you don't need much in the way of equipment. You need a long leash, most trainers recommend one between 30 and 50 feet long. Never use one of those retractable leashes as this is not what they are designed to be used for. The ultimate goal is for your dog to come anytime you call without the need for any kind of leash. Supplies needed include:
A long lead: Look for one that is 30 to 50 feet long for training purposes. 

Treats: To give your pup as a reward for getting it right.

Patience: You'll need plenty of this at first.

A Good Attitude: Your dog will pick up your attitudes, so be happy and stay relaxed.

A place to work: Look for a nice quiet place to work with plenty of space.

Keep in mind that the idea of a long lead is to allow it to trail out behind your dog without your interference. He needs to feel as though he is free to wander until he gets to the end of the line, at which point you should be commanding him to come. Remember to use a firm commanding voice that lets your dog know you mean business while at the same time make sure you have a treat for him when he does what he is being asked to do. 
Top
Leash your pup
Attach your dog's long-leash to his collar for the training session.
Unwind the leash
As your dog walks away from you, let the long-leash unwind.
Let it lie
Allow the leash to lay loose on the ground. This way he knows it's there but that it is not stopping him from wandering within his boundaries.
End of the line
When he gets close to the end of the line, pick it up and use a command such as "Stop!" This is designed to help him recognize his boundaries.
Bring him in
Call your dog by name and give the 'come' command. As he walks back towards you pull the leash in along with him. Praise him and give him treats. Repeat this until he gets it right every time on the leash.
Off-leash
By now he should have no problem when called while he is on the leash. Now it's time to take him off the leash and practice the same game until he will come to you from anywhere when you call him.
The Come When Called Method
Hook him up
Attach the long lead to your pup's collar, but keep it coiled up in your hand for the moment.
Stay put
Give your dog the 'stay' command and start to back away from him as you uncoil the leash.
Short moves first
For the first few attempts, keep the distances down to just a few feet until he gets the hang of it.
Call him to you
Call your pup to come to you. If he does so, reward him with a treat and lots of praise.
Continue working
Continue working with him until you reach the end of his leash and he will still come to you. Work with him at the end of the leash for a few days. By now you should be ready to try working with him off his leash. He should still stay within the range of his leash. If he does so, be sure to reinforce this behavior with lots of praise and treats.
The Going for Walks Method
Get ready to go
Coil the leash up and attach the clip to your pup's collar.
Pay it out
Go for a walk along your usual route, paying the leash out, letting it drag on the ground as you walk.
Call-back time
When your dog has walked out to what you feel is a good distance, call him back to you.
Coil it up
If he is a good boy and comes right back to you, coil up the leash and give him a treat.
When he doesn't come back
If he doesn't come when called, use the leash to gently stop him in his tracks and either gently pull him back or wind the leash up as you walk towards him.
Keep working at it
Go for as many walks each day as you have time for. Keep them short, and keep repeating the training until your pup will come when called. Get rid of the leash and let your pup roam ahead, then call him back to you. When he comes back, heap on tons or praise and a healthy dose of treats.
By PB Getz
Published: 11/08/2017, edited: 01/08/2021
---