How to Train Your Dog to Dock Jump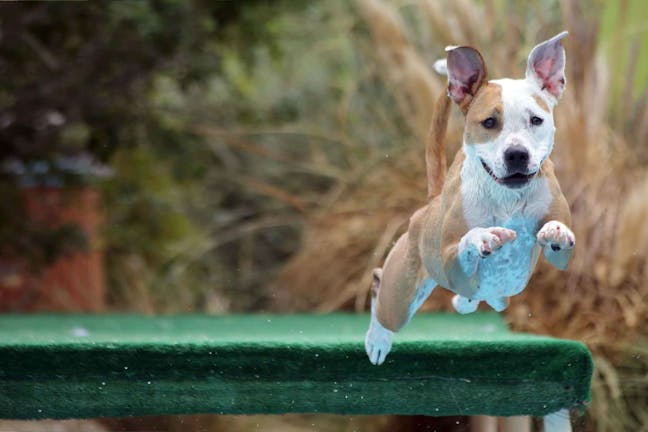 Introduction
It seems like everything is becoming a sport today and dock jumping is one of the fastest growing canine sports in the country, with competitions, prizes, and more. However, before we go too far, it's worth noting that not all breeds are suited to this sport. Your dog should have at least one of these two qualities: a love of water or a love of playing fetch. And right along with this, you are going to need a lot of patience and not mind spending plenty of time standing in the water.
Dock jumping can be a lot of fun for you and your dog, it is good exercise for you and great exercise for your pup. No matter which training method you decide to use, keep tossing the target a little higher and further to encourage your dog to continue working harder. Perhaps one day you and your pup can compete in the world championships!
Top
Defining Tasks
Dock jumping is a lot of fun for both you and your dog, as long as he either likes water or playing fetch. Even if he doesn't meet both, you can always work with your dog to teach him whichever of the two skills he doesn't have. You will also need a place to practice; for best results, use a lake with both a sloping shore and a dock. While you can use the command "fetch" for this trick, you may want to come up with another one that is reserved for this particular activity.
Along with all of this, you should have a pocket full of treats, a nice big fluffy towel, several of your dog's favorite toys, and of course, tons of patience. Oh, and be ready to get wet yourself, as you can count on it during the early phases of training. Be patient, let your pup learn to swim out to fetch the toy back first before having him jump off the dock and before long your dog will be trying to beat the current world record of 25 feet.
Top
Getting Started
Training your dog to dock jump is going to be a lot of fun, but there are a few things you need to get started and ensure a successful result. To start with, you need a place to practice; a lake with a sloping shore and a dock are your best bet. Then, of course, you will need a few special toys just for when you go out dock jumping. Always carry a bag of treats to reward your pup, and of course, be patient--each dog learns at his own pace.
One word of caution, be sure you know what your dog is jumping into. Check that the water is deep enough and is not stagnant. Some lakes and ponds can contain bacteria or algae that can make your furry friend seriously ill.
Top
Swim first
Start out at the lake by wading out into the lake with your dog until you are waist deep.
Paddle time
Let your dog spend a little time paddling around to get used to swimming if he isn't already.
Toss a toy
Toss a floating toy out into the water a few feet. If your dog retrieves it, give him a reward.
Gain distance
Toss the toy out a few feet at a time until your pup gets comfortable retrieving it.
Move to the dock
Now you can move to the dock and repeat the process until your pup is soaring from the dock after his toy.
The Standing Start Method
Hit the dock
Take your dog out onto the dock and walk him to the end.
Toss
While your dog waits, toss a floating toy out into the water.
Walk back
Walk your dog back to the point at which you came onto the dock.
On his way
Release your dog.
Over the edge
Give your dog the command you have chosen for dock jumping and send him on his way to get the toy.
Say thank you!
When your dog does exactly what is expected of him be sure to reward him with plenty treats and praise.
Hit the lake
Take your dog out to the lake, preferably where there is a beach you can work from.
Get ready
Have your dog sit and stay.
Place the toy
Place the toy a few feet away and closer to the water.
Fetch
Have your dog retrieve the toy and repeat this process, going closer to the lake each time.
On to the lake
Work your way out into the water by tossing the toy out into the lake a little farther each time. Each time he retrieves it, give him a reward and lots of praise.
On the dock
Time to move out to the dock and let your pup enjoy the sheer joy of dock jumping.
By Amy Caldwell
Published: 11/19/2017, edited: 01/08/2021
---