How to Train Your Dog to Bring Your Slippers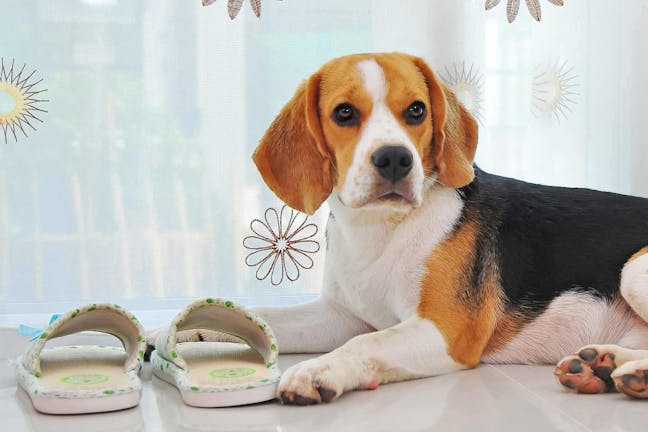 Introduction
Of all the tricks you could teach your dog, training him to fetch your slippers has to be one of the most iconic. Imagine how nice it would be to come home from a hard day at work, kick back in the recliner, and have your pup bring your slippers to you. This "trick" is, in essence, a version of fetch. The big difference is your dog must learn what item it is you wish for him to fetch rather than simply tossing a ball a telling him to bring it to you.
It does, however, count on the fact you have already taught your dog the basic "fetch" command. To make this trick successful, you must be prepared to work with your dog to teach him a new world, "slippers." Once he knows what this word means, he can be taught to bring your slippers to you in a relatively short period of time.
Top
Defining Tasks
The best way to define this task is to say that you are simply adding to your dog's vocabulary along with his ability to do more for you on command. Although this particular chore is, in the great scheme of things, more about fun than practical, it does have a more practical side for those with medical issues that might make getting your own slippers challenging.
You can teach this simple trick to just about any dog, no matter their age. The most important thing to remember however is that your dog needs to be big enough to carry your slippers. Like most commands, this one is relatively simple, all you need is something like "Fetch my slippers" the idea being to take the basic "fetch" command and add in what you want your pup to fetch. It's even easier to teach your dog this trick if he already knows how to fetch.
Top
Getting Started
Teaching your dog to fetch your slippers doesn't require much in the way of actual supplies, but here is a short list of things you will need:
Treats: to reward your pup for obeying your commands without destroying your slippers.

Patience: you can never have too much of this when trying to teach your pup a new trick.

Peace and quiet: again, you can never have too much of this when trying to teach your dog a new trick.

An old pair of slippers: starting out with an old pair of slippers gives your pup time to learn his new trick without destroying your good slippers.
Time: while it won't take your dog too long to learn to fetch your slippers, patience and regular training are sure to pay off. Take your time and make each training session as much fun as possible for both of you.
Top
The Click and Treat Method

Offer slippers
Start by offering your slippers to your dog using a "take my slippers" command. When he takes the slippers, click the clicker and reward him.
Take slippers
Now that he knows what slippers are, have him "take" your slippers and step a few feet away before telling him to "bring me my slippers." When he brings them to you click and give him a treat.
Repeat
Repeat this process within eyeshot so that he gets used to the command and accompanying actions. Each time he gets it right click and treat.
Increase distance
Start moving further away and then try putting your slippers in another room. Use the command you have chosen and when he gets it right use the clicker and give him treats. Now he should bring your slippers whenever you ask him to.
The Start with Fetch Method

Fetch a toy
Hide a treat in a toy and place it on the ground, say "Fetch" and wait for your pup to bring you the toy.
Reward
Reward your pup with praise and a treat.
Practice
Practice this until he has the whole fetch concept down.
Add slippers
Now place your slippers a short distance away with a treat hidden in one of them. Use your command word like "slippers" or "fetch my slippers" and point to your slippers so that he understands what you want and there is a reward in it for him.
Combine concepts
Combine the concept of fetch and slippers together until he finally puts 2 and 2 together and brings your slippers to you. When he does what you want him to, shower him with praise and treats. Practice, practice, practice.

Master fetch
Be sure your dog has already mastered the concept of fetch using a toy or ball.
Place slipper
In a quiet empty room, place one of your slippers on the floor on one side of the room.
Fetch slippers
Tell your dog to "fetch" your slippers. Reward him when he does.
Practice
Practice this for several days until he brings your slippers to you every time. Give lots of praise and rewards.
Change locations
Now try this same trick placing your slippers in different rooms of the house. Remember to give lots of praise and treats until he finally masters the trick.
By Amy Caldwell
Published: 10/06/2017, edited: 01/08/2021
---