How to Train Your Dog to Not Cry at Night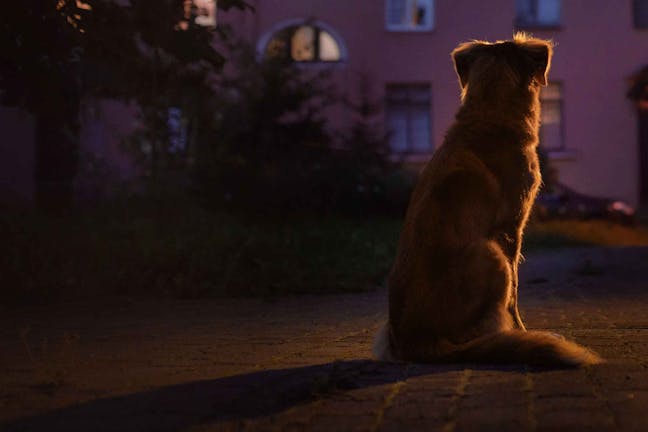 Introduction
Ever looked at a litter of puppies with their mom, sleeping in a giant pile, all together? So cute, right? Now you take your new puppy home and put him a bed or crate by himself, expecting him to sleep alone, through the night, quietly. Not going to happen!  
Sometimes having a puppy is just like bringing home a human baby--a lot of sleepless nights while everyone adjusts to the new environment. Because dogs are pack animals, their natural inclination is to sleep with others, in close contact, for safety and comfort. A young dog or puppy is especially geared to sleep closely in a group for safety, and a rescue dog or an anxious or insecure dog that has come from an abusive situation or a situation where they were deprived, may be nervous and anxious and more apt to cry when separated from their caregivers, such as at night when everyone is sleeping. 
Having a dog cry at night and keep you awake is not going to work in the long term, so owners need to find ways to train their dogs to sleep quietly at night in their own space, and for the dog to be comfortable with the arrangement, allowing dog owners to get a good night sleep.
Top
Defining Tasks
There are several methods you can use to help your dog learn not to cry at night and to be comfortable sleeping by himself, quietly. However, before working on stopping your dog from crying at night you will need to take some basic steps to ensure his needs are met and he is not crying for a genuine reason. 
Make sure your dog is well fed, has water, is well exercised, and has had lots of attention throughout the day, including affection and play. A dog that has had lots of activity and had his needs met is more likely to have a restful night than one that is full of energy or bored. Ensure your dog has had a chance to go outside to do his business before bed. And remember, a puppy may cry in the middle of the night when they wake because they legitimately have to go to the bathroom. Puppies do not have large bladders, and it is not uncommon to have to let a young dog out in the middle of the night for a pee break. You should work this into your plans if necessary.
Top
Getting Started
Most owners that want their dogs to sleep separately from them provide their dogs with a bed or crate to sleep in. The crate should be comfortable, with good, clean bedding, and a favorite blanket or toy for comfort. Your dog's bed/crate should be in a warm location so your dog does not wake up from cold. Crates or beds should be the appropriate size for the dog, too big and the dog will not feel secure, too small and they will not be comfortable. You may need to be prepared for a few sleepless nights at first, as you will need to ignore and not respond to your dog's crying. If you do, you will only reinforce the behavior. This might call for a set of ear plugs! 
There are several methods you can use to help your dog become comfortable and learn to sleep by himself without crying for attention at night. These methods may be used in combination to help your dog assimilate to their nighttime routine quicker.
Top
Prepare
If you respond in any way to your dog's crying, even negatively, it will only reinforce his bid for attention. Be prepared to ignore your dog's crying at night. You may need to move your dog and his crate to another part of the house where you cannot hear him or use earplugs.
Meet needs
Teach your dog to be comfortable a crate. After letting your dog out for a bathroom break, have him go to his crate for bed. Do not carry him or drag him to his crate, which creates a negative association. Instead, reward him for going to his crate with a treat or a chew toy, and provide him praise and affection in his crate.
Ignore crying
Leave your dog in his crate and go to bed. When your dog cries, do not yell at him or respond in any way to his crying. Ensure that the entire household is on board.
Respond to quiet
If you need to let a puppy out in the middle of the night for a bathroom break, choose a time when he is quiet, not when he is crying, to let him out for a pee. After he has relieved himself, go back to his crate and provide another reward, attention, and praise. Return to bed.
Repeat
In the morning, do not let your dog out of his crate until he is quiet. If he is crying, wait until he stops for a moment before releasing him. Repeat this procedure for several nights. Eventually, your dog will learn that crying does not result in your attention or release from the crate.
The Crate Training Method
Set up crate
Set up a crate with comfortable bedding, and a toy or chew bone. You can introduce your dog to the crate at first by feeding him in the crate, to create a positive association.
Introduce crate
Put your dog in the crate for a short period of time, 10-15 minutes. Have the dog approach the crate himself to get a reward, do not carry or lead him there. Stay with your dog while he is in the crate, sit outside the crate or remain in the room. If he is quiet, let him out. If he starts crying, wait until there is a pause in crying, then let him out.
Practice quiet in crate
Repeat the procedure several times a day, until your dog happily goes into his crate for short periods of time with you present.
Increase time and distance
Gradually increase the length of time your dog remains in the crate, and the distance you are from the crate, moving farther away, leaving the room, then leaving the house, for short periods of time. Gradually increase to longer periods of time.
Reinforce quiet
Only let your dog out of the crate when he is quiet and calm. If your dog starts crying, sit near the crate and talk to him, but do not let him out until he stops crying. This teaches your dog to gradually become used to being alone, in a safe place, and that calm quiet behavior with no crying will result in the opportunity to be with you.
The Alternative Comfort Method
Prepare sleeping place
You can make your dog learn to accept sleeping in his crate or designated sleep area without crying by making it more attractive to him, much like when he was with his mom and litter mates.
Provide warmth
You can provide a heat source, like a heated water bottle, but ensure it is not too hot and that it is not something your dog can chew on and puncture.
Provide company
You can provide the company of another pet--another older dog or even a cat--or consider adopting two puppies at a time. Letting your dog sleep with the company of another pet may settle him and ease him into sleeping without his caregiver at night. Another option is to provide similar sized stuffed animals that resemble litter mates, but be careful they do not have loose buttons or parts that your young dog can chew off and choke on.
Provide sound
Use an old fashioned clock that ticks wrapped in a blanket in your puppy's bed. Some dogs are lulled to sleep by the rhythmic sound of a clock that resembles their mom's heartbeat. Be sure the dog can not chew on the clock and injure himself.
Provide activity
Provide a rawhide chew bone, or puzzle feeder with food to keep your dog entertained while he goes off to sleep.
Getting comfortable
All of these steps can help your dog to become acclimated to their sleeping place, feel safe, and teach them there is no need to cry at night.
By Laurie Haggart
Published: 11/06/2017, edited: 01/08/2021
---