How to Train Your Dog to Find Golf Balls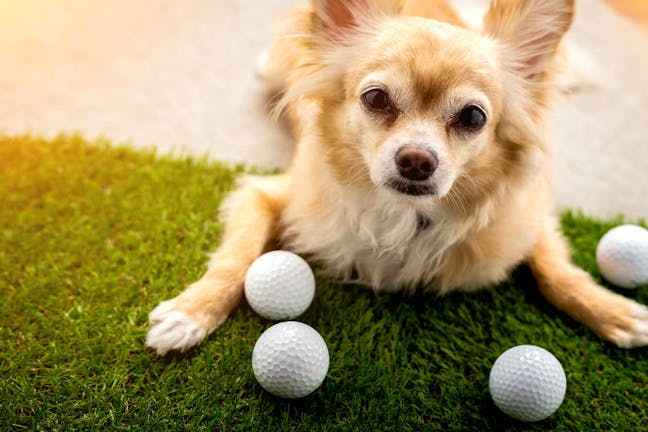 Introduction
A dog who can gather golf balls from the greens is a great dog to have on the course. Small local courses might have a golf ball fetching dog to help collect all the lost balls. Golfers know just how expensive golf balls are. And though they might not want to admit to just how many they lose in a year, or even in one game, golfers will tell you how happy they are when they can find their ball or get replacements for cheap. Some golf clubs use golf dogs to gather all the lost balls and then resell them to golfers for less than a new ball. This is especially useful for those golfers who lose their balls frequently. And to top it all off, teaching your dog to gather balls from the course, could save the course owner time, help the keep the course clean, and add some cash to your pocket. Some course owners and managers will use golf dogs to gather balls and then sell them, giving proceeds to charity.
Top
Defining Tasks
Training your dog to be a great golf course dog will be fairly simple if he is a curious pup with all the basic and some advanced commands in his arsenal. You will want him to be able to roam freely along the course, have manners to interact with players or employees, and show the ability to search, find, and retrieve.
Top
Getting Started
Have some patience with your dog while training him to find golf balls. To help him succeed, have a place for him to put the balls once he has found them. Provide lots of yummy treats to reward him for a job well done. Before you set your dog free on a golf course, be sure to spend time with him finding golf balls together. And it shouldn't need to be said, but always get permission from the course owner before you and your dog visit. If you live near a golf course and often find balls near your home but off the course, you could start by gathering in these areas first. You will want a curious dog who is eager to learn and please.
You will need:

Golf balls to introduce to your dog.

Treats for good behavior.

If your dog is not a well-mannered, free-roaming dog, you may want to start on a leash.

If you clicker train, be sure to have to clicker for each training session.

Be patient and have fun.  

Top
Introduce ball
Give your dog a golf ball to hold in his mouth and say the keyword 'golf ball' as he takes it. Once he takes the golf ball, click and offer him a treat. He should drop the golf ball when he hears the click because he knows he's getting a treat.
Play
Play with the golf ball together and continue practicing recognition and mouth holding about 10 to 15 minutes a day for about a week so your dog understands what a golf ball is. Click and treat each time he recognizes the ball and has a positive interaction with it.
Toss it
Toss the golf ball away from your dog and use the keywords 'golf ball' to get him to fetch the ball. Click and treat each time he fetches the golf ball.
Practice
Keep practicing these steps with your dog and a golf ball, only extend the distance between you and the golf ball. Be sure to click and treat to reward your dog.
Many golf balls
Add more golf balls to the mix and increase the challenge for your dog. Each time your dog successfully has a new distance down, click and treat.
Find
Take your dog out either one a course or an area around a course where golf balls can often be found and use the command 'golf ball' to get him to search and find. The first time you show your dog the area, you may need to help him find a golf ball first so he can make the connection with the outdoor space and the item you would like him to find.
Play
Ultimately, your dog wants to play so throwing a golf ball will cause him to chase. Play chase with your dog using a golf ball for several minutes to get him used to finding the ball, grabbing it, and putting it in his mouth.
Hide
Scatter golf balls around your yard, hiding some and keeping some in obvious places.
Retrieve
Walk with your dog and ask him to get the golf balls as you two find them together.
Encourage
Once your dog begins to find the golf balls on his own, begin to encourage by offering rewards and verbal praise.
Practice
Repeat these steps near or on the golf course, asking your dog to find the golf balls each time. Be sure to reward good behavior and positive interactions with the golf balls.
Command
Starting with a golf ball on the floor or grass, ask your dog to 'take it.' If your dog does not know the 'take it' command, you can place the golf ball in his mouth. Offer him a treat once he takes the ball.
Drop it
Show your dog where you'd like him to place the golf ball and use the 'drop it' command. Offer him a treat right away if he drops the golf ball. If he does not, entice him with a treat.
Practice
Continue to use the 'take it' and 'drop it' commands with the golf ball until your dog can do both on command with the ball.
Onsite
Take your dog to the golf course or an area where golf balls are found and walk with him, finding golf balls. For each one you two find, use the command 'take it'.
Reward
After your dog finds each golf ball, offer him a treat and give him verbal praise with excitement.
Repeat
Repeat these steps several times using the 'take it' and 'drop it' commands.
Gradual challenge
Over time, let your dog explore the course without you too close, so he can find golf balls on his own.
By Amy Caldwell
Published: 11/18/2017, edited: 01/08/2021
---