How to Train Your Dog to Like Swimming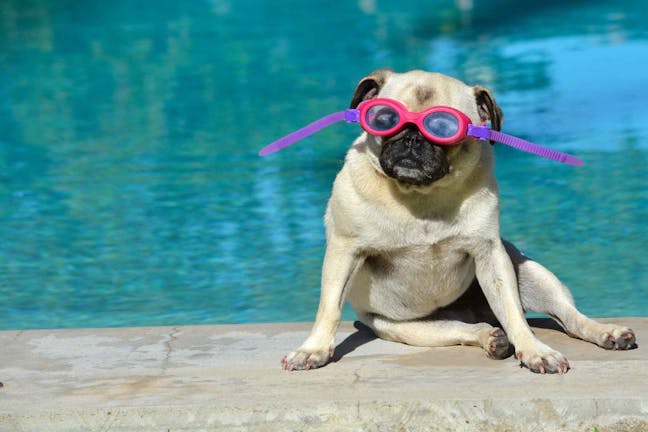 Introduction
If you own a dog for whom swimming is natural, such as a Labrador Retriever or a Portuguese Water Dog, you may notice your pup's desire to fling himself headlong into any body of water. Some dogs, especially those who were bred to swim, have no difficulties adapting to swimming in water. But what about dogs who are more hesitant, or who have never had a chance to swim? The good news is that these dogs can learn to swim too!
Swimming is one of the best exercises for your dog, and even better, it's also fun and enjoyable for your canine companion--and for you. With some patience and the following training techniques, you can slowly and safely train your dog to like swimming.
Top
Defining Tasks
Consistency, patience, and more patience are required to make your dog's first few laps in the pool positive and successful ones. Natural-born swimmers, including retrievers, spaniels, poodles, and Newfoundlands, will be more likely to make a splash right away because of their breeding and heritage. Puppies may also be more receptive and eager to swim, meaning they may catch on to swimming more quickly than an older dog.
Dogs who are not natural swimmers, such as bulldogs, corgis, terriers, and pugs, will need more time to adjust to an environment that is foreign to them. But as long as you don't get frustrated, and remain calm, confident, and consistent, you can give your dog a chance to become a real swimmer!
Top
Getting Started
Although swimming can be a fun, healthy activity for your dog, safety should be first and foremost on a dog owner's mind. Whether your dog already knows how to swim or is starting out as a complete rookie, he should wear a life jacket.
Life jackets need to be of appropriate size--not so small that your dog is stuffed in and uncomfortable, and no so large that your dog is swimming in it (pun intended). Choose a life jacket that has a handle and a D-ring to attach a leash for quick access and control of your dog.
Scout out swimming locations ahead of time to find safe, secure places for your dog to try swimming. These sites may be your own backyard swimming pool, a nearby pond or lake, or a local service providing indoor/outdoor swimming pools for canines. Work in water that you are already familiar with to prevent any unpleasant surprises, such as depth of water and strong currents. Remember to never leave your dog unattended when swimming, especially if you are in outside, unsupervised waters.
Have some treats on hand as well to encourage and reward your dog, especially if he is reluctant to enter the water at first.
Top
Start in shallow water
Begin working in shallow water before venturing into anything deeper. Make sure you have your dog on a leash.
Enter the water
You need to walk into the water first. Once in the water, wade in just a few steps.
Use treats to encourage your dog
Have a treat in hand to gently encourage your dog to take a step into the water. Reward him for any step he takes, no matter how small and even if he only gets his toes wet.
Move out further in the water
Adjust this step by gradually moving out further in the water as your dog begins to become more confident and eager to swim to you.
Repeat this series of steps
Take your time and repeat these steps with patience and consistency, and soon you'll have your dog swimming out to you in no time at all!
The Retrieve a Toy Method
Start in shallow water
As usual, make sure that you start your dog out in shallow water to begin his swim training.
Toss the toy
Choose your dog's favorite ball or toy and toss it just in front of him in the water so that he has to take just a step or two to retrieve it.
Gradually toss the toy farther
With each training session, toss the toy out a bit farther than you did in the previous session. As your dog gains confidence, he will start to swim farther out to get his toy.
Praise your dog
With each extended swim, remember to verbally praise your dog and reward him with a small treat.
Repeat steps 1 - 5
Patience and consistency is key. Repeat these steps over the course of a few weeks so your dog becomes accustomed to swimming and retrieving.
Stay by your dog's side in a shallow area
If your dog is wary of swimming, stay by his side while guiding him gently into the water. In shallow waters, you should be able to walk right alongside him. You can also grasp the handle on his lifejacket to give him support and guidance.
Use a positive, encouraging tone
Be sure that anything you say to your dog is delivered in a positive, uplifting tone. Your dog may be very nervous and uncertain during his first swim or two, and your verbal cues will help him to understand that he is doing the right thing.
Gradually move into deeper waters
As your dog becomes adjusted to the shallow water, start to move him slowly into deeper areas so that he must paddle his legs to stay afloat.
Offer physical support
Your dog should be paddling with all four legs at this stage, however, some dogs who aren't used to swimming may rely on only their front legs. Encourage your dog to use all four legs by placing your hand under his belly for support.
Let him swim!
Once your dog is paddling using all four legs, you can remove your hand from underneath his belly. Remember to praise your dog after the swim so he associates swimming with fun and joy.
By Erin Cain
Published: 10/27/2017, edited: 01/08/2021
---